There are over a dozen hot pot restaurants in Las Vegas. However, I somehow neglected to try them for the longest time. So, I recently decided to go out of my way to eat at all of the best hot pots in the city.
After getting some recommendations, I ate nonstop hot pot for nearly a week to find out which spots were the best. Here's what I found.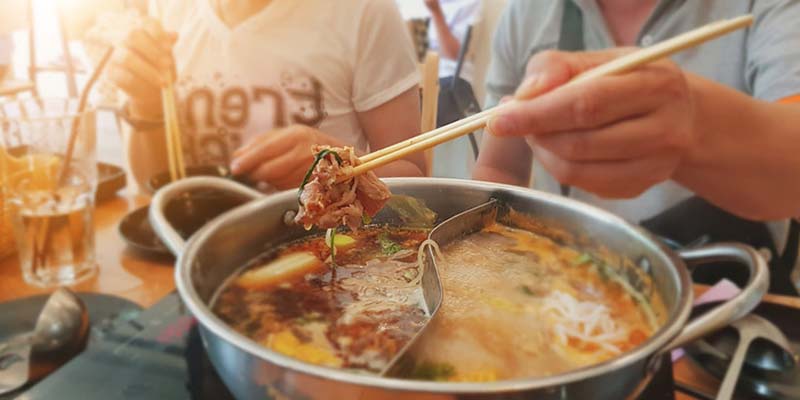 Best Las Vegas Hot Pots
The X Pot
The X Pot is the only hot pot restaurant located on the Las Vegas Strip. This is a luxury restaurant that uses high-quality ingredients, like imported seafood and Wagyu beef. The food is delicious and the portion sizes are reasonably generous.
The restaurant also mixes a fair amount of entertainment into the dining experience with the food presentations. All in all, it's a bit pricey, but you won't be disappointed at the X Pot.
Location: 3327 S Las Vegas Blvd (The Palazzo)
Price range: $100+ per person
Swish Japanese Hot Pot & Sushi
Swish Japanese Hotpot serves All-You-Can-Eat (AYCE) hot pot on the western side of Las Vegas. There are nearly a dozen hot pot bases offered here, including prime New York strip steak, chicken, pork, salmon, and vegetable. All hot pots also come standard with vegetables, noodles, and a bowl of rice.
In addition to the hotpot, this Japanese restaurant also offers an extensive sushi menu. You can choose from a variety of sushi rolls and bento boxes for under $20. This one of the best affordable places to eat hot pot in Las Vegas.
Location: 7875 W Sahara Ave #105
Price range: $20-$25 per person
Chubby Cattle
Chubby Cattle is located in the Chinatown neighborhood of Las Vegas. You can choose to have your own individual hotpot or have a family combo. It's not AYCE, but the portion sizes are still relatively large.
The restaurant offers several hot pot flavors like seafood and tomato, along with main dishes that include Wagyu beef, lamb, and shrimp. Additionally, Chubby Cattle throws in a ton of unique dipping sauces and spices.
Location: 3400 S Jones Blvd #15
Price range: $30-$100 per person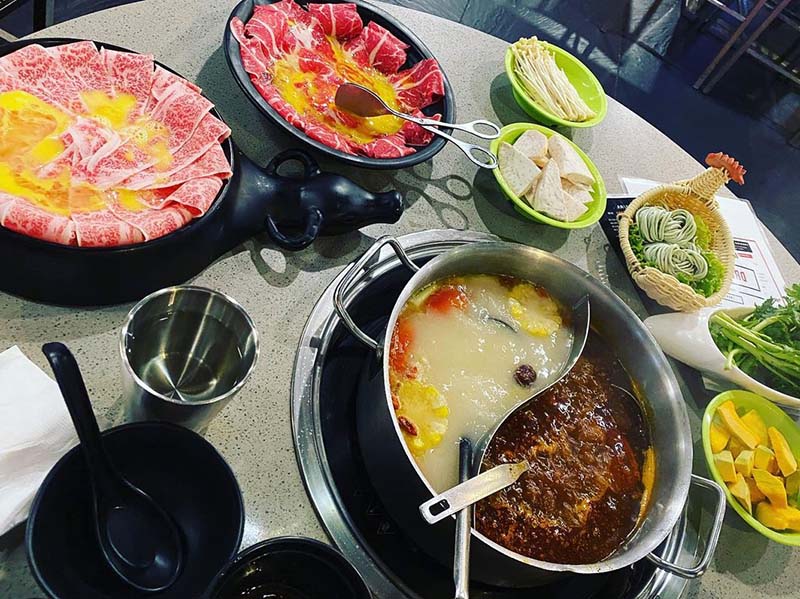 Alleyway Hot Pot
Alleyway is one of the few hot pot restaurants located in the southwestern part of the city. Although it's a bit out of the way, the restaurant offers good, affordable hot pots with excellent service.
Some of the menu options include pork, beef, mushroom, kimchi, seafood, lamb, tofu, and tomato. They also have a robust appetizer menu that includes chicken wings, pork dumplings, and fried squid (I highly recommend you try the squid).
Location: 7385 S Rainbow Blvd STE 120
Price range: $15-$20 per person
Nabe Hotpot
Nabe is another AYCE hotpot in Chinatown Las Vegas. The restaurant has 6 broth bases available that come with vegetables and sauces. Then you can add your choice of All-You-Can-Eat sides and meats (the cuts of meat are really high-quality considering the price).
If you visit late at night (11 pm to 2 am), you can receive a discount on the AYCE menu. They also offer a combo plate with seafood, along with a full sushi bar, so you'll have no shortage of options at Nabe Hotpot.
Location: 4545 Spring Mountain Rd #106
Price range: $20-$25 per person
U Shabu
U Shabu offers AYCE hot pot for an affordable price. Some of the broths include miso, vegetarian, and spicy tonkotsu (pork). You can add 11 different types of meat to your soup, including beef brisket, beef belly, pork belly, lamb shoulder, and top sirloin.
U Shabu has hotpot grills located directly at the table, but your server will do most of the cooking. There's a 90 minute limit on the AYCE menu, and you can't take leftovers home.
Location: 5845 Spring Mountain Rd suite A1-A4
Price range: $20-$25 per person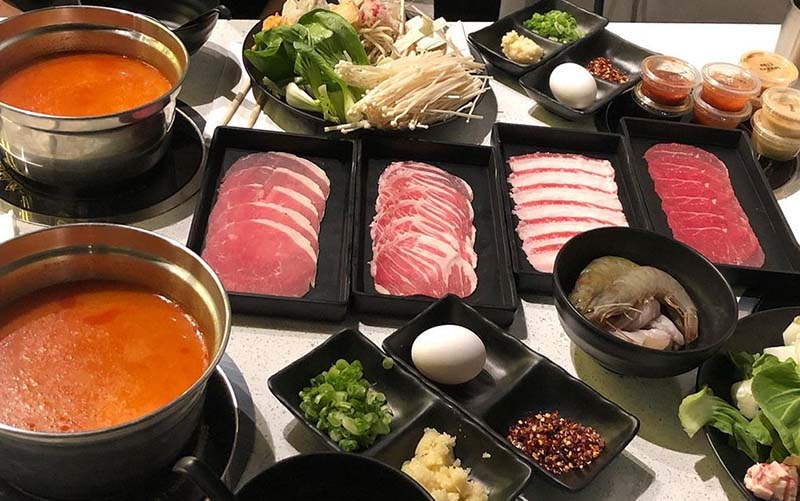 Chanko Shabu & Izakaya
Chanko Shabu & Izakaya is located across the street from U Shabu. This small restaurant offers an expansive menu of authentic Japanese cuisine, including hot pot.
Wagyu, Angus beef, and pork are among the meats available to put into your hot pot. Prices differ depending on the meats you choose, but they range from $18 to $30 a person.
Location: 5808 Spring Mountain Rd #103
Price range: $20-$30 per person
The Golden Pot
The Golden Pot is the only Vietnamese hot pot restaurant in Las Vegas. They make all of their broths from scratch using chicken and beef bones. All of the dishes here are created by hand too.
Once you choose your broth, you'll have the choice of meats, which include beef, seafood, pork, and vegetable. You'll also be able to pick from egg noodles, steamed rice, or clear glass noodles as your side dish.
Location: 45 E Silverado Ranch Blvd Ste 105
Price range: $20-$30 per person
The Red Pot
The Red Pot is an All-You-Can-Eat seafood hot pot found near Las Vegas airport. The focus is on seafood here, but you can also order other meats and vegetables. Everything on the menu comes with an extensive dipping sauce bar as well.
The restaurant offers a weekday lunch special for $25, but meals during dinner cost $35 (weekend prices are also $35). It's important to note that The Red Pot closes for a few hours late in the afternoon (from 3 pm to 5 pm) before switching to the dinner menu.
Location: 1375 E Tropicana Ave
Price range: $25-$35 per person
Shabu Shabu Paradise
Shabu Shabu Paradise is one of the only hot pots located in Henderson, NV (about 20 minutes from the Las Vegas Strip). You can order a number of meats that range from seafood to Wagyu beef. There are pork, chicken, and vegetable options as well.
The menu has a couple of different portion sizes available that cost between $20 and $40. Shabu Shabu Paradise also has an AYCE option that costs roughly $50-$70, depending on the meat you order.
Location: 1716 W Horizon Ridge Pkwy Suite 110
Price range: $20-$40 per person
Yunnan Tasty Garden
Yunnan Tasty Garden is a Chinese restaurant in Spring Valley that serves a decent hot pot. There is a wide range of soups offered here, including different fish, tofu, pork, chicken, and beef. I highly recommend their shrimp house special.
This is one of the best places to grab Chinese hot pot in Vegas. You can find the restaurant tucked away in the Chinatown Plaza. They offer both takeout and dine-in.
Location: 5115 Spring Mountain Rd suite 103-105
Price range: $15-$20 per person
Shabuya
Shabuya has a couple of excellent Japanese restaurants spread throughout the country. This Japanese hot pot offers 5 different broth bases and nearly 10 different premium cuts of meat that you can add to your meal.
The lunch special is an excellent deal at $22.99 per person. Dinner costs $26.99 a person, but it's still a bargain since it's AYCE. This Vegas hot pot restaurant is located in Chinatown Plaza.
Location: 4725 Spring Mountain Rd Suite A-E
Price range: $25-$30 per person
The Best Hot Pot
The name of this restaurant is literally "The Best Hot Pot." This is a self-serve restaurant that charges you by weight ($14.99/pound). I have found that my meals typically come out to about $20-$25, but you can spend more or less depending on how much you eat.
You essentially get the opportunity to build your own hot pot. They've got a lot of variety in the ingredients available, including meats, seafood, vegetables, meatballs, and noodles.
Location: 4355 Spring Mountain Rd#106
Price range: $20-$30 per person
Kogi Korean BBQ & Seafood Hot Pot
Kogi is a superb Korean BBQ restaurant that also offers a hot pot menu. The hot pot comes as part of the AYCE BBQ menu, so you can't order the soup separately.
There are 4 hot pot items available, including Soon Du Boo (spicy soft tofu), Shabu Shabu (beef broth), Bulkogi Sukioyaki (prime ribeye), and Vegetable & Mushrooms (vegetarian broth). If you're looking for a Korean hot pot, Kogi is the place to visit.
Location: 1263 E Silverado Ranch Blvd
Price range: $25-$30 per person
Hot Pot Las Vegas All You Can Eat (AYCE)
You'll typically find the best deals by ordering off the All-You-Can-Eat menu. There are plenty of spots that offer AYCE Vegas hotpot. Here are a few of them:
Swish Japanese Hotpot
Nabe
Shabuya
Shabu Shabu Paradise
The Red Pot
Kogi
Map of Hot Pot Restaurants in Las Vegas
If you're looking for the closest Las Vegas hot pot, check out the map below. The largest cluster of hot pot restaurants is found in the Chinatown neighborhood of Las Vegas.