Nabe Hotpot is one of the best places to eat hot pot in Las Vegas. I saw that they were getting excellent reviews, so I recently went out of my way to try them out.
There isn't a whole lot of information available about Nabe online, so I'll go over some of the basics in the article. I'll cover everything you need to know, including the menu, prices, and how to make reservations.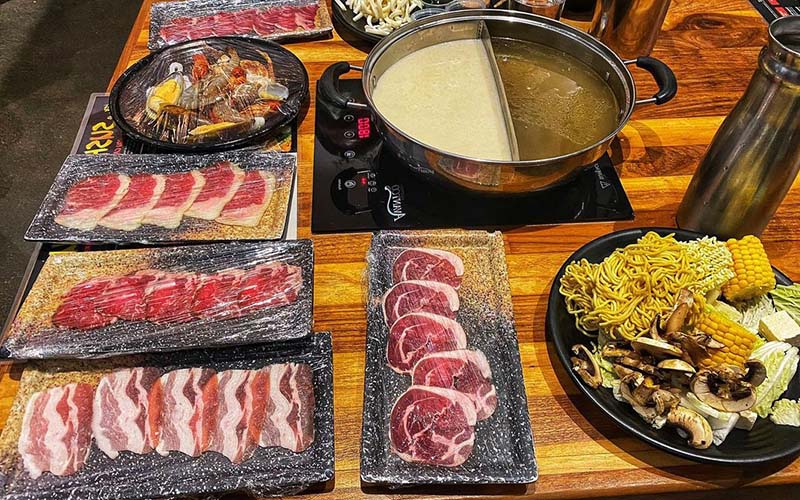 Nabe Hotpot Prices
The menu at Nabe Hotpot Las Vegas is All-You-Can-Eat (AYCE). The prices change depending on the time of day that you decide to visit.
Lunch – $25.95 (Monday-Friday 11:30am-4pm)
Dinner & Weekends – $29.95
Late Night – $22.95 (11pm-2am)
All of these prices are per person, and there is an 80-minute time limit on all AYCE (all-you-can-eat) orders. It's important that you order little by little since leftovers will be charged $9.50 per person. Also, parties of 4 or more are charged an automatic 15% service fee.
The AYCE menu includes both hot pot (shabu shabu) and sushi. However, sushi is not included on the late-night menu. Here's an idea of what you can expect on the menu at Nabe Las Vegas.
Nabe Las Vegas Menu
Hot Pot Broths
Nabe allows you to build your own hot pot in an AYCE format. The first menu item that you select is the broth that goes into your pot. There are six options currently available.
Dashi
Tonkotsu
Nabe Signature
Seafood
Sukiyaki
Pho
If you want to choose two flavors, half-and-half is also available.
Meats
Next, you can decide what meats to order. They include:
Angus Brisket
Angus Beef Belly
Angus Bottom Round
Premium Pork Belly
Nabe Marinated Beef
Wagyu Shoulder Tender
Wagyu Short Rib
Wagyu Ribeye
Boneless Lamb Shoulder
Appetizers
Edamame
Spicy Garlic Edamame
Gyoza
Egg Roll
Shrimp Tempura
Vege Tempura
Pork Belly
Bulgogi Nacho
Bulgogi
Chicken Karaage
Honey Chicken
Soy Garlic Chicken
Jalapeno Popper
Sweet Potato Fries
Seaweed Salad
Salad
There are three salad options at Nabe:
House Salad
Cucumber Crab Salad
Seaweed Salad
There's also a seafood salad available at the sushi bar (more on this later).
Sauces
Ponzu
Fish Sauce
Tabasco
Vinegar
Gochujang
Sesame Oil
Goma
Siracha
Hoisin
Sambal
Noodles
Ramen
Udon Noodle
Egg Noodle
Rice Noodle
Side Dishes
Kimchi
Ginger and Garlic
Egg
Steamed Rice
Pickled Ginger and Wasabi
Vegetables
There are a lot of vegetables that you can add to your hot pot. Here are a few of them.
Button Mushroom
King Oyster Mushroom
Wood Ear Mushroom
Shimeji Mushroom
Kabocha
Zucchini
Green Onion
Onion
Jalapeno
Cilantro
Napa Cabbage
Spinach
Bok Choy
Lotus Root
Corn
Bean Sprout
Carrots
Potatoes
Combo Plates
The hot pot comes with an optional combo plate of seafood.
Squid
Clams
Shrimp
Lobster
Crawfish
Mussel
Calamari
Fish Ball
Sushi Bar
Here are some of the seafood options that you'll find at Nabe's sushi bar:
Tuna
Garlic Tuna
Salmon
Seared Lemon Salmon
Yellowtail
Yuza Yellowtail
Albacore
Super White Tuna
Cajun Tuna
Smoke Paprika Salmon
Shrimp
Crab
Fresh Water Eel
Squid
Octopus
Aomori Scallop
Salada Lobster
Salmon Egg
If you're still hungry, there are also over 30 custom bowls and sushi rolls that you can order as well.
Desserts
Affogato
Mango Mochi Ice Cream
Strawberry Mochi Ice Cream
Green Tea Mochi Ice Cream
Vanilla Ice Cream
Drinks
Drinks are sold separately from the all-you-can-eat menu. You have several options:
Soda – $2
Iced Green Tea – $2
Hot Tea – $2
Beer – $8
Sake – $15-$18
Soju – $12
Reservations and Contact Info
When I called to make a reservation at Nabe Hot Pot, they said that they don't take reservations. There is a Yelp waitlist, but it still seems like the restaurant seats customers on a first-come, first-serve basis regardless of whether or not you used the app.
Nabe is extremely popular, so I recommend that you get here as early as possible. The hostess will take your information and call your name when they have an opening. In my experience, the average wait time is approximately an hour.
You can find Nabe on Spring Mountain Road, directly in the heart of the Chinatown district. It's right next to 8oz Korean BBQ.
Nabe Hotpot Contact Information
Phone number: (702) 202-1631
Address: 4545 Spring Mountain Rd #106, Las Vegas
Hours of Operation for Nabe Las Vegas
Nabe Hotpot is open from 11:30 am to 2:00 am every day. Last-call for the late-night menu is at 1:30 am. After that, the restaurant stops putting out new food. Kids between the ages of 4 and 7 can take advantage of the half-price AYCE menu during last-call.
Also See: Shabuya Hot Pot Las Vegas
Final Thoughts
Overall, Nabe offers great food at an affordable price. It's not the most high-end hot pot restaurant in Las Vegas, but it's hard to beat their AYCE hot pot and sushi menu. You get so much food here that you're guaranteed to leave stuffed.