I've been trying all of the best Las Vegas hot pots and stumbled across U Shabu. I saw some good reviews online, so I decided to give them a shot.
U Shabu is a relatively new Japanese hot pot, so this article will cover the basics (menu, prices, location), along with my experience eating at the restaurant. By the end, you'll know exactly what to expect when you come here.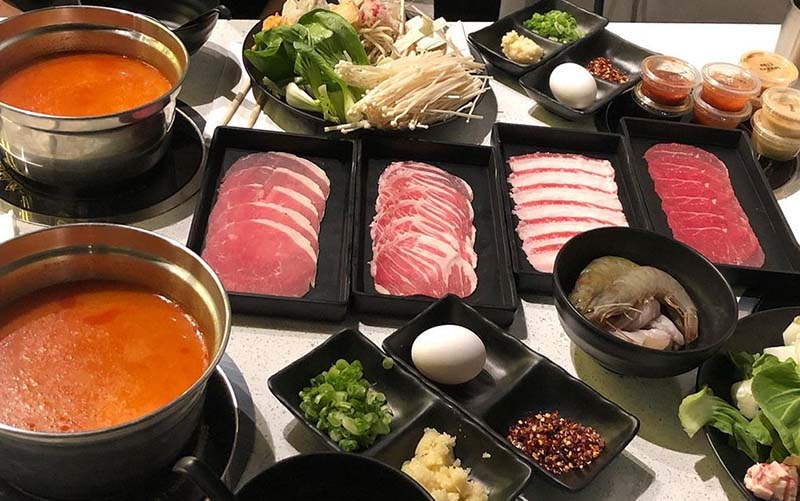 U Shabu Las Vegas Prices
U Shabu is an all-you-can-eat (AYCE) Japanese hot pot, also known as shabu shabu. They charge different prices depending on the time of day that you visit, but the menus are nearly identical (with the exception of a few types of meat). Here are the prices:
Lunch – $20.99 (11:30am – 3pm)
Dinner – $26.99 (4:30pm – 10pm)
Kids (3ft – 4ft tall) – 50% Off
Kids under 4 feet tall get a major discount. There are also a few AYCE rules that are enforced at U Shabu:
90-minute time limit
Everyone must order off of the same menu
All guests at the table are going to be charged
Leftovers cannot be taken to-go
Parties of 5 or more are charged an 18% gratuity automatically
U Shabu Menu
When you get seated at U Shabu, the first thing that you do is order your broth and meats from the server. Once you do that, you can get additional hot pot menu items from the different stations located in the back of the restaurant. So let's go over the menu.
Appetizers – Hot Food Station
There is a hot food station, where you can get pre-made dishes while you wait for your hot pot to cook. Some of those foods include:
Corn Cheese
Fried Chicken
Edamame
Spring Rolls
Fried Gyoza (dumplings)
Broths
The restaurant offers 6 separate broth bases for your hot pot. You have the option to order more than one base.
House Special
Miso
Sukiyaki
Tonkotsu
Spicy Tonkotsu
Vegetarian
Meats
Your server will come to your table to take your meat orders. Some meats are only available during dinner.
Pork Shoulder
Pork Belly
Chuck Tender
Beef Eye Round
Angus Beef Brisket
Angus Beef Belly
Beef Round Tip
Beef Top Sirloin
U Shabu Special Rib Eye (dinner only)
U Shabu Special New York (dinner only)
Lamb Shoulder (dinner only)
Additional Hot Pot Ingredients & Desserts
U Shabu has an extensive self-serve bar area where you can pick out your hot pot ingredients. You can choose from a number of sauces, noodles, dumplings, mushrooms, vegetables, and seafood. There is no limit on how many of these items you can get.
There is also a limited dessert menu. The only dessert currently offered is soft-serve ice cream with various toppings.
Drinks
Drinks are not included in the AYCE eat prices. They cost between $2-$5 depending on what you order. Here are some of your options:
Soda
Yogo Vera
Sweet Tea
Iced Tea
Apple Juice
Water
U Shabu Reservations & Information
When I visited U Shabu Las Vegas, it wasn't very busy. You'll usually get seated immediately without a reservation, but you can make one if you want to be safe.
The restaurant is open 7 days a week from 10:30am to 10pm. However, it does temporarily close every day between 3pm and 4:30pm. Just be aware of that when planning your visit.
U Shabu is located in the Golden Spring Plaza in the Chinatown neighborhood of Las Vegas. There are a lot of restaurants in the plaza, so parking can be tight at times.
U Shabu Hot Pot Contact Information
Phone number: (702) 476 4222
Address: 5845 Spring Mountain Rd Suite 114, Las Vegas
Final Thoughts
U Shabu is a lesser-known spot, so I really enjoyed the relaxing atmosphere. I definitely recommend that you check them out the next time you find yourself in the area. Their prices are in line with other hot pot restaurants, and they have plenty of menu options.
Related Articles