Kogi Korean BBQ and Seafood Hotpot is one of the best places to eat Korean BBQ in Las Vegas. I've heard a lot about this restaurant, so I recently went out of my way to try them out.
There isn't a whole lot of information available about Kogi online, so I'll go over some of the basics in the article. I'll cover everything you need to know, including the menu, prices, and how to make reservations.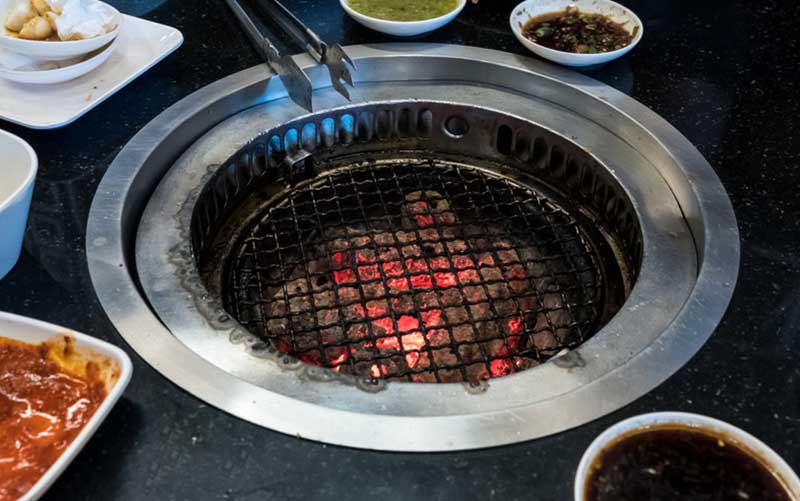 Kogi Las Vegas All-You-Can-Eat Menu & Prices
Kogi Korean BBQ Las Vegas is known for its AYCE (all-you-can-eat) BBQ and seafood menus. When you go to order, you'll notice that there are two different price points.
Lunch/Late-night Special – $24.95 (Kids ages 4-7 cost $15.95)
All Day Special – $28.95 (Kids ages 6-12 cost $18.95)
The lunch special is only available Monday-Friday from 11am-4pm (it's also available from 10pm to close every day). The all-day special is what you pay after 4pm, and on weekends and holidays.
AYCE Rules
If you're new to Korean BBQ, you should know that there is a 90-minute time limit on AYCE orders. Also, you can be charged for anything that you do not finish, so don't order more than you can handle.
Leftovers will be charged
90-minute time limit
Parties of 4 or more will be charged an additional 15% service fee
No sharing unless everyone in your party orders the same menu
The Kogi menu has over 70 total items available, spread out into several sections (the menu is very similar to Hwaro Las Vegas). I'll cover what those menu items are below. Please note that the menu and prices may change in the future.
Appetizers
There over 20 appetizers on the menu. I highly recommend the volcano steamed egg, but all of the appetizers looked good. Just note that some items are limited to one per table.
Crab and spicy tuna mix
Jalapeno pepper
Shrimp tempura
Egg roll
Gyoza
Truffle French fries
Korean fried chicken
Honey mustard chicken
Chicken karaage
Soy garlic chicken
Edamame
Spicy garlic edamame
Bulgogi nacho
Japche (pasta)
Volcano steamed egg
Baked mussel
Pang
Oyster
Creamy shrimp
Potato lasagna
Crab poke rice
Salad & Noodles
There are 3 salad options on the menu.
Seaweed salad
House salad
K. green onion salad
Plus, 2 choices for noodles.
Banchan (side dishes)
There are several side dishes available at Kogi. I highly recommend the corn cheese and kimchi.
Corn cheese
Garlic butter
Sliced jalapeno
Cucumber kimchi
Kimchi
Pickled radish jalapeno
Fishcake
Potato salad
Radish wrap
SsamJang
Lava Sauce
Cheese fondue
Steamed rice
Hot Pots
Next, you can choose 1 of the 4 hot pots.
Soon Du Boo (spicy soft tofu)
Shabu Shabu (beef broth)
Bulkogi Sukioyaki (prime ribeye)
Vegetable & Mushrooms (vegetarian broth)
BBQ
When it comes to the actual BBQ options, you have about a dozen meats to choose from.
Beef brisket
Beef belly
Beef tongue
Sliced ribeye bulgogi
Pork belly
Signature pork cheek
Park Kalbi
Jalapeno Ponzu beef belly
Chicken bulgogi
Cajun chicken
Spicy pork
Spicy chicken
Spicy pork rib
Spicy squid
All Day Specials
If you order the all-day menu, you'll have access to some additional meats. For this reason, I recommend ordering from the all-day menu since it's only $5 more expensive.
Enkoki beef
Prime short rib
Beef flank
Spicy short rib
Daikon steak
King's kabli
Harami miso (outside skirt steak)
Prime ribeye steak
Beef tomahawk
Green tea prime pork belly
Miso prime pork belly
Wine prime pork belly
Jalapeno spicy prime pork belly
Baby octopus
Butter shrimp
Desserts
The desserts are limited to one per person.
Strawberry mochi ice cream
Mango mochi ice cream
Vanilla ice cream
Green tea ice cream
Korean iced coffee
Affogato
Tiramisu with coffee
Drinks
Drinks are not included in the all-you-can-eat menu. They must be ordered separately.
Soda – $2
Iced green tea – $3
Hot tea – $2
Beer – $4-$8
Soju – $12
Sake – $12-$17
How to Make a Reservation at Kogi Korean BBQ
Before eating at Kogi, I gave them a call to make a reservation. However, I was told that they only take walk-ins. This is a bit disappointing considering how busy the restaurant gets, but it's not really a big deal.
If they don't have seating available when you arrive, you can check in on their list, and they'll text you when they have a table available. You can find Kogi Korean BBQ in the south part of Las Vegas, a few blocks from the South Point Casino. I included their contact information below.
Phone number: (702) 915-7988
Address: 1263 E Silverado Ranch Blvd, Las Vegas
Delivery and Takeout at Kogi Korean BBQ
There is an option on Yelp to order takeout and deliver from Kogi. I tried to order online, but it wouldn't let me actually submit an order. When I talked to an employee at Kogi, he confirmed that takeout is not an option.
I've seen some reviews from a few years ago where people mention takeout, but it seems like they no longer have that option. You must order a sit-down meal at the restaurant, which is well worth the trouble!
The prices are in line with what other Korean BBQ restaurants charge for their food.