Hip Hop is gaining a lot of traction, even with the extreme popularity of EDM music in Vegas nightclubs. However, there are only a few clubs that play Hip Hop consistently and even fewer that play it exclusively.
Each club also has its own set of DJs and live performances so it's important that you pick the right one. There's a lot to consider when choosing which nightclub to attend, so I'll cover everything you need to know about the best Hip hop clubs in Las Vegas in-depth below. These are the best hip hop clubs in Vegas…let's go!
Hip Hop Clubs in Vegas
1. Drai's Nightclub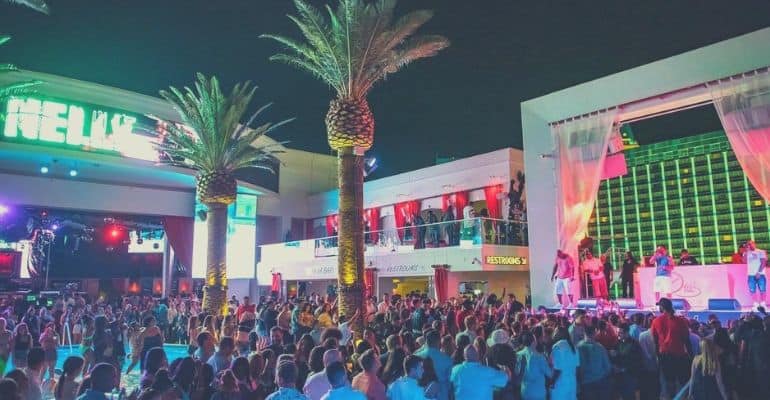 Drai's is the best nightclub for Hip Hop and R&B in Las Vegas, and possibly the world. Located on the rooftop of the Cromwell Hotel, Drais is massive.
In the summer, this club is half indoors and half outdoors hosting the only rooftop pool party in Vegas on Thursday nights. The dayclub here is also popular since it's open Friday, Saturday and Sunday.
Why it's worth it:
For the set list of celebrities alone
For the Strip views from the roof
The reason why I rate Drai's as the best Hip Hop club in Las Vegas is because of the A-list musical talent that they bring in on a daily basis. Artists like, 2 Chainz, 50 Cent, Trey Songz, Tyga, Snoop Dogg, Big Sean, and Migos are among the hip hop artists that perform live here relatively often.
None of the other hip hop clubs can rival that. A venue like this will always be a great place to throw a party.
Now, this club does occasionally play some EDM music but it's relatively rare. DJ Pauly D is the main DJ for EDM, but to his credit, he does throw in quite a bit of Hip Hop and Top 40 into the mix.
Drai's Nightclub offers free entry to women that sign up for the Las Vegas guest list. Men on the guest list can either get free entry or a reduced cover charge as long as they have an even ratio of women in their group. A greater number of women than men works as well. You can sign up for the Drai's guest list here.
The one caveat is that on busy nights (like when the Migos are performing), there is no guest list available. It's important to look at the table service calendar, to make sure there isn't a big artist playing. On those nights I would recommend that you be ready to buy a ticket or purchase a bottle service table.
Address: 3595 S Las Vegas Blvd, Las Vegas, NV 89109
2. The Heart Room At Omnia Nightclub Las Vegas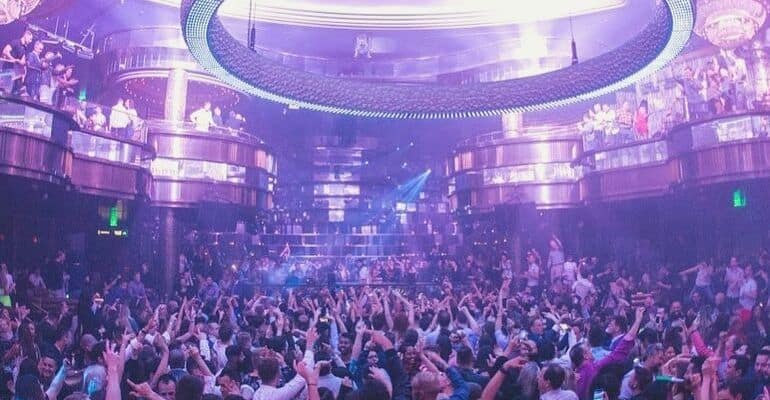 The Heart of Omnia is my personal favorite hip hop club in Las Vegas. Omnia is known mostly as an EDM nightclub where huge DJs like Calvin Harris and Martin Garrix play. But there is a completely separate room within Omnia that plays exclusively Hip Hop music.
The Heart of Omnia operates like a club in itself. It has its own DJ booth, bar, dance floor, and bottle service tables making it a surprisingly large space. It is even sound-proofed so that there is no trace of the loud EDM being played in the main room next door.
Why it's worth going:
The music is REALLY GOOD
You can reserve a table on the dance floor which is cool
The music here is REALLY GOOD. The Hip Hop DJs spin a combination of today's hits alongside all of the classics from the past couple of years. Every single track played is a hit. The energy of Omnia Nightclub is unmatched.
Local nightlife workers come back to the hip hop club at Omnia every Tuesday. It's one of the Las Vegas clubs that hosts the nightlife industry parties. Heart on Tuesday really is at the heart of Las Vegas nightlife. The crowd and the vibe prove that.
Omnia is one of the hip hop clubs that has favorable guest list rules. Both men and women will get free entry into the club, assuming that they are on the list. You can sign up the Omnia guest list here.
Address: 3570 S Las Vegas Blvd, Las Vegas, NV 89109
3. Ling Ling Lounge At Hakkasan Nightclub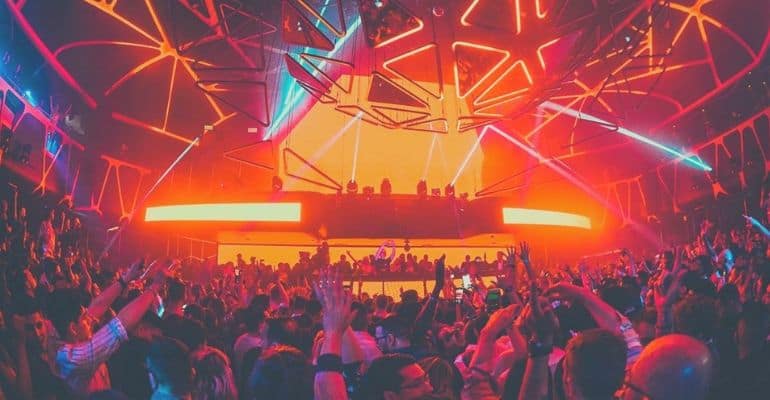 The Ling Ling Lounge is my second favorite club to listen to Hip Hop in Las Vegas, behind the Heart of Omnia. It's one of the hottest hip hop lounges in Las Vegas.
Ling Ling is located within Hakkasan Nightclub, on the 3rd floor of the club. The features of the lounge are extremely similar to the Heart Room in that it's like a separate club within an already large nightclub.
Best because:
Free admission with guest list
Restaurants on the first floor
The hip hop room at Hakkasan is a relatively large room and it's extremely packed, yet it's one of the easiest places to get a drink in all of Vegas.
This is because a majority of the people in this room already have club bottle service and don't have a need to go to the bar. The two bars are more than enough for everyone else partying in Ling Ling Club.
Hakkasan Las Vegas allows both guys and girls to get free admission when they add their names to the guest list. Guests can put their name on the Hakkasan guest list here. Also, check out the restaurant on the first floor of the club. They have some excellent food.
Address: 3799 S Las Vegas Blvd, Las Vegas, NV 89109
4. Chateau Nightclub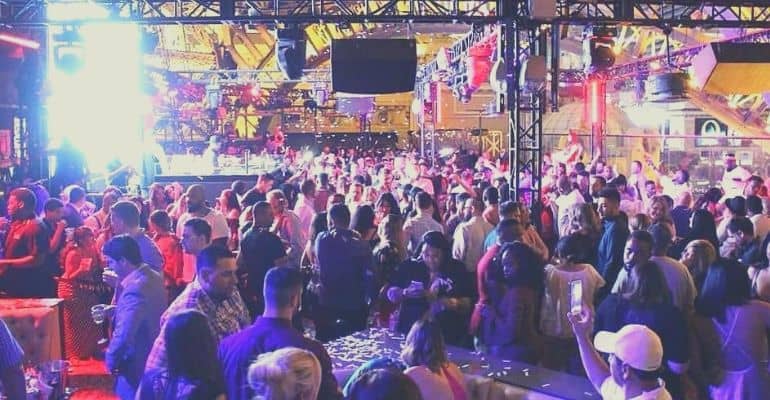 Chateau is another really good hip hop club in Vegas. Chateau is located at the Paris hotel directly underneath the Eiffel tower, making for a spectacular view of the Bellagio fountains.
Besides Drai's, very few Las Vegas hip hop clubs can claim that they have views. Not only does Chateau have one of the best views of the strip, but it is also the club that has the most DJ interaction with the crowd.
Best because:
Best DJ interaction with the crowed
Amazing views and location on the Strip
The club plays almost exclusively Hip Hop music, so if you enjoy Hip Hop and like rooftop parties, you should check out Chateau Las Vegas. There's plenty of room on the dance floor, which is notable if you like dancing. Dance clubs are pretty rare in Vegas.
Women on the Chateau guest list get free entry into the club. Men are required to have an even ratio of women in their group to get free entry into the club. You can put your name on the Chateau Nightclub guest list to sign up for events.
Address: 3655 S Las Vegas Blvd, Las Vegas, NV 89109
5. Marquee Nightclub Hip Hop Room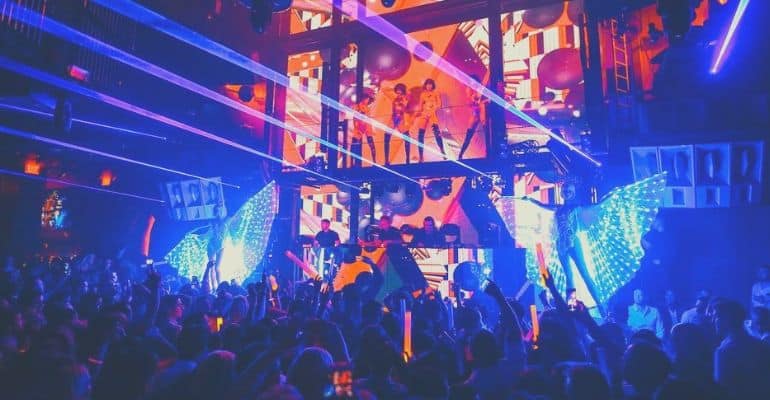 Marquee is another top-tier nightclub in Las Vegas that plays both EDM and Hip Hop music. In my opinion, Marquee does the best job of mixing both musical genres into a single DJ set. Travis Scott and DJ Mustard are the two main DJs at Marquee and they both put on a show.
The club itself is one of the best places to see a DJ perform because of the tiered manner in which the bottle service tables are set up.
Best because:
Best views of the stage and DJ
Great mix of music
You can see the stage from just about every angle, there are no bad seats in the house. This makes it one of the top Vegas hip hop clubs. The entertainment is great too since there are performers and dancers on the stage. The lighting and LED screens in the venue are also something to admire.
Nightclub guest lists are available here as well. All women who join the guest list get free admission to the club.
Men will be required to have an even ratio of women with them in order to take advantage of the guest list. You can sign up for the Marquee Nightclub guest list here. The entrance to the club is near the Chandelier Bar at the Cosmopolitan Hotel.
Address: Located inside The Cosmopolitan, 3708 Las Vegas Blvd S, Las Vegas, NV 89109
6. Tao Nightclub Las Vegas
Tao Las Vegas is one of the smallest Vegas clubs, but that doesn't mean it doesn't get wild. Again the size of the club makes for a more intimate environment where you a literally able to reach out and touch the DJ from the dance floor.
The DJs here aren't too well known at this club, but they put out some great music. They play both Hip Hop and EDM which is typically split into two separate rooms.
The Opium Room is more Hip Hop oriented, and similar to the Ling Ling Lounge it's one of the easiest places to grab a drink at the bar in Vegas.
Best because:
Intimate atmosphere
Easy to get drinks at the bar
As always women get free entry into the club on the guest list at Tao. Men are required to have an even number of women. Tickets for this vegas hip hop club are cheap, but you also sign up for the Tao guest list here.
Address: 3377 S Las Vegas Blvd, Las Vegas, NV 89109
7. Light Nightclub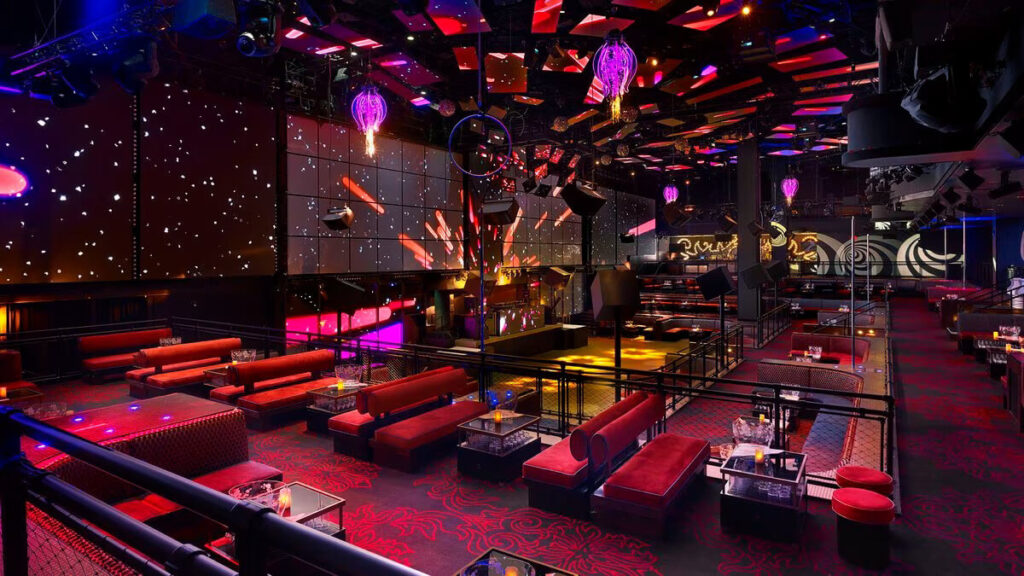 What's special about this club is that it is hard core hip hop. Meaning that while other clubs on the Strip will have days where they play EDC or even mix it up on the hip hop days, this club will not.
If you're looking for a top tier service as well, this is the place to go, their VIP service is top notch.
Best because:
Best VIP service
Doesn't play EDC music
The light show
Another cool thing about this club is the lights, oh yes, just as the name implies the LED lights and dances really put on a show to live up to the club's name. It's an experience by itself that is worth seeing.
Address: 3950 S Las Vegas Blvd, Las Vegas, NV 89119
8. Jewel Nightclub
This club rarely plays EDC music, so for a hip hop lover, this is definitely one of the best hip hop clubs in Vegas.
What we love about this place is the tech. Similar to the Light club, this club has one of the best lights show and sound system, which gives it a leg up on the competition.
Also their schedule is very good and solid with celebrity performances around the year.
Best because:
Light and sound system
Live hip hop acts
Address: 3730 S Las Vegas Blvd, Las Vegas, NV 89158
9. Drai's after hours hip hop room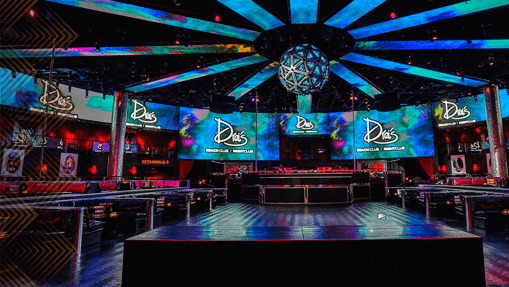 For the people who like to party until the morning, or just want to start their night late. This place doesn't really start until the regular clubs are closing shop.
Just look for the gold elevator inside the Drai's club, this place is hopping with hip hop music and vibes and because of the late nights, you can expect cool crowds here.
Best because:
Open till morning
Cool vibe
You can actually spot celebrities here that love to party until the early morning hours. So keep your eyes open while here.
Address: 3595 S Las Vegas Blvd, Las Vegas, NV 89109
Other Hip Hop Clubs in Las Vegas
Outside of the clubs already mentioned, there are a few other places to listen to Las Vegas hip hop. For example, some Vegas pool parties play plenty of hip-hop. My favorite hip hop pool is Drai's. Similar to Drai's Nightclub, the daytime pool at Drai's is one of the best hip hop clubs in Las Vegas.
Another Las Vegas club that plays hip-hop is Daylight Beach Club. Daylight is one of the hottest clubs in Las Vegas. This Las Vegas pool is massive and often features live performances from top artists. Other clubs may also play hop hip intermittently.
What Club Plays the Most Hip Hop in Las Vegas?
Out of all the hip hop clubs in Las Vegas, I would say that Drai's is the club that plays the most hip hop. Other hip hop clubs only play a little bit of Vegas hip hop, while mixing in EDM and top 40. Drai's is one of the few clubs that is dedicated to playing only one style of music. However, Drai's also has some of the strictest guestlist rules. It's not the easiest club to get into.
With that being said, it's a ton of fun to party at Dria's. The shows put on at this place are the best, save none. Plus, they have a collection of artists, unlike any other venue.
How Much Does Bottle Service Cost at Clubs?
The cost of bottle service in Las Vegas nightclubs ranges from $1,500 to $10,000. Tables in Las Vegas require a minimum spend that varies based on the club, the location of the table, and how busy the venue is on that particular night.
Individual bottles typically cost between $300 and $800. Contact us here if you would like to get in touch with a Vegas VIP host at the club of your choice.
Bottle Service at Las Vegas Nightclubs that Play Hip Hop Music
Out of all of the hip hop clubs in Las Vegas, Drai's tends to have the most expensive bottle service. Tao Nightclub and Chateau Nightclub are the two hip-hop clubs that tend to have the cheapest VIP table service. The prices at the other clubs on this list are somewhere in-between.
If you want more for less, then Tao may be the way you want to go. Regardless, VIP tables are an experience that's too good to pass up. A party with bottle service is always better than one without.
Other Clubs in Las Vegas that Play some Hip Hop
These are Vegas' hottest hip hop clubs. Some other clubs that play nightclub hip hop include, On The Record and Light.
Both of these clubs offer a Vegas guest list. Another spot to party is Light, located at Mandalay Bay. For a full list of nightclubs in Las Vegas, check out this article.
There are also a few Vegas pool parties that play hip hop. Some of the hottest ones in the city include Daylight Beach Club and Tao Beach.
Both of these clubs allow a pool parties guest list as well. The hours for pool parties are different – they're open from 11 am to 5 pm. But this may be better if you prefer to get some sun, which is crucial on any trip to Las Vegas.