(This article may contain affiliate links and we may earn a commission if you make a purchase.)
I've visited Las Vegas dozens of times but never bothered to go Downtown. Turns out, that was a mistake! There are a ton of things to do Downtown, specifically on Fremont Street. Best of all, most of the attractions are free or cost less than $30.
So if you're tired of the glitz and glamour of the Strip, head over to Downtown Las Vegas. I actually visited all the attractions mentioned below and only included the ones that are the most fun. Anything that didn't live up to the hype was left off the list. So, here are the 30 best things to do in Downtown Las Vegas…
(To help you find these attractions, I added everything mentioned in this post to a map. You can download and print a complete map of Downtown Las Vegas for free here.)
30 Fun Things to Do in Downtown Las Vegas
1. SlotZilla Zipline
This is easily one of the most exciting things you can do in Downtown Las Vegas. If you visit Fremont Street (the most popular area of Downtown Las Vegas), it's hard to miss the people flying overhead on a zipline. You can ride the 7-story zipline seated for $29. Or for $20 more, you can fly superhero style (head first) 11-stories high. Either way, it's a ton of fun.
2. Gold Spike
Goldspike is one of the many bars found on Fremont Street. What makes Goldspike stand out is its large adult playground. It's open 24 hours a day and has games like beer pong, shuffleboard, giant Jenga, pool tables, and live music. The bar is free to enter before 10 pm.
3. The Tank at the Golden Nugget Las Vegas
The Tank is an award-winning pool complex at the Golden Nugget. It features a 3-story slide that goes through a giant shark tank. You can also order drinks and gamble at the pool, making it one of the best places to kick back and relax in Downtown Las Vegas. The pool is free for hotel guests, but you'll have to pay $35 if you aren't staying at the Golden Nugget. It's slightly more than $30, but trust me it's worth it.
4. Donut Bar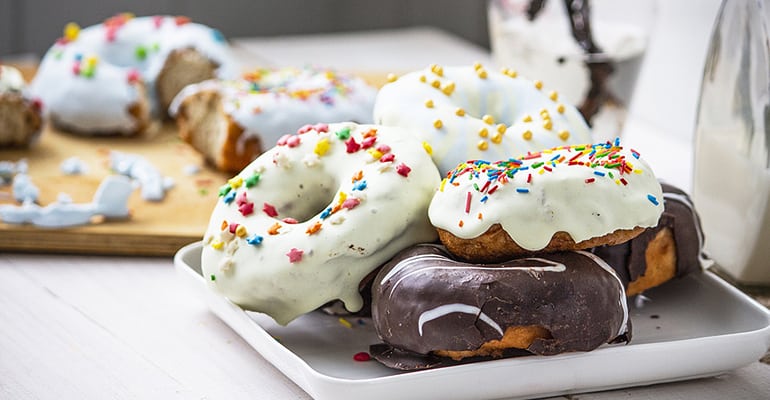 If you find yourself in Downtown Las Vegas, you have to visit the Donut Bar. They serve delicious oversized donuts filled with all kinds of crazy flavors. The bakery is so popular that they are sold out by noon every day. I recommend you either pre-order online or get there early. Eating here should be on the top of your list of things to do in downtown Las Vegas.
5. See Free Summer Concerts at Fremont Street Experience
Throughout the summer (May-September) there are free concerts held directly on Fremont Street. These concerts are open to the public and feature popular artists from many different genres of music. If you plan on attending I recommend getting a spot early since the bigger artists tend to draw a crowd. Concerts are typically held on Fridays and Saturdays and start around 9 pm.
6. Commonwealth Cocktail Lounge
Commonwealth is one of the bigger bars in Downtown Las Vegas. The 2-level bar is lively every night of the week, except for Monday (it's closed on Monday). This bar is a favorite for locals with its live music and rooftop lounge. There is also a secret speakeasy bar hidden within Commonwealth called the Laundry Room. There's no photography allowed so I'll let you find the secret door yourself.
7. Downtown Container Park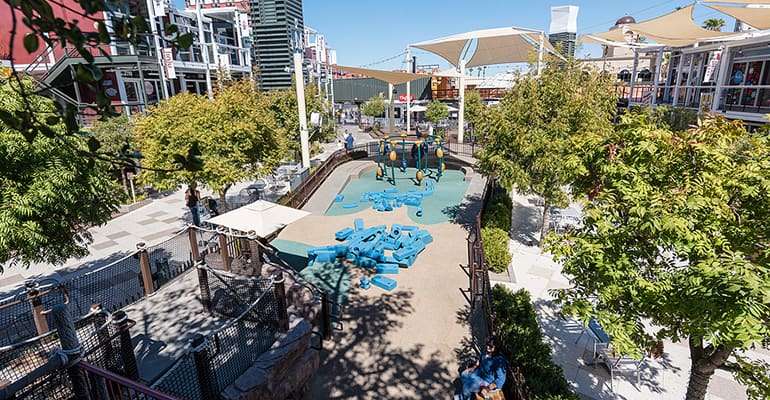 The Container Park is an outdoor mall and entertainment center located a few blocks off of Fremont Street. It has an adult playground, similar to Gold Spike, but there are also a ton of independent restaurants and bars. One of my favorite bars here is Oak and Ivy. It doesn't look like much, but the cocktails are amazing.
8. Heart Attack Grill
The Heart Attack Grill famously brands itself as the most unhealthy restaurant in the world. They cook all of their food in lard, and some items on the menu have nearly 20,000 calories! Although unhealthy, I have to admit that the food is really good. The waitresses are all dressed as attractive nurses and are required to spank you if you don't finish your meal. If you're still not sold on the Heart Attack Grill, just know that they give out free meals. Anyone who weighs over 350 pounds eats for free.
9. Las Vegas North Premium Outlets
This is one of the biggest shopping centers in Las Vegas. The Las Vegas North Premium Outlets are home to over 175 name-brand retailers like Michael Kors, Coach, and Dolce and Gabbana. There are also a few restaurants conveniently located in the area. If you're not renting a car you can get to the outlets by taking the Downtown Loop Bus. You see the Downtown Loop bus route here.
10. Viva Vision Light Show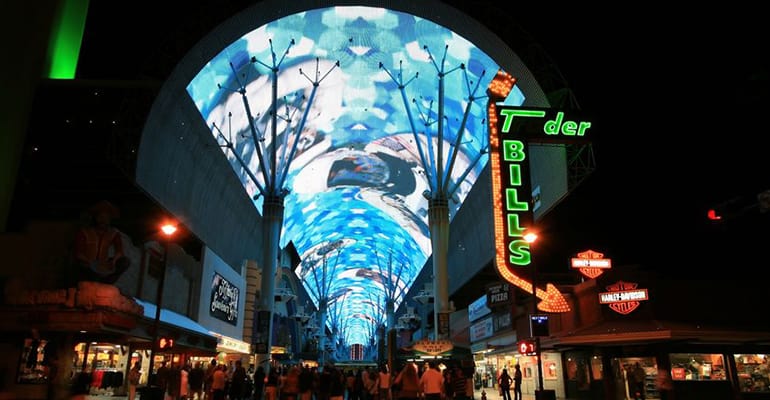 The Viva Vision Canopy is the huge LED screen covering most of Fremont Street. Similar to the summer concerts, the Viva Vision Light Show is completely free. The shows feature some of the biggest artists available, and the screen itself is the largest in the world. Shows run year-round and typically start around 6 pm. They last about 6 minutes and go on every hour until 1 am. This is one of the most popular things to do in downtown Las Vegas.
11. Oddfellows
Oddfellow is one of the few spots in Las Vegas that still plays 80's music. If you like oldies, I recommend that you stop in on a Friday for their 80's dance party. The DJ will take requests too, so you can be sure that you'll hear your favorite song. Tuesday is also a good night to visit, as they host karaoke.
12. Go To A World Famous Karaoke Bar
If you want to do karaoke on other nights of the week, visit Cat's Meow. Cat's Meow is a fantastic karaoke bar on Fremont Street. Plenty of musicians and celebrities have jumped on stage to sing over the years including Smashing Pumpkins, N'Sync, and even Bill Gates. It's free to do karaoke at Cat's Meow, and they have a wide selection of songs available, ranging from Top 40 and Hip Hop to 80's classic rock.
13. Fremont Street Experience
I've mentioned Fremont Street several times already. The majority of the casinos and attractions in Downtown Las Vegas as located on Fremont Street, but just walking down this street is an experience in of itself. You'll see the famous neon cowboy sign, Vegas Vic, along with dozens of other things like souvenir shops and street performers. But to be honest, you never really know what crazy things you're going to encounter on Fremont Street until you actually get there.
14. Low Minimum Gambling
Low table minimums are helpful because they prevent you from burning through your gambling budget too quickly. The Downtown Grand has $5 minimum roulette and craps tables, which is among the lowest table minimums in Sin City. I've seen $5/hand poker there too. The Fremont Hotel & Casino also has low table minimums. They have $3 blackjack and craps tables! Other casinos have low limit tables as well-like the Plaza Hotel, which has roulette tables with minimums as low as $10.
15. Mob Museum
The National Museum of Organized Crime and Law Enforcement is one of the few museums I actually enjoyed visiting. There are a bunch of interactive and unique exhibits that will keep you interested the entire time. You may even learn a thing or two about history. Tickets cost $30 for a day pass or $20 after 5 pm.
16. Neonopolis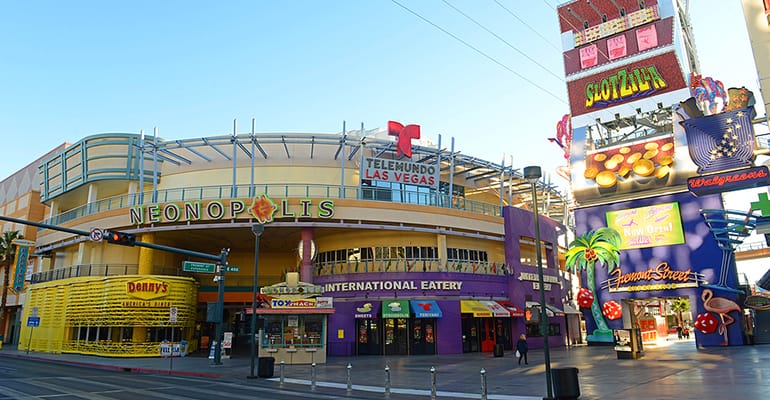 Neonopolis is another large downtown Las Vegas entertainment and shopping complex. It's located in the heart of Downtown Las Vegas, directly on Fremont Street. Neonopolis is home to a number of popular shops and bars including Cat's Meow Karaoke, The Nerd, and Toy Shack. This is also where the Heart Attack Grill is located.
17. Axe Hole
Axe Hole is another attraction located within the Neonopolis complex, but it deserves its own section. Axe throwing is simple, just hurl sharp axes at targets. The activity is surprisingly fun and family-friendly. Axe Hole costs $30 a person.
18. Nacho Daddy
Known for its gourmet nachos and margaritas, Nacho Daddy is one of my favorite restaurants in Las Vegas. Nacho Daddy serves Mexican food and is open until at least 2 am every day. There are a couple of locations throughout the city, but this is the best one.
19. Fremont Street East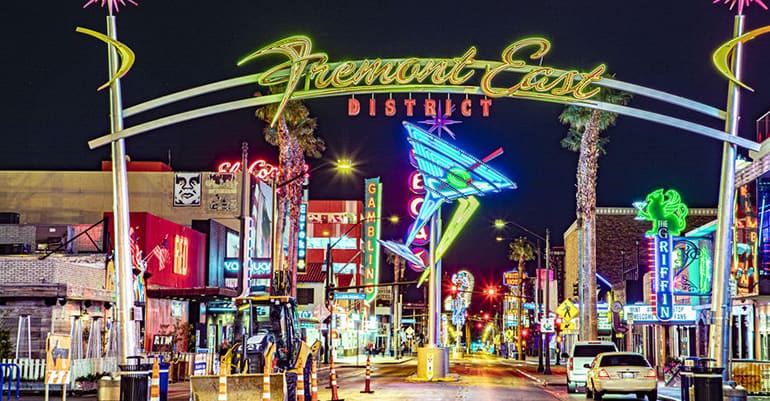 Fremont Street East is the part of Fremont that isn't covered by the Viva Vision Canopy. It's a little further away from most of the action but there is still a ton to do. Atomic Liquors, The Griffin, and Downtown Cocktail Room are all bars worth visiting in this area. If you're looking for a place to eat, Evel Pie is a great pizza restaurant on Fremont Street East. The El Cortez Hotel & Casino is nearby too.
20. Downtown Las Vegas Event Center
The Downtown Las Vegas Event Center is the biggest concert and event venue in Downtown Las Vegas. They frequently host events like music festivals (all genres of music) and live sports viewing events (UFC fights, Golden Knights Games, NFL Games, ect) among other things. It's located just behind the Four Queens Resort & Casino. Unlike the concerts hosted directly on Fremont Street that I mentioned earlier, these are not free. Tickets can cost as low as $30, but some events will be much more.
21. Gold And Silver Pawn Shop
The Gold and Silver Pawn Shop is where the popular TV show Pawn Stars is filmed. It's free to stop by the shop and take a look around. There is also Pawn Plaza next door, where Chumlee (one of the characters of the show) has a popular candy shop.
22. The Strat Skypod
The Strat holds the title of the tallest building in Las Vegas. It's not technically downtown, but it's in the area. The Skypod-found at the top of the hotel offers a breathtaking 360-degree view of the entire city. In addition, there is a restaurant, bar, and even several thrill rides located on the observation decks. Tickets to the top of the Skypod cost $25.
23. Bar Hopping
Bar hopping is one of my favorite things to do in downtown Las Vegas. If you're looking to meet some new friends while in Sin City, Bar Crawls should be your number one choice. Bar Crawls are essentially just organized bar hopping. You and your group will be guided by a host who knows all the best spots in the area. You'll hop from bar to bar getting discounts (buy one, get one specials/open bar) at many of the venues. Tickets only cost $25. If bar hopping is your definition of fun, check out this post here. I walk you through how to join a bar crawl in that article.
24. Comedy Clubs
Comedy shows are a great way to spend an afternoon in Downtown Las Vegas. There are a couple of comedy clubs in the area, but I really like Tickle Me Comedy Club and Mike Hammer Comedy & Magic Show. Both shows are hilarious, and tickets cost about $30. You're also allowed to drink during the shows, which makes them all the more entertaining.
25. Life Is Beautiful Music and Art Festival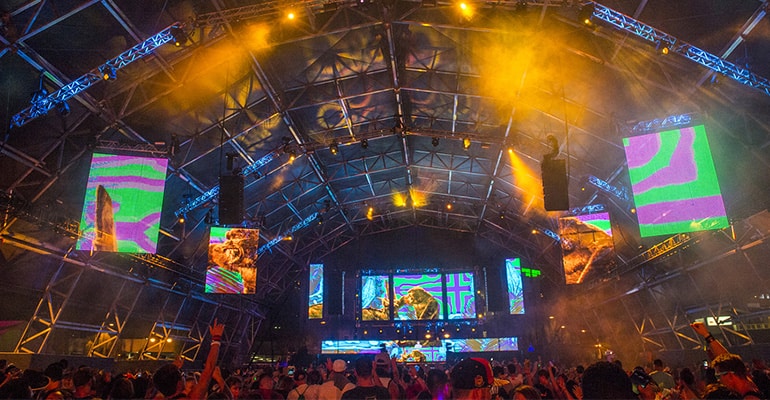 Life Is Beautiful or LIB is one of the biggest draws to Las Vegas. The festival takes up 18 city blocks in Downtown Las Vegas and features live performances from the biggest names in music. It also involves an extensive culinary experience featuring food from nearly 100 local bars and restaurants. Life Is Beautiful is held every September, and lasts 5 days. Tickets do cost upwards of $100, but I felt obligated to mention it anyway because it's such a big event. The festival is going to be unavoidable if you're visiting Downtown Vegas during the fall.
26. Visit The Historic Casinos
Before the mega-casinos were built on Las Vegas Blvd, Fremont was the most popular area of the city. So, the oldest and most historic casinos in town are located on Fremont Street. You can find plenty of interesting artifacts in these casinos-like original buildings or Frank Sinatra memorabilia. The two oldest are the Golden Gate and El Cortez, but they all have a little bit of history.
27. Sigma Derby
Speaking of historical, Sigma Derby used to be the most popular casino game in town. Now the only one remaining is the table found at The D Casino & Hotel in Downtown Las Vegas. If you're not familiar with Sigma Derby, it's a game where you bet on mechanical horses that go around a track. Supposedly making your first bet at a Sigma Derby table brings you good luck. And for only a quarter, why not try your luck.
28. Oscar's Steakhouse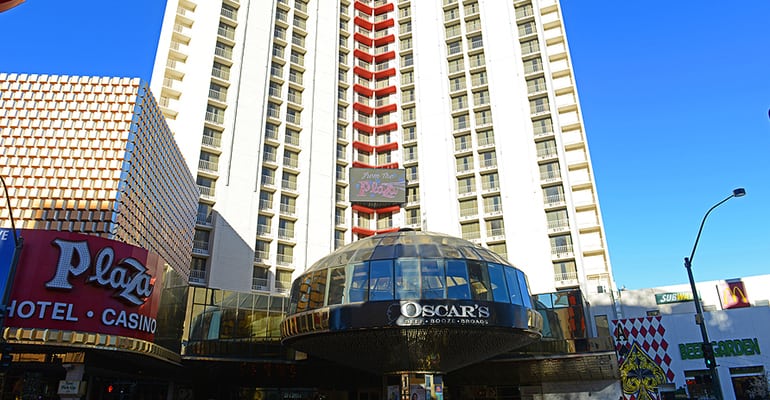 If you visit the Plaza Hotel, be sure to visit Oscars Steakhouse. The restaurant, named after former mayor Oscar Goodman, has one of the best views in Downtown Las Vegas. When you pull up to the Plaza Hotel, you'll know exactly what I'm talking about. The food is top notch too. I can't recommend this place enough.
29. Smith Center For Performing Arts
If you're a fan of Broadway-style musicals, opera, ballet, or any other performing art, I highly recommend you check out the Smith Center. It's a well-maintained multi-million dollar facility with a wide variety of shows. You can find the Smith Center within walking distance from the Las Vegas North Premium Outlets. Tickets here can cost upwards of $100 depending on who is performing, but I included it on this list anyways for all you hardcore art and music fans out there.
30. Neon Museum
The Neon Museum is an outdoor museum of the restored signs from older Las Vegas casinos. If you want to find out more about Las Vegas' history, the Neon Museum is a great place to start. There is also a light show at night. Tickets cost $20.
Downtown Las Vegas FAQs
How much does it cost to get to Downtown Las Vegas from the Strip? There are many ways to get Downtown. You can take the Deuce Bus from the Strip ($6) or take an Uber/Lyft ($15-$20). If you rent a car, the best parking can be found at the Fremont Street Experience Parking Garage. (You can find out how to get free parking in Downtown Las Vegas here.)
How long does it take to get to Downtown Las Vegas from the Strip? By car, Downtown Las Vegas (DTLV) is about 10-15 minutes north of the Strip. If you take one of the buses, it will take between 30-60 minutes depending on which bus you use, and what stop you hopped on at.
What are the best hotels in downtown Las Vegas? My favorite hotels in Downtown Las Vegas are the Golden Nugget, The D, The Plaza, the Downtown Grand, the Four Queens, and Circa Las Vegas. Luckily, all these hotels are located on or near Fremont Street. They are within walking distance, so you can check them all out without too much much of a hassle.
What is there to do on the Las Vegas Strip? Downtown Las Vegas is fun, but there are even more things to do near the Strip. You can see all the fun things that you can do in Las Vegas here. Most of the attractions I wrote about in that post cost less than $50.