As someone who visits Las Vegas often, I commonly get asked the question, is it better to rent a car or just to use taxis? I have experience using both as my main mode of transportation, so I'm in a good position to give some guidance on the topic.
As a general rule, taxi cabs are cheaper than rental cars in Las Vegas over short distances. Visitors who don't venture too far away from the Strip will save money by utilizing taxis. However, over greater distances rental cars are more cost effective.
When deciding between a taxi or a rental car, you'll need to consider the things you want to do while in Las Vegas. In this post, we'll compare the cost of both options, along with some pros and cons to see which one makes the most sense for you.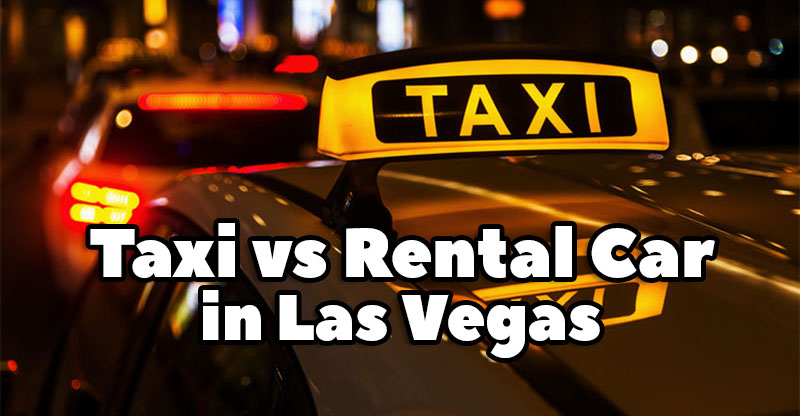 Taxi vs Rental Car Price Comparison (Las Vegas)
If you're not venturing too far from the Las Vegas Strip, you shouldn't be paying more than $15-$20 for a taxi. In fact, you can actually walk to most places on the Strip, so a taxi isn't even necessary the majority of the time.
For trips a bit further from the Strip (like to Downtown Las Vegas), expect to pay $20-$30. Anything further than that will quickly become REALLY EXPENSIVE. I would avoid longer trips in taxis at all costs!
| Taxi Ride Length | Cost |
| --- | --- |
| Between hotels on the Strip (10 minute trip) | $15-$20 |
| From the Strip to Downtown Las Vegas (15 minute trip) | $20-$30 |
| From the Strip to Red Rocks Canyon (30 minute trip) | $60-$75 |
Rental cars are the exact opposite of taxis. If you don't plan on traveling very far, they'll end up being really expensive. However, if you visit places outside the city (like the Grand Canyon or Hoover Dam), a rental car will actually end up being much cheaper than a cab.
The base rate for an economy or standard sized rental car is between $40-$80 a day. Rental car companies also charge taxes and fees that add up to an additional $20-$40 a day (you won't be able to see these fees until you go to pay).
Also be prepared for the required $200-$300 security deposit. The rental company will put a hold on your card for the security deposit amount until the car is returned, so you won't have access to these funds.
| Rental Car Expense | Cost |
| --- | --- |
| Base rate | $40-$80 (per day) |
| Taxes and fees | $20-$40 (per day) |
| Parking | $0-$20 (per day) |
| Security deposit | $200-$300 (refundable) |
| Total | $60-$140 per day (+$200-$300 security deposit) |
Most people visiting Las Vegas won't require more than 2 or 3 taxi rides per day. So if you stay close to the Strip, a taxi is clearly cheaper. But any taxi ride further than 15 or 20 minutes will cost more than a rental car (plus you'll have to pay for the equally expensive trip back).
Pros and Cons of Taxis in Las Vegas?
Are taxis a reliable source of transportation in Las Vegas? The answer, yes and no.
Every hotel has an established pick-up location for cabs, so you shouldn't have an issue finding a ride. However, the hotels located off the Strip have far fewer taxis available than the properties located on the Strip. That means you may have to wait 20-30 minutes for a taxi at hotel only a block off the Strip. The same goes for restaurants and other off-Strip attractions.
To make matters worse, it's actually illegal for a taxi to pick you up directly on the Las Vegas Strip. You cannot hail a cab, instead you need to go to an established pick-up location at a hotel.
So yes, you can reliably get around Las Vegas using cabs, but only if you stick to the major casinos. If you venture off the Strip, you may have to call a taxi company directly to arrange a ride. Or the other option is to use Uber or Lyft.
I actually prefer using Uber over taxi cabs in Las Vegas. It's easier to get a ride and they're typically a bit cheaper. I covered the basics of using Uber in Las Vegas in this article here.
Important Things to Know About Taxis in Las Vegas
Some taxi drivers will attempt to take advantage of tourists by purposely taking longer routes than needed. This is one of the reasons why I prefer Uber, since you know what your trip is going to cost ahead of time, and the price is locked in.
It's also important to know that taxi drivers are paid kickbacks for bringing people to certain clubs and restaurants. It's not uncommon for your cab driver to try and pitch you the idea of going to a specific club. This happens quite a bit a night, and it's extremely weird.
So let's compare some of the pros and cons of taxis in Las Vegas:
Pros
Cheap – when traveling short distances.
Relax – you don't have to worry about driving.
Convenience – only get a cab when you need it.
Cons
Range – taxis get expensive if you travel too far.
Availability – this isn't an issue on the Strip, but off the Strip there are less cabs available.
Drivers – taxi drivers can overcharge you by taking a longer route.
Pros and Cons of Renting a Car in Las Vegas
There are plenty advantages to renting a car while in Las Vegas. The biggest of which is the freedom to see attractions that are further away from the Strip. Plus, you don't have to wait around for someone to come pick you up.
If you need the flexibility that comes with having a vehicle, you'll want to check out the article I wrote after testing all of the best rental car companies at the airport in Las Vegas.
With that being said, there are a few tradeoffs with rental cars. They include:
Parking – parking in Las Vegas can get expensive and confusing.
Driving – driving in the city is not easy. There's a ton of traffic and pedestrians.
Safety – need to make sure you're not drinking.
Price – rental cars can get expensive.
Time – it's a pain to pick-up and drop-off a rental car, especially in Las Vegas.
Overall, most people should be just fine utilizing taxis or even Uber. In my experience, a rental car is only needed if you plan on going to attractions outside of the city. Otherwise it's just too expensive.