As it turns out, renting a car in Las Vegas can be an expensive endeavor. So, it makes sense to ask the question: how do you get around Las Vegas without a car? What are the alternatives?
There are plenty of ways to get around Las Vegas without a car including including the monorail, taxis, buses and ridesharing apps. You can also walk to most attractions on the Las Vegas Strip.
Here are a few of the easiest ways to get around Las Vegas without a car:
Rideshare (Uber and Lyft)
Taxi Cabs
Bus system
Monorail and Trams
Walking
Rental cars are expensive, and driving on the Strip is a huge pain. Fortunately, there are a couple of ways to get around town without a car. In this post, I'll cover all the ways to get around Las Vegas without a car. I'll also touch upon how much each mode of transportation costs, so you'll know exactly what to expect.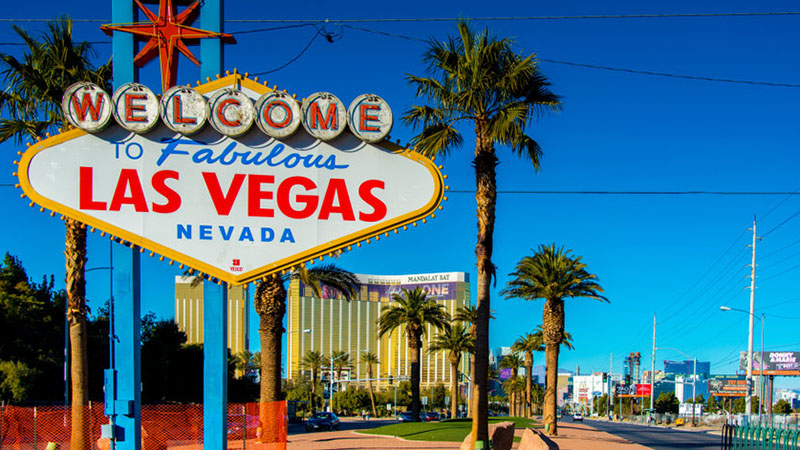 Rideshare in Las Vegas (Uber and Lyft)
Rideshare apps, like Uber and Lyft, are the fastest and most convenient way to get around Las Vegas. There are cheaper options (like the bus system that I'll cover later), but the level of freedom and the speed of service make these apps the best transportation option in Las Vegas.
If you're never used one of these apps before, it's essentially a taxi on demand. You have the choice sharing the vehicle with several riders, or having the whole car to yourself.
Most rides to places on the Strip are going to cost about $12-$15, and sometimes even less. A 10-15 minute ride to a destination off of the Strip doesn't usually cost more than $20.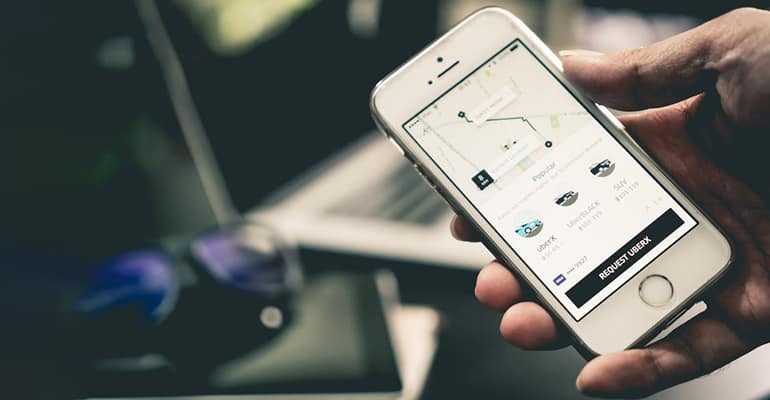 The only downside to rideshare apps is "surge pricing" (Uber) and "prime time" (Lyft). During these brief periods of increased demand, the app will raise prices. However, these instances are rare and only occur when hundreds of people order rides to the same place at the same time (for example picking people up outside a stadium when a concert ends).
Wait times for Uber and Lyft are extremely low, and normally less than 5 minutes. If you're on the Strip, a wait time of 2-3 minutes is more likely. Uber does seem to have more drivers than Lyft, and therefore decreased wait times, but the two are very comparable.
Pretty much every casino and attraction in Las Vegas has designated pickup areas for Uber and Lyft, making it easy to catch a ride. And when your ride ends, you'll typically be dropped off at the main entrance to the hotel, which is extremely convenient.
Pros
Fast and convenient
Inexpensive
Know the cost of your trip beforehand
Relax in the back seat
Cons
Increased prices when demand surges
Prices for Uber and Lyft are about the same, so I recommend both. Rideshare apps are my personal favorite transportation option in Las Vegas. You can't beat the convenience and pricing offered by these apps.
Taxi Cabs in Las Vegas
You can't beat the convenience of a cab line. It's easy walk out the front door of your hotel and into the back of a taxi. But cab lines are only available on the Strip. It's hard to grab a taxi anywhere off of the Strip, especially since you can't hail cabs in Vegas (it's actually illegal for cabs to pick people up directly on the street).
Taxi cabs are comparable to rideshare apps when it comes to speed. But, cabs fall short when it comes to customer service and price.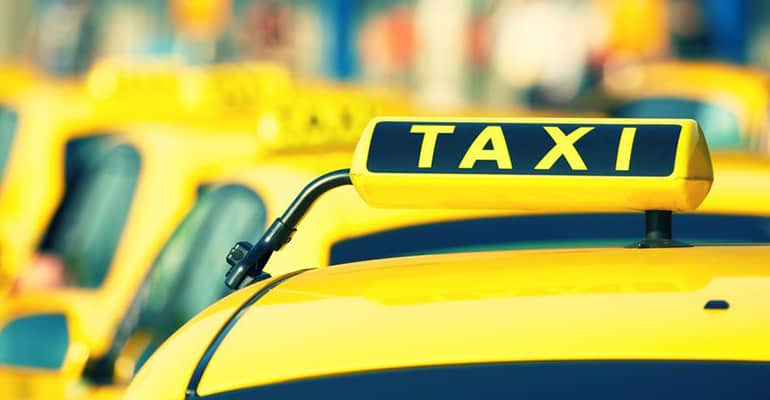 In my experience, taxis are 20-30% more expensive than ridesharing apps when taking the same route. Rideshare apps tell you the price up front, but taxi drivers keep the meter running the entire time you're in the car. You'll see the meter go up, even when the vehicle is stationary at a light or in slow traffic.
Most cab rides to locations on the Strip cost between $15-$20. However, cab drivers in Las Vegas are notorious for taking advantage of tourists by taking longer routes than needed.
I also find taxi drivers to be more rude than Uber and Lyft drivers, who are rated after each ride and therefore on their best behavior.
Pros
Fast transit
Plenty of taxis on the Strip
Cons
Not many taxis off the Strip
Expensive
Poor customer service
The combination of higher prices and bad customer service makes it difficult to recommend taxis. But, taxis are still extremely convenient, and not all drivers are bad. I recommend taking a cab if you're in a hurry, but ridesharing apps should be your go-to.
Buses in Las Vegas
There are a couple tour bus companies with different routes around the Strip, but the Las Vegas Deuce is the best. The Deuce is the city bus for Las Vegas, run by the Regional Transport Commission. This bus makes frequent stops at many of the hotels and major attractions up and down the Strip.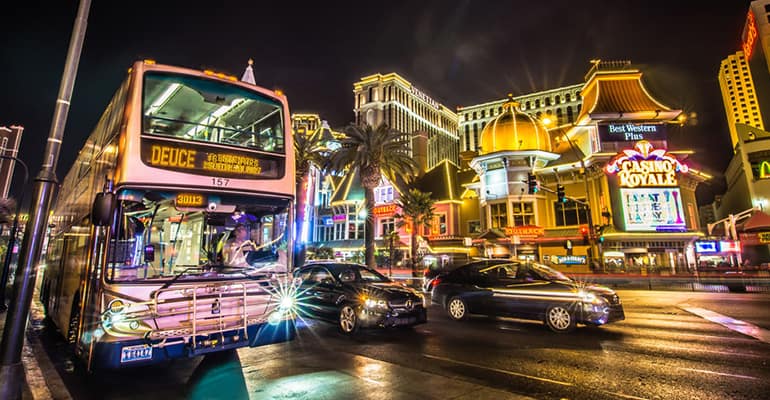 The Deuce sells 2-hour passes ($6), 24-hour passes ($8), and 3-day passes ($20), easily making it the cheapest mode of transportation in Las Vegas.
| | |
| --- | --- |
| 2-Hour Pass | $6 |
| 24-Hour Pass | $8 |
| 3-Day Pass | $20 |
You can purchase tickets at vending machines found on the Strip, on the bus itself or by downloading the rideRTC app. It should be noted that exact change is required if you purchase a ticket on the bus itself.
The Deuce runs every 15-20 minutes, and it's open 24 hours a day. You won't have to wait too long to catch a ride. However, since the bus does make frequent stops, it could take a while to travel all the way up the Strip.
I wouldn't recommend the Deuce for long trips unless you don't mind spending large amounts of time on the bus (although the bus air conditioned and is pretty comfortable).
Pros
Extremely cheap
Makes frequent runs
Covers most of the city
Comfortable ride
Cons
You're on a bus with a bunch of other people
It can be slow if you're traveling longer distances
The Deuce is by far the most cost effective way to get around town. You can easily tour most of Las Vegas on the bus, getting off at the major stops. But I would only recommend using it if you're on a really tight budget.
Monorail And Trams in Las Vegas
Monorails and trams both travel on rails above the Strip, and therefore do a great job avoiding traffic. However, these two modes of transportation have some key differences. Trams travel on the west of the Strip and are free, while the monorail costs money, and travels up the east side of the Strip.
Monorail: East Side Of The Strip
The monorail goes up and down a 4 mile stretch on the east side of the Las Vegas Strip. It goes back and forth between the MGM Grand (on the south end) and Sahara Las Vegas (north end). Trains arrive every 4-8 minutes and makes stops at 7 stations:
SAHARA Las Vegas
Westgate Station
Las Vegas Convention Center Station
Harrah's and The LINQ Station
Flamingo and Caesars Palace Station
Bally's and Paris Station
MGM Grand Station
The train opens at 7 am everyday and runs until either 12 am or 3 am, depending on the day. You can purchase tickets at vending machines at each of the stations, or online on the Las Vegas monorail website. Here are the prices:
| | |
| --- | --- |
| 1-Ride Ticket | $5 |
| 24-Hour Pass | $13 |
| 2-Day Pass | $23 |
| 3-Day Pass | $29 |
| 4-Day Pass | $36 |
| 5-Day Pass | $43 |
| 7-Day Pass | $56 |
You'll save 10% by purchasing a mobile ticket online, directly from the website. You just scan the barcode at the gate, when entering the station.
Pros
Cheap
Avoid traffic
Fast if your destination is one of the stations
Comfortable ride with a view
Cons
Only operates on the west side of the Strip
Doesn't stop at every major hotel
Some stops require you to walk from the station to the hotel
The monorail is a fast and cheap way to travel up the west side of the Strip. If one of the stations is your primary destination, this is the best way to travel. But unfortunately it doesn't stop at all of the major resorts, so you may have to walk a little after you get off the train.
Trams: West Side Of The Strip
There are 3 trams that operate on the west side of the Strip. You can hop from one to another to travel from Mandalay Bay (south end of the Strip) to Treasure Island (north end of the Strip). The best part is all of these trams are free. These are the 3 trams and their stops:
Aria Express Tram: Park MGM, Shops at Crystals, Bellagio
Mandalay Bay Tram: Mandalay Bay, Luxor, Excalibur
Mirage-Treasure Island Tram: Mirage, Treasure Island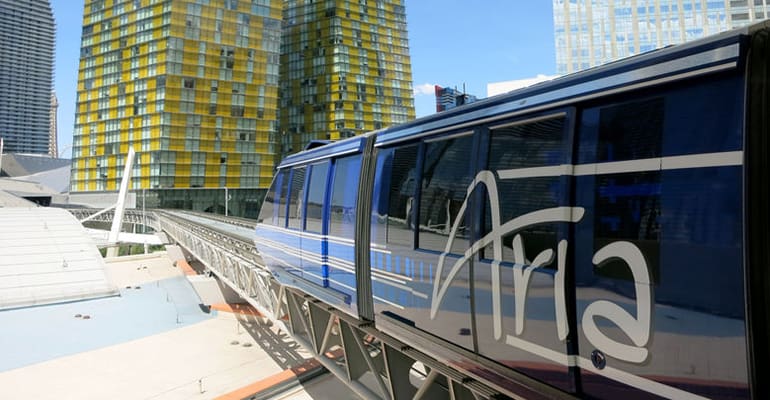 Aria Express Tram: This tram has 3 official stops, but it connects a number of attractions including: Park MGM, Aria, Vdara, Bellagio, Cosmopolitan and Shops at Crystals. It runs everyday from 8 am – 4 am, with trams arriving at each station about every 15 minutes. It's about a 6 minute ride from end to end.
Mandalay Bay Tram: The Mandalay Bay Tram only makes stops at the south end of the Strip at Mandalay Bay, Luxor and Excalibur. It runs from 9 am – 12:30 am, Sunday-Wednesday. Thursday-Saturday it runs 9 am – 2:30 am. The entire circuit takes about 5-7 minutes to complete. New trams arrive about every 5 minutes.
Mirage-Treasure Island Tram: This tram only goes back and forth between The Mirage and Treasure Island. The ride is less than 5 minutes long, and new trams arrive about every 10-15 minutes. It operates everyday from 9 am – 1 am (it's open until 3 am on Friday and Saturday).
Pros
Completely Free
Fast Transit
Avoid traffic on the Strip
Comfortable Ride
Cons
The 3 trams aren't connected and require some walking
I definitely recommend using these trams to travel between hotels that are close to each other. It will save you 15-20 minutes in walking time. But since these trams aren't connected, it's difficult to travel the entire length of the Strip quickly.
Walking in Las Vegas (Las Vegas Strip Only)
You can definitely walk the Las Vegas Strip. It's cheap, and there's something to be said for taking your time sightseeing as you walk by each hotel. But what new visitors to Las Vegas don't know is that the Strip is deceptively long.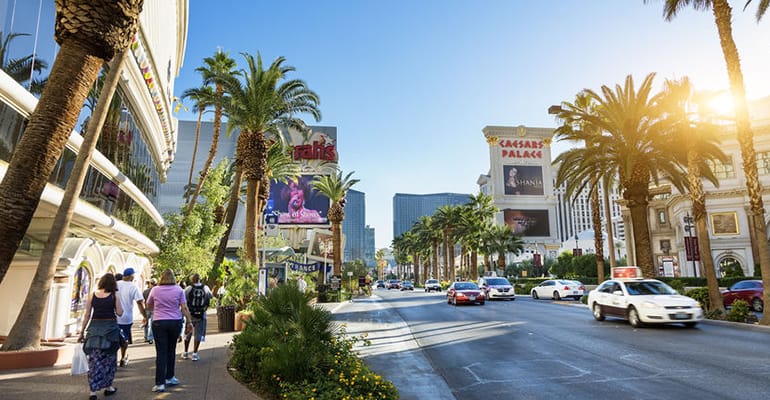 The main part of the Vegas Strip (formally know as Las Vegas Boulevard) is a total of 4 miles in length, making for a brutal trek in the intense summer heat. And if you want to visit Fremont Street in Downtown Las Vegas, it's another 4 miles away.
There's a lot to take in on the Strip that you wouldn't otherwise see if you weren't walking, like the Bellagio Fountains, the High Roller at the LINQ Promenade, the Mirage Volcano Show or the many street performers. These attractions make it worthwhile to do some exploring on your feet.
If you have to go from one end to the Strip to the other, your feet will thank you for taking another mode of transportation. The Strip is pedestrian friendly, but it takes over an hour to walk from one end to the other.
Pros
Walking is free
There are plenty of sights to see
Cons
It takes over an hour to walk the length of the Strip
It gets extremely hot in the summer
I only recommend walking to hotels on the Strip that are close in proximity. Walking more than 2 or 3 hotels down can easily take 20-30 minutes. And you can forget about walking anywhere that is off of the Strip. Any of the transportation options mentioned in this article will get you to your destination much faster.
Best Way To Get Around Las Vegas
The best way to get around Las Vegas depends on your budget, and where you plan on going. Most people will be best suited taking Uber/Lyft rides around the Strip, and walking to destinations that are really close by. This works because many of the major hotels on the Strip are physically connected, making walking the fastest option.
Others visitors who are planning activities far off the Strip, may want a rental car. It doesn't make sense to take a $75 taxi ride to Lake Mead and then take another equally expensive one back.
If you're on a really tight budget, you can definitely get by taking the bus, monorail and tram systems. They are designed to transport you quickly and cheaply.
For those of you that are considering renting a car, check out the post I wrote after testing the rental car companies at McCarran Airport in Las Vegas. I came to some interesting conclusions after testing every company.