I've taken dozens of trips to Las Vegas over the years, and I've always gone back an forth between renting a car and using ridesharing apps like Uber and Lyft. So naturally, I always get asked the question…what's the best way to get around Las Vegas? Do I really need a rental car, or can I just use Uber and Lyft?
The easiest way to get around the Las Vegas Strip is to use ridesharing apps like Uber and Lyft. Ridesharing apps are the quickest and cheapest way to get from casino to casino. However, rental cars are a better options for visitors who plan on seeing attractions further away from the Strip.
The activities you plan on doing during you're vacation will determine whether a rental car or ridesharing app makes more sense. In this post, I'll compare the cost of Uber/Lyft to the cost of a rental car, so you know exactly what to expect. I'll also touch on some of the situations where one mode of transportation may be a better fit for you than the other.
Uber vs Rental Car in Las Vegas: Price Comparison
Most people who visit Las Vegas don't have any need to leave the Strip. Everything you could possible need is on the Strip since most hotels are within walking distance from one another.
If you do end up leaving the Strip, chances are you aren't traveling more than 5-10 minutes away. In a scenario like this, Uber and Lyft are the most logical transportation options.
An Uber from one end of the Strip to the other only costs $12-$15. If you plan on going a bit further (let's say to a place like Downtown Las Vegas), an Uber is still going to cost less than $20. However, trips longer than 15 minutes start to get pricey.
| Uber/Lyft Ride Length | Cost |
| --- | --- |
| From the Strip to another location close to the Strip (10 minute trip) | $12-$15 |
| From the Strip to Downtown Las Vegas (15 minute trip) | $15-$20 |
| From the Strip to Red Rocks Canyon (30 minute trip) | $40-$45 |
On the other hand, rental cars are a bit more pricey to begin with but don't cost more if you travel further distances.
The going rate for an economy or standard sized vehicle is between $40-$80 a day. But that's just the based rate.
Every rental car company also charges taxes and fees that add up to about $20-$40 a day (you won't be able to see these fees until you go to pay). Plus, there is also a required security deposit of $200-$300. They will put a hold on your card for the security deposit amount until the car is returned, so you won't have access to these funds.
| Rental Car Expense | Cost |
| --- | --- |
| Base rental rate | $40-$80 (per day) |
| Taxes and fees | $20-$40 (per day) |
| Parking | $0-$20 (per day) |
| Security deposit | $200-$300 (refundable) |
| Total | $60-$140 per day (+$200-$300 security deposit) |
So let's directly compare the cost of Uber/Lyft to the cost of a rental car…
Most people visiting Las Vegas won't take more than 2-3 Uber trips a day. So for the example below, let's just say that you're going to take 3 trips to locations pretty close to the Strip.
And then for the rental car, we'll say it costs about $80 a day with taxes, fees and parking included. We won't factor in the security deposit because you're going to get that back.
| Number of Days | Uber/Lyft | Rental Car |
| --- | --- | --- |
| 1 | $45 | $80 |
| 2 | $90 | $160 |
| 3 | $135 | $240 |
| 4 | $180 | $320 |
| 5 | $225 | $400 |
As you can see, a rental car is nearly twice as expensive as Uber/Lyft. However, this is only true if you plan on staying close to the Strip. If you're seeing attractions that are a bit further away, then Uber and Lyft start to get quite expensive.
In the next section, I'll talk about some of the scenarios where it may make sense just to use Uber or Lyft. This way you'll be able to figure out what takes the most sense for you're situation.
You may have notices that I haven't mentioned taxi cabs yet. That's because they're about the 20%-30% more expensive than Uber and Lyft. If you prefer taxis, I wrote another post here comparing taxis to rental cars.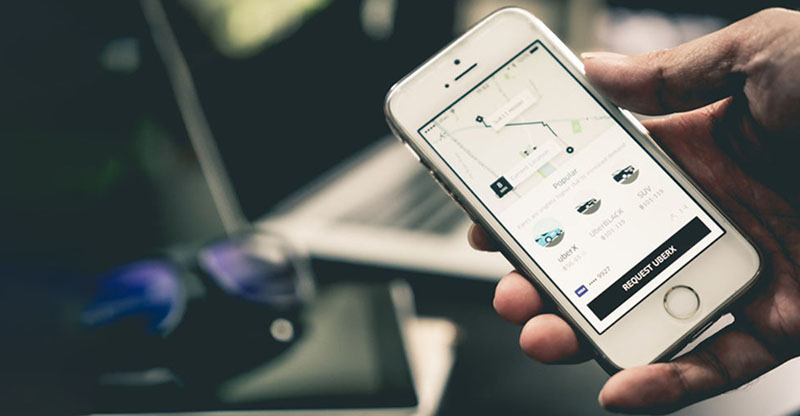 When to Use an Uber or Lyft in Las Vegas
I know people that live in Las Vegas and use Uber instead of owning a car, it's that convenient. If you're staying close to the Strip, Uber/Lyft is your best transportation option. The only time you really need a rental car is when you're venturing out of the city.
There is a very strong network of Uber drivers in Las Vegas, so you'll rarely have to wait more than 5 minutes for your ride to arrive.
The city is also extremely organized when it comes to pick-up and drop-off locations. Every major hotel and casino has designated rideshare areas with plenty of signage, so you'll be able to find your way.
As far as service goes, most of the drivers are very friendly. I've taken hundreds of Ubers in Las Vegas and have only had one bad experience with an Uber driver.
Uber/Lyft: Pros & Cons
There are plenty of advantages to using Uber instead of paying for a rental car but, it's also important you know the disadvantages. This will help prevent any surprises while you're on vacation.
Pros
Parking – you don't have to worry about navigating confusing parking garages.
Convenience – only have to order a ride when you need it.
Speed – quick pick-up times instead of walking around looking for your car.
Relaxation – someone else is driving so you don't have to.
Safety – you can safely get back to your hotel even if you're drinking.
Price – it's super cheap over short distances.
Cons
Surge pricing – prices and wait times occasionally increase during busy periods.
Range – it can get expensive if you're going further distances.
Pick-up locations – most hotels have easy to find pick-up locations, but a few can be hard to find.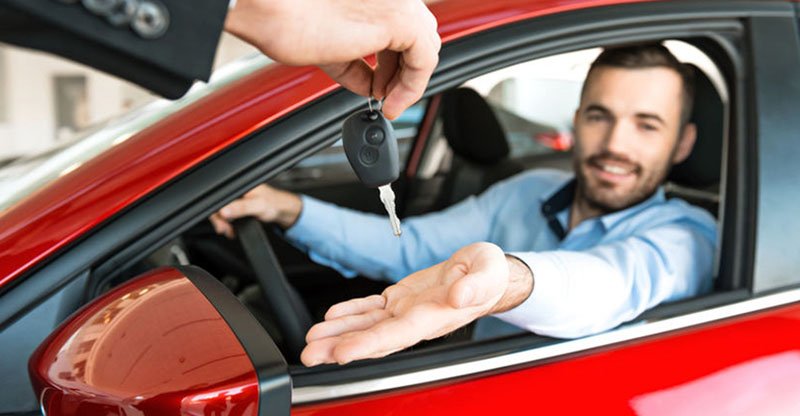 When to Rent a Car in Las Vegas
If you're just staying near the Strip, Uber is going to be much cheaper than renting a car. However, there are a couple of situations where renting a car makes sense. Here are a few of them:
Visiting attractions far off the Strip
Doing a daytrip outside the city
Having a large family
You've never used ridesharing apps
It's a no-brainer to get a rental car if you're visiting places like the Grand Canyon or the Hoover Dam. But it also may be a good idea to get a rental car if you have a larger family.
Typical Ubers only hold 4 passengers, so you may be better off just getting a rental. Uber does have options like UberXL if you need extra seats, but it will also cost you more.
And finally, if technology isn't your strong suit, then you may want to go with a rental car. Ridesharing apps are pretty easy to use, but if you're not the most tech-savvy, a rental car may just be easier.
Rental Cars: Pros & Cons
There are plenty of advantages and disadvantages to renting a car in Las Vegas. I'll touch on some of those below.
Pros
Range – you can drive anywhere you want without restrictions.
Freedom – don't need to wait for someone to pick you up. Very helpful during rush hour.
Privacy – no need to make small talk with a cab or Uber driver.
Size – you can get a rental car with extra seating if you have a large group.
Cons
Parking – parking in Las Vegas can get expensive and confusing.
Driving – driving in the city is not easy. There's a ton of traffic and pedestrians.
Safety – need to make sure you're not drinking.
Price – rental cars can get expensive.
Time – it's a pain to pick-up and drop-off a rental car, especially in Las Vegas.
Is Uber/Lyft or Renting a Car Better?
So, is it better to rent a car or take Uber/Lyft? For the vast majority of people visiting Las Vegas, Uber is going to be cheaper, quicker and easier than renting a car.
Uber and Lyft are well established in Las Vegas, so you'll likely see lower prices and faster pick-up times than you do in your hometown. You can also walk to many attractions located on the Strip.
Renting a car is only necessary if you plan on visiting places outside of the city. Even then if you leave the city, you may only want to rent a car for a day instead of an entire week. It will save you a ton of money and likely some unnecessary frustration.
This post is part of a series about rental cars in Las Vegas. Check out the next article in the series about the Best Rental Car Companies at Las Vegas Airport.