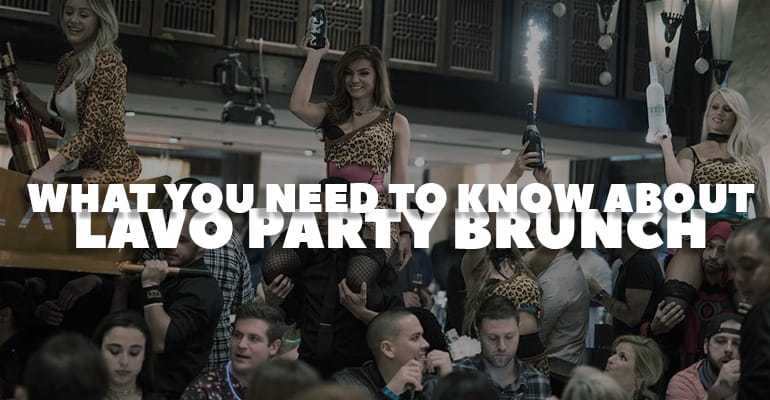 If you came to Las Vegas hoping for pool parties, you may be disappointed to hear that they close down in the winter. Luckily, there's a pretty good (maybe better) alternative to Vegas pool parties, and that's Lavo Party Brunch. Lavo Brunch is the only Vegas dayclub open in the winter, and it doesn't disappoint! Lavo Party Brunch is one of the newest dayclub concepts in Vegas, so there's probably a lot of things you don't know. At least 16 of them…
1. Lavo Brunch Offers Free Entry On It's Guest List
I wanted to start off with this one because I'm still surprised by how many people are unaware of Vegas guest lists. All clubs offer free entry to women (and men with an even ratio of women in their group) who sign up for the guest list.
Lavo is no different. Women who sign up for the guest list get free entry, in addition to an open bar (I'll cover this next). Men however, don't get free entry at Lavo (unfortunately Lavo is one of the few clubs where ratio doesn't help). Although, men on the guest list do get a reduced cover charge. You can sign up for the Lavo Brunch guest list for free online. Just keep in mind that the guest list closes around 1:00 pm, so get there early.
2. There's An Open Champagne Bar
Women who enter the club on the guest list get access to an open champagne bar between 1:00 pm – 2:00 pm. Lavo has multiple bars, but the open bar is the main one on the inside of the club. Men can also get free drinks since Lavo often has an alcohol sponsor hand out free shots. You can find the alcohol sponsor near the bottom of the stairs, next to the club entrance.
3. The Party Brunch Is Only Open On Saturdays
Lavo is a restaurant first, and a club second. It's actually only a dayclub from 11:00 am – 6:00 pm on Saturdays. The rest of the time Lavo is a world class restaurant. That tells you two things: the food is pretty damn good and it's going to get be busy. As the only Vegas dayclub open in the winter, everyone heads to Lavo. And it's only open one day a week, so everyone (I mean everyone) is going to be there. Which leads me into the next point…
4. Lavo Has One Of The Best Girl To Guy Ratios In Vegas
Because it's the only dayclub open in the winter, all the club promoters send their girls to Lavo instead of pool parties. Also, brunch is usually more popular among women. But either way, there are always ton of girls here. This is obviously great if your a guy, but women also benefit since you won't have to worry about tons a creepy drunk guys hitting on you.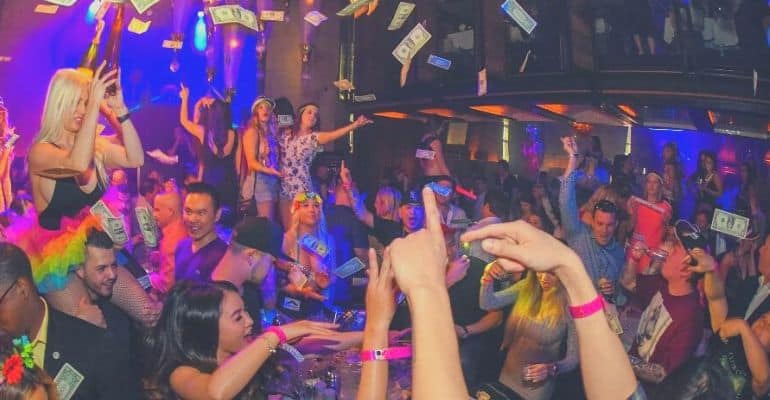 5. Lavo Turns Into A Club At 2:00 PM
When you arrive at Lavo Brunch, the mood is rather relaxed. People are eating brunch and drinking mimosa's at the bar, but nothing crazy is happening. That all changes around 2. The shades are pulled down and music is turned up, giving Lavo a nightclub vibe. It's not uncommon to see guests dancing on tables and throwing money around. Lavo is also big on strobe lights, CO2 cannons and professional dancers who come out and make the environment even more wild.
6. Not Everyone Gets To Eat Brunch
Unfortunately, this is one of the things that isn't advertised. In order to be able to order food, you must purchase bottle service. And I know that sounds expensive, but tables start at only $500. That's the minimum spend requirement when you get a table.
When you factor in the option to split the bill between your 6 closest friends, and the fact that the food counts toward the minimum spend number, $500 isn't that bad. $80 a person for brunch and bottle service at one of Vegas' hottest clubs in actually a great deal! In order to order bottle service you do need to speak with a VIP host that works for the club. So if you're thinking about ordering bottle service, you can contact us here and we'd be happy put you in touch with a VIP host.
7. Lavo Has Cheap Bottle Service For Small Groups
If it's just you and one other person, Lavo does occasionally offer bottle service for $200 – $300. There is some bar stool seating where you'll be able to order food and get a bottle all to yourselves. However, these seats aren't always available on busier weekends since they are based off of demand. But if it's just you and your significant other or best friend, this option is worth looking into.
8. You're Going To Want To Eat ASAP
As I mentioned earlier, Lavo turns into a legit club around 2 pm. So you're going to want to eat before that happens. That doesn't mean you have to shovel down your food, but you should plan to get to the club early. This gives you enough time to order, have some drinks and then eat your food. If your not getting a table then your going to want to eat before you get to the club. I don't recommend dancing or drinking on an empty stomach.
9. Lavo Gives Out Party Favors And Does Themed Parties
Lavo Brunch is known to give out tons of party favors like glow sticks, necklaces, feather boas and sunglasses. Themed parties are also common and a ton of fun. Some past themes include superheroes, lingerie and sports teams. You're not required to dress up if that's not your style, but we all have that one friend who won't be able to resist.
10. The Party Brunch Gets Extremely Crowded
As can be expected, the one and only dayclub in the entire city will be packed. But since Lavo is designed as a restaurant, there seems to be less space here than at your typical Vegas club. For one, the tables aren't the booths that you'll see at nightclubs, they are actually dinner tables. And while people do dance on them, they are rather small and close together. So, if you're standing in a walkway the security will tell you to move. There is no place to sit if you don't have a table. The added space provided by bottle service tables is why I recommend them so heavily. There is an outside patio called the Rose Terrace that has some additional space, but it's still going to be packed.
11. Lavo Brunch Has A Casual Dress Code
Most Vegas nightclubs require guests to dress up, but Lavo is much more relaxed. Many guests do dress up but there really isn't an official dress. Men can wear a t-shirt, jeans and sneakers. You'll see a lot of women wearing rompers at Lavo. The one thing that should be avoided are shorts. Vegas is pretty cold from October – April, so you probably don't want to be wearing shorts anyways.
12. The Food Is Actually Really Good
Since Lavo is a restaurant, the food is always top notch. They have a solid selection on the menu but I personally recommend the avocado toast or the breakfast sandwich. Most dishes on the menu will cost you between $20 – $35. Some items cost upwards of $100 if you're feeling especially fancy.
13. You Won't Get In If You Show Up Late
Well, you can still probably get in, but you'll be paying more for a less desirable location. If you're running late the club will sell your table, even if you "reserved" it. You'll still be able to get a table at the agreed upon price, but it may not be in the spot you want. Lavo Brunch is always busy and tables are in high demand, it's best to get to the club by 11:30 am at the latest to avoid seating issues. Also, the guest list closes around 1:00 pm, so if you're not in by then expect to pay full cover. The guest list can also close earlier if the club reaches capacity.
14. Lavo Party Brunch Plays EDM, Hip Hop & Top 40
Lavo has a good selection in music, playing a variety of popular EDM, Hip Hop and Top 40 songs. The music starts off a bit slower and upbeat in the beginning, but by 2 pm it very much resembles that of the stereotypical Vegas club. This is exactly what most people are looking for in Vegas, and the club absolutely delivers. If your looking for a wild time, Lavo is the place to be.
15. Lavo Is The Only Vegas Club With No Smoking
Because Lavo is a restaurant there is no smoking allowed in the club. You can however, smoke outside on the Rose Terrace. The terrace does have a strong smokey smell since a lot of people go out there to smoke, so be aware of that if you plan on getting a table outside.
16. Don't Use The Lavo Bathrooms
This last one is more of a pro-tip. The bathrooms at Lavo are really small and aren't meant to service an entire club. I recommend leaving the club and using the ones in the Palazzo lobby. Just check with security before you leave to make sure that you get back in.
Related Questions
What hotel is Lavo located in? Lavo is located in the Palazzo. When you enter the hotel through the main entrance (the one with the valet), Lavo is located directly to your left. The party brunch has separate lines for guest list, general admission and bottle service. All the lines have signage.
When do Vegas pool parties open? Vegas pool parties open in mid March, but don't really start to get busy until April. Pool parties are open from March through the end of September. Most hotels do keep at least one hotel pool open in the winter, but pool parties are closed.