There is so much to do near Las Vegas, just outside of the city limits. With dozens of fantastic day trip locations within a few hours of Sin City, you'll never run out places to see.
You're just going to want to make sure you have a car when visiting these destinations. A few spots offer bus tours, but that will only limit your experience. A vehicle will give you more freedom to do and see exactly what you want, when you want.
Below is a list of all the best road trip spots near Las Vegas, along with the drive times for each location.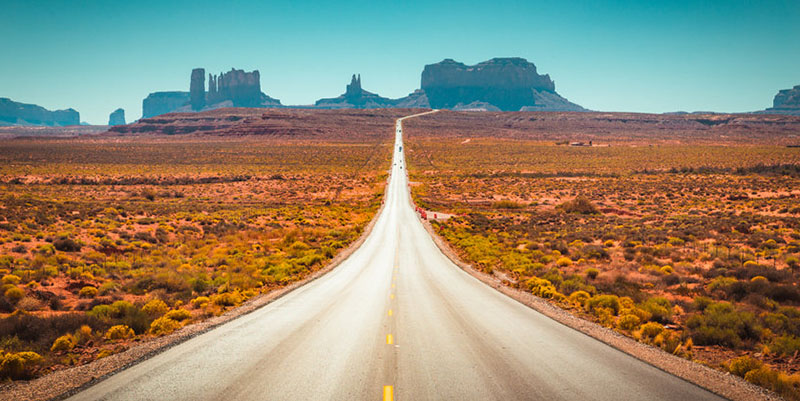 I added some of the most popular day trip spots to the map below. This will give you a good idea of what attractions are close by, so you can get to as many as possible. You can zoom in to get a closer look.
Grand Canyon
Drive time: West Rim – 2 hours 30 minutes (130 miles)/ South Rim – 4 hours 30 minutes (270 miles)
This is the perfect time to cross the Grand Canyon off of your bucket list. The West Rim of the Grand Canyon is only 2.5 hours from Las Vegas. This is the one with the Skywalk.
If you wanted to see the South Rim of the Grand Canyon (it's slightly more picturesque than the West Rim), you'll have to sit through a 4.5 hour drive.
Red Rock Canyon
Drive time: 25 minutes (13 miles)
Red Rock Canyon not only offers scenic views, but also great hiking and rock climbing trails. If fact, Red Rock is one of the most popular hiking spots near Las Vegas for locals. It's also really close to the city, requiring only a 25 minute drive from the Strip.
Zion National Park
Drive time: 2 hour 30 minutes (160 miles)
Zion is another gorgeous park with plenty of scenic hiking trails. It's slightly less busy than the Grand Canyon, but the views are just as good. It features stunning canyons, waterfalls and forests.
Hoover Dam
Drive time: 40 minutes (37 miles)
The Hoover Dam is one of the most popular tourists destinations to visit by car near Las Vegas. This giant 726 foot tall Dam is bigger than the Washington Monument. You really can't appreciate its shear size until you're standing on top of it.
Once you get to the Hoover Dam, you have the option of taking a guided tour inside or just walking along the top for free. Either way, it's pretty mind-blowing.
Lake Mead
Drive time: 40 minutes (32 miles)
Lake Mead is the Lake formed by the Hoover Dam. This is one of my favorite places to visit near Las Vegas in the summer. The water is literally air temperature.
You can rent boats, waverunners and jet skis to take out on the lake. Swimming and fishing are also great options here.
Seven Magic Mountains
Drive time: 25 minutes (20 miles)
Seven Magic Mountains is an iconic art installation found about 25 minutes outside of Las Vegas. It's a extremely popular spot to get Instagram pictures. You easily stop by and snaps some pictures while on your way to another destination.
Area 51
Drive time: 2 hours 15 minutes (150 miles)
Area 51 is actually more of a military installation than a tourist attraction. Regardless of that fact, thousands of people visit Area 51 each year.
While you can't actually go into the base, there are plenty of alien-related tourist attractions along Nevada's Extraterrestrial Highway.
Los Angeles
Drive time: 4 hours (270 miles)
Although technically more than a 3-hour drive from Las Vegas, Los Angeles is still worth visiting. There are a million things to do in LA. From Hollywood Boulevard, to the numerous beaches and sporting events, you'll never run out of things to see and do.
Nelson Ghost Town
Drive time: 50 minutes (45 miles)
Nelson Ghost Town is one of the most popular ghost towns in Nevada. It's a really big spot for photographers and filmmakers since it really does look like the wild west of the 1800s. Just remember to bring your own food, there are no stores here.
Boulder City
Drive time: 30 minutes (26 miles)
If your heading out to Nelson Ghost Town, you might as well stop at Boulder City on the way. You'll find a ton of history in this town including the Boulder City/Hoover Dam Museum and the Nevada State Railroad Museum. They even allow you to walk the Historic Railroad Trail.
Valley of Fire
Drive time: 50 minutes (45 miles)
The sun-scorched red and orange rock formations at the Valley of Fire make it another top spot for awesome photographs. The Valley of Fire also has some cool hiking trials and some ancient wall carvings that are worth checking out.
Death Valley
Drive time: 2 hours (126 miles)
Death Valley is know for its insanely hot temperatures (over 115 degrees in the summer), but it's also one of the best places in the country to go stargazing. It has some of the darkest skies in the world.
I definitely recommend stopping by Death Valley to take in the views at night. If you plan of visiting Yosemite National Park, you'll go right by Death Valley.
Yosemite
Drive time: 6 hours (340 miles)
Yosemite National Park is one of the longer daytrips on this list, but it's worth visiting if you make the trip out to Death Valley. Yosemite is one the best known national parks in the United States. It's famous for its glowing rock formations, waterfalls and nighttime rainbows. Yosemite is a rock climber's paradise.
San Diego
Drive time: 5 hours (330 miles)
If you want to utilize your time in Las Vegas to see some nearby cities, San Diego is an excellent candidate. There are many tourist attractions in San Diego including the San Diego Zoo, La Jolla Caves and the USS Midway Aircraft Carrier Museum.
If all else fails, you can ride one of the tens of thousands of electric scooters available for rent across the city. San Diego is a very relaxing city worth a visit, however it's far enough away that you will likely need to stay the night.
Bryce Canyon National Park
Drive time: 4 hours (260 miles)
Bryce Canyon is located a bit further from Las Vegas than many of the other national parks, however it offers some unique attractions. In addition to hiking, camping, fishing and mountain biking, you can also go ATVing, snowmobiling and horseback riding. I like to visit during their winter festival every year.
Aside from the activities, Bryce Canyon is home to plenty of wildlife as well, including prairie dogs and rare species of deer.
Mojave National Preserve
Drive time: 1 hours (68 miles)
The Mojave National Preserve is a good alternative for anyone who doesn't want to make the hike out to Death Valley. It's a lot closer to Las Vegas and has many of the same geographical features and wildlife, including the native Joshua Tree.
St George
Drive time: 1 hour 50 minutes (120 miles)
St George Utah is the closest major city to Las Vegas. The city has a ton of museums and a flourishing downtown area known for its shops and art galleries. In the summer, the Sand Hollow Reservoir is a popular swimming spot.
The best part about St George is its close proximity to Zion National Park, Bryce Canyon, Antelope Canyon and the Grand Canyon. It's a great staging area for anyone looking to visit any of those parks.
Antelope Canyon
Drive time: 4 hours 30 minutes (280 miles)
Antelope Canyon is located relatively close to the Grand Canyon but is completely different. This canyon has become extremely popular in recent years due to its smooth sandstone walls and the beautiful light beams that shine through at certain times during the day.
You can only see Antelope Canyon by booking a guided tour, so make sure you book one before making the trip out. This is one of the best places for photography in the southwestern United States.
Phoenix
Drive time: 4 hours 40 minutes (300 miles)
Phoenix is another city within driving distance of Las Vegas. There's a lot to experience in Phoenix including festivals, shopping, restaurants and art. And if you're into nightlife, you won't be disappointed with Scottsdale right next door.
Cathedral Gorge State Park
Drive time: 2 hours 30 minutes (165 miles)
Another less known state park is Cathedral Gorge. It's famous for its rock formations that look like cathedral spires. If you're into photography, you'll want to make the trip up to this spot for some unforgettable shots.
This post is part of a series comparing the best rental car companies in Las Vegas. Check out the next article in the series comparing the best rental car companies at the airport in Las Vegas.