There are very few free places to park your RV overnight in Las Vegas. You'd be surprised how many casinos either charge RVs for overnight parking or don't allow it at all. Even the national parks charge vehicles an entrance fee.
This can be annoying if you're just looking for a spot to stay the night before you continue to your destination. So I did some extensive research, to find the best overnight RV parking spots in Las Vegas. Some of these are free boondocking areas, while others are cheap campgrounds.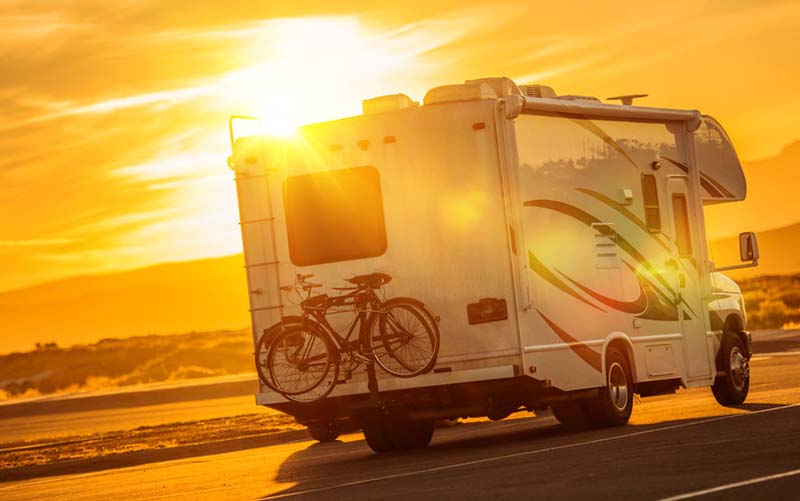 Free Overnight RV Parking in Las Vegas
In Las Vegas, you're technically not allowed to sleep in your RV unless it's parked on an official RV park or campground. However, many people bend this rule if they're only visiting Las Vegas for a day or two. If you boondock in your RV, just know that it is possible to get in trouble. It's unlikely, but it is possible to get a ticket.
Strat – The Strat Hotel & Casino has an oversized parking lot located directly across the street from the main building. Parking there is free for both guests and non-guests. It's not an official camping ground but I see RVs spend the night in that lot all the time.
It's a boondocking spot, so there are no hookups. If you keep a low profile (by not being obvious and setting up camp outside your rig), you can usually sleep in your RV overnight without issue. If for some reason the lot is full, there's a cheap RV park at Circus Circus down the road (more on Circus Circus later).
Walmart – Most experienced RVers have overnighted in at least one Walmart parking lot. However, most Walmarts in Las Vegas don't allow overnight parking. The one exception is the one located on the Boulder Highway (5198 Boulder Hwy, Las Vegas).
If you arrive in the evening and keep to yourself, you shouldn't have an issue spending one night here. Buying some groceries in the store can help you build up some goodwill, but it's a good idea to ask the store manager for permission to stay. If you have issues, there's also a KOA at Sam's Town located directly across the street.
Love's Travel Stop – There's a Love's Truck Stop located about 20 minutes outside of Las Vegas. If you're coming into or leaving the city from the northeast, this is an easy spot to catch some sleep.
This truck stop has showers, bathrooms, a dumping station, a propane station, and food. Parking is free, but there are no hookups. Also, be aware it can get loud with all of the trucks going in and out all night.
Thousand Trails – There's a Thousand Trails Campground located on the Boulder Highway in Las Vegas. If you have a Thousand Trails membership, it's free. If you're not a member, I recommend that you look elsewhere. The rates are at this RV park are a bit expensive for what you're actually getting.
Parking on the Street – In Las Vegas, you cannot park an RV on the street for more than 72 hours. If you're only in Vegas for a day or so, this shouldn't be an issue. However, as I mentioned earlier, you're not allowed to sleep in your RV unless it's in an official park.
If you find a low-key spot, it is possible to stay the night without issue. I see people doing it all of the time, but be aware that you run the risk of getting a ticket or being towed.
Dispersed Camping – There are plenty of dispersed camping sites around Mount Charleston in the Spring Mountains Nation Recreation Area. These are 100% free campgrounds in remote areas with no amenities. You will not have access to city water, and your cell service is likely going to be spotty at best.
I don't recommend camping here if you just need a spot to stay for the night before hitting the road. However, if you do choose to visit, some of the more popular areas include Mack's Canyon, Champion Road, and Lovell Canyon.
Cheap Boondocking Sites Near Las Vegas
If you're looking for a boondocking spot that's a bit more scenic, you'll want to stay at one of the many campgrounds around Las Vegas. These national parks DO NOT have free parking. You are required to pay an entrance fee, it isn't usually more than $20.
Boulder Beach Campground – There are plenty of campgrounds around Lake Mead, but the most accessible one is Boulder Beach Campground. This campground only costs $20/per night.
Red Rock Canyon Campground – Red Rock Canyon is one of the most popular campgrounds in Las Vegas. There are no hookups so it's perfect for dry camping (there is water and bathrooms available). There is a $25/night fee.
Valley of Fire State Park – You can boondock at the Valley of Fire State Park campground for $20/night. There are utility hookups available as well for an additional $10.
McWilliams Campground – If you want to camp close the Mount Charleston but still want some contact with civilization, McWilliams Campground is a good option. Sites cost $25/night.
Paid Overnight RV Parking in Las Vegas
If you're simply looking for a no-hassle place to boondock overnight, you may want to stay at an inexpensive RV park. RV parks provide more security than boondocking on your own, and you can get access to some hookups. Here are a few cheap RV parks in Las Vegas.
Circus Circus – This is the only RV park on the Las Vegas Strip. It's extremely easy to reserve an overnight space on their website. Expect to pay between $35-$45/night.
Main Street Station RV Park – There's an RV park located at the Main Street Station Casino in downtown Las Vegas. It's a quick spot to make a reservation and stay the night. Daily rates are between $45-$60 depending on the size of your rig.
King's Row RV Park – This is one of the cheapest RV parks in Las Vegas. Overnight parking is only $27/day, but know this is an adults-only park.
Casinos that no Longer Allow Free RV Camping in Las Vegas
A few years ago there used to be some other Las Vegas casinos that allowed overnight RV parking. However, these casinos have cracked down on boondocking. A few of them have also repurposed their oversized parking lots. Those casinos include:
The Orleans Hotel & Casino
Mandalay Resort & Casino
South Point Casino
You can still park your RV at these hotels if you are a guest, but not if you're boondocking.