The minimum gambling age in the United States is 18, however, each state set their own laws. This can lead to some confusion. So, how old do you have to be to gamble in Las Vegas?
How old to gamble in Vegas? According to Nevada law, you must be 21 years or older to gamble. This includes the city of Las Vegas. Visitors under the age of 21 are allowed to walk through Las Vegas casinos but cannot loiter near the gaming floor.
In this post, I'll let you know some of the places where you can legally gamble NEAR Las Vegas. But first, let's take a quick look at some of the gambling laws in Las Vegas, so you know exactly what is and isn't allowed.
How Old do You Have to be to Gamble in Vegas?
Some states allow you to gamble if you're at least 18 years old. However, Nevada is not one of those states. You must be 21 years old AND have a valid ID to gamble in Las Vegas casinos.
This applies to all forms of gambling, including slot machines, table games, sports betting, poker, horse racing, and bingo.
It's not just an arbitrary rule that casinos have, it's a real criminal offense for someone under the age of 21 to gamble in Las Vegas. It's written into the state statutes. If you're underaged and get caught gambling, you can be charged with a misdemeanor and spend time in jail. At the bare minimum, you will be kicked out and banned from the casino.
The same rules apply to underaged patrons hanging out on the casino floor. Even if you're not gambling, casinos will kick you out for merely standing near slot machines or table games. It doesn't matter if you're with an adult.
The casinos themselves can get into legal trouble if they allow someone who is underaged to gamble. They will go out of their way to catch people. You're only allowed to walk through the casinos.
How Old do You Have to be to Gamble Online in Las Vegas?
With the rise of digital gambling, the laws around online casinos that are located offshore are very vague. Many states don't have laws that specifically outlaw online betting.
However, it's still illegal for anyone under the age of 21 to gamble online in Las Vegas. All forms of digital gambling are illegal if you are physically located in the state of Nevada. There is no way around it.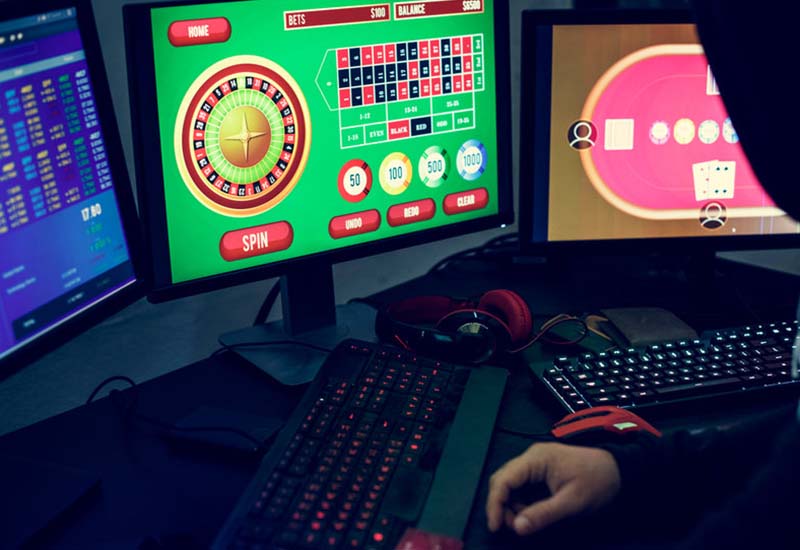 Can You Use a Fake ID to get into Las Vegas Casinos?
Every casino in Las Vegas strictly enforces ID checks, even if you look over 21. Simply standing near a gaming area is enough to prompt the staff to check your ID.
The security teams at Las Vegas casinos are highly trained and can spot a fake ID from a mile away.
I've had staff ask me for my ID while watching friends play slots, and I clearly look over 21. I've also heard of other guests getting carded, EVEN THOUGH THEY HAD GREY HAIR! You will get caught if you attempt to use a fake ID.
Even if you don't get carded initially, casinos are required to report gambling winnings that exceed a certain threshold to the IRS (the threshold depends on the game, but it's typically around $1,200). So even if you win, the casino will catch your fake ID when you go to cash out.
Where Can You Gamble at 18 Near Las Vegas?
18 year old's can't legally gamble in Las Vegas, but they can in California. The California border is only a 30 minute drive from Las Vegas.
Not all California casinos allow guests 18-20 years old to gamble due to alcohol laws. Only the casinos located on California Indian reservations allow patrons under the age of 21 to gamble. These are the closest 18+ casinos to Las Vegas:
Tortoise Rock Casino – located about 3 hours from Las Vegas
Morongo Casino Resort Spa – located about 4 hours from Las Vegas
Casino Pauma – located about 5 hours from Las Vegas
Table Mountain Casino – located about 6 hours from Las Vegas
Golden Acorn Casino – located about 6 hours from Las Vegas
You're going to need a vehicle to get to these casinos. However, you can also just take a 30-minute drive to the California border and gamble online. Once you cross the California border, you can legally bet online.
If you're under 21, you may have difficulty renting a car. If you need a vehicle, I wrote another article here on how to rent a car when you're under 25.
Which States Allow You To Gamble at 18?
Every state sets their own gambling age laws. Most states set the minimum age to 21, but a few have it at 18. The states where to can legally gamble in a casino at 18 include:
California
Idaho
Michigan
Minnesota
Montana
New York
Oklahoma
Rhode Island
Washington
Wyoming
It's important to note that different parts of each state can have a different set of laws. The rules are generally more lenient for casinos located on tribal lands.
Also, land based casinos usually have the strictest laws in regards to age. Other forms of betting (like bingo, lottery and horse racing) may have a lower minimum legal age than normal casinos.
What Can You do Under 21 in Las Vegas?
The gambling age in Vegas in 21. However, if you're under the age of 21, you can still have fun in Las Vegas. There are plenty of things to do besides gambling, including:
Walking the Strip
Shopping
Jet skiing
Indoor skydiving
Ziplining
Water parks
Topgolf
Live sporting events
Concerts
I wrote a more in-depth list of things to do under 21 in Las Vegas here.
What Las Vegas Hotels Allow Guests Under 21?
You would be surprised how few Las Vegas hotels allow guests under the age of 21 to book a room. If you're planning a Vegas trip, it's important to know which hotels will actually let you check-in. A few of them include:
Waldorf Astoria
Four Seasons
Vdara
Westgate
Golden Nugget
There are also a couple of other under 21 hotel options in Las Vegas that I review in this post. If you're under 21, I highly recommend you check that out. I mention several hotel options for every budget in that article.