Las Vegas can get extremely hot in the summer, so it's important that you stay at a hotel with a good pool. However, most hotel pools are plain boring. So while planning my most recent trip to Las Vegas, I decided to find a hotel with a waterpark.
After doing some research, I found these to be the best Las Vegas hotels with water parks. In this article, I'll cover everything you need to know about each hotel water park, along with some of the basic amenities offered at each property.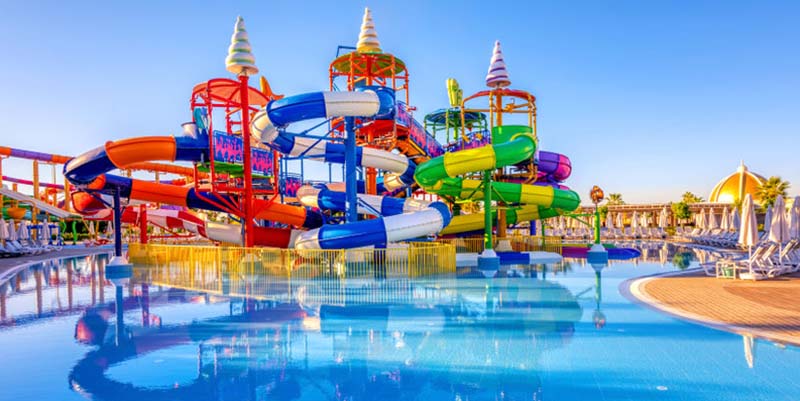 Best Las Vegas Waterpark Hotels
Mandalay Bay
Mandalay Bay Beach is the best overall Las Vegas water park hotel. This aquatic playground spans out over 11 acres and includes a giant wave pool, a lazy river, an adult pool, and 2 lagoon pools. It also has a beach with real sand surrounding the pools.
Guests of Mandalay Bay, Four Seasons, and Delano all get free access to the waterpark. However, non-guests can only gain entry by renting a lounge chair, daybed, or cabana (which costs between $75-$300 for the day).
Average Price: Medium ($100-$200/night)
Hotel Rating: 4.5/5 stars
Mandalay Bay is one of the best hotels for families traveling with kids in Las Vegas. It's located on the south end of the Strip and has excellent amenities. Some of those amenities include a casino, a spa, restaurants, the Shark Reef Aquarium, and a fitness center with a gym. The resort is also close to the T-Mobile Arena, which hosts live sporting events and concerts.
MGM Grand
The MGM Grand hotel has the second largest water park on the Las Vegas Strip. The pool complex features a lazy river, 4 swimming pools, and 3 whirlpools. There is also a popular pool party (Wet Republic) located next to the hotel pool.
The lazy river at the MGM Grand is the longest on the Strip, at roughly twice the size as the one at Mandalay Bay. However, only hotel guests of the MGM Grand and MGM Signature get access to the waterpark.
Average Price: Medium ($100-$200/night)
Hotel Rating: 4.4/5 stars
The MGM Las Vegas is one of the most popular hotels on the Strip. It's also very affordable, as I often see rooms available for around $50 per night during the week. The property has a bunch of great amenities including a casino, restaurants, a spa, a fitness center, and plenty of shows.
Circus Circus
Circus Circus recently expanded its Splash Zone Waterpark. The complex includes multiple swimming pools, whirlpool hot tubs, a water playground, and a 50 ft water slide tower. The slide tower has several waterslides including mat racers, an aqua tube, and a speed slide. The water playground has water cannon, spill buckets, and rain trees.
Hotel guests get free access to the waterpark, while non-guests must purchase a ticket to the Adventuredome theme park to use the pools. Tickets for the theme park cost between $30-$60, depending on your height.
Average Price: Low ($30-$100/night)
Hotel Rating: 3.8/5 stars
Circus Circus is home to one of the few waterslides on the Las Vegas Strip. This is the best overall hotel for families in Las Vegas since it has a waterpark, theme park, arcade, and free carnival acts. Room rates are also insanely affordable.
Cancun Resort
The Cancun Resort is located a couple of minutes south of Mandalay Bay. This is a laid-back resort with a tropical theme. The center of the resort's waterpark has a pyramid with a waterfall that flows into the large resort pools. There is also a second pool that features 4 waterslides with twists and turns.
The edge of the park offers some shade and grassy play areas. There are also BBQ grills available to hotel guests. Non-guests cannot use these areas at Cancun Resort.
Average Price: Low-Medium ($75-$150/night)
Hotel Rating: 4.2/5 stars
If you're looking to relax without dealing with the hustle and bustle of the Strip, Cancun Resort is a great option. The amenities are more limited than what you find at larger hotels, but you can always head over to the Strip if there's a specific activity you want to do.
Tahiti Village Resort
Tahiti Village is located right up the road from the Cancun Resort. Tahiti Village has a large waterpark that features 3 pools, a lazy river, and a couple of adults-only hot tub areas. The park is built around one large main pool where they occasionally host volleyball games.
The Tahiti Village lazy river is 1/8 of a mile long, making it one of the longest in Las Vegas. Plus, all of the tubes are supplied for free by the resort. To get access to the pool area, you must be a hotel guest.
Average Price: Medium-High ($150-$250/night)
Hotel Rating: 4.3/5 stars
This is another great kid-friendly resort with a water park. The rooms at this hotel are large and come with a full living and kitchen area, which is perfect for larger families.
Flamingo Las Vegas
The Flamingo is another Las Vegas hotel that has a water park. There are two separate pool areas at the Flamingo, the Beach Club Pool, and the GO Pool. The Beach Club Pool is a family-friendly area with waterfalls, a lagoon, and a water slide.
The GO Pool is only for adults 21 and older since it has a party atmosphere complete with a DJ. While the Beach Club Pool is free for hotel guests, the GO Pool does require that you purchase a ticket (prices are usually around $10-$20)
Average Price: Low-Medium ($50-$150/night)
Hotel Rating: 4.1/5 stars
If you're looking to stay in the heart of the Las Vegas Strip, the Flamingo is a good hotel to choose. Not only is it in the center of the action, but it's also one of the most affordable hotels in Vegas.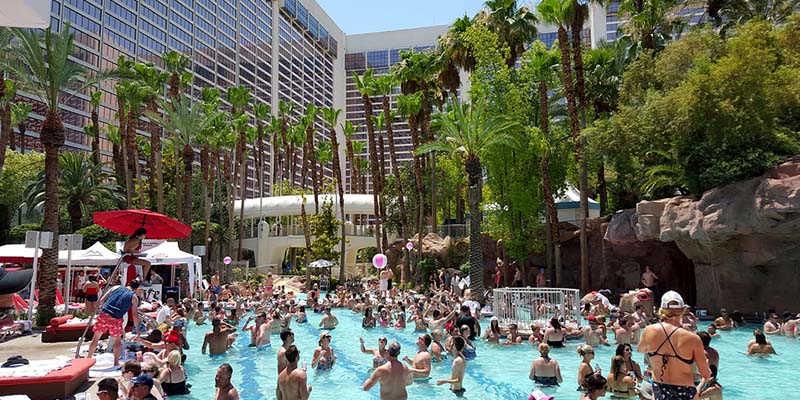 Golden Nugget Las Vegas Hotel & Casino
If you're staying in downtown Las Vegas, the Golden Nugget has the best pool to cool off in. The hotel's Tank Pool is an award-winning complex with a 3-story waterslide that runs through the middle of a shark tank. There's also a waterfall area for kids to splash around in.
The shark tank is a huge 200,000-gallon aquarium located in the center of the pool. You can observe the sharks close up while you're swimming. The Tank is free for hotel guests, while non-guests are required to pay $35 to get access for the day.
Average Price: Medium ($50-$200/night)
Hotel Rating: 4.3/5 stars
The Golden Nugget is one of the best hotels in downtown Vegas. It offers the perfect mix of luxury and affordability. If you're looking to get away from the kids for a while, you can also check out Stadium Swim at Circa across the street.
Westin Lake Las Vegas Resort & Spa
Lake Las Vegas is not a traditional water park. It's an actual lake, so it's much bigger and offers a more diverse set of attractions. Some of the attractions include the kid-friendly aqua park, flyboarding, a cable park, paddle boarding, and kayaking.
The aqua park is a large obstacle course made of inflatable tubes. There are plenty of slides, swings and, trampolines to play on. Each activity is priced differently, but they start around $30.
Average Price: Medium ($100-$200/night)
Hotel Rating: 4.3/5 stars
The Westin is located directly on Lake Las Vegas, giving you easy access to the waterpark. The hotel has its own restaurants, a spa, a fitness center, and a private pool. There is a similarly priced Hilton on Lake Las Vegas as well.
Water Parks on the Las Vegas Strip
There are only a few Las Vegas hotels with waterparks. And only a selected number of them are located on Las Vegas Blvd. Here's a complete list of Las Vegas waterpark hotels found on the Strip:
MGM Grand
Mandalay Bay
Flamingo Las Vegas
Circus Circus Las Vegas
The Cancun Resort and Tahiti Village are both located on Las Vegas Boulevard, but they're south of the main Strip. To get to the Strip from either hotel, you would either need to drive yourself or take an Uber (it's about a 5-minute ride). Both hotels are too far from the Strip to walk.
There is only one water park in downtown Las Vegas, found at the Golden Nugget. Then you have the Westin on Lake Las Vegas, which is about a 30-minute drive from the Strip. You wouldn't want to stay there unless you don't plan on visiting the main casinos at all.
Which Las Vegas Water Park Hotel has a Waterslide?
Circus Circus, the Flamingo, Cancun Resort, and the Golden Nugget are the only Las Vegas hotels with waterslides. The Cancun Resort waterslide is only available to hotel guests, but non-guests can still enjoy the waterparks at Circus Circus and the Golden Nugget.
Tickets for the Golden Nugget cost $35, while Circus Circus charges $30-$60, depending on your age and height. Circus Circus is slightly more expensive, however, their waterpark has more rides, and the ticket also includes access to the Adventuredome theme park.
If you're driving, you'll also have to pay for parking, which shouldn't be more than $10-$20. As a side note, Circus Circus is the hotel with the tallest Vegas water slides.
Indoor Water Parks in Vegas
There are no Las Vegas water parks that are located indoors. Las Vegas, NV is relatively warm year-round, so it makes sense that there are very few indoor water park facilities.
The city does get cold a few months every year (roughly from October to March), so most waterparks are closed during that time. However, many hotels have heated pools that guests can use in the winter.