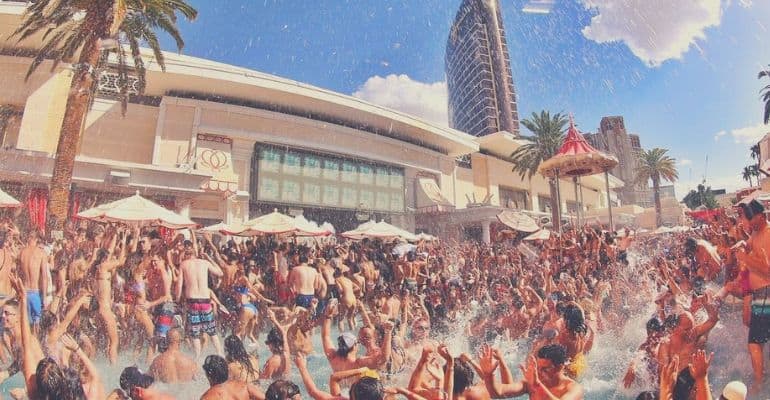 What is a Pool Crawl?
A pool crawl is a way to hit several pool parties in one day. The crawl gives you an opportunity to skip the line, avoid cover charges, get drink specials and meet people through drinking games. You meet your host at a predetermined location and they will take you to the most popular pool parties in Vegas.
Pool crawls are great for anyone who is visiting Vegas for the first time or is not up to date with the current nightlife and dayclub trends. This is because when you join the crawl you are leveraging the experience of your host. They already know what the best clubs are on a particular day, and they will get you inside without paying the cover charge.
Pool crawls like club crawls are an extremely underrated way to meet new people in Vegas. Not only do they provide a nice icebreaker when meeting others partying in Vegas, but they also handle the decision of what club to go to for you. LA Epic is the best company when it comes to pool crawls and they also have some reasonable ticket prices.
Why Join a Pool Crawl?
There are many advantages to joining a pool crawl over just going to the dayclub alone. One of the biggest things that pool crawls have going for them, is that it's really easy to meet people.
Everyone on the pool crawl will be in the same boat, meaning they are just looking to party in Las Vegas. The hosts go out of their way to introduce guests to one another. Also organized drinking games and icebreakers are set up and run by the hosts to loosen everyone up. Because of this it's very common to see bachelor parties hitting it off with bachelorette parties.
Since the hosts of these crawls work in the nightlife industry, one of the perks of being on the crawl is the ability to skip the lines. When the crawl arrives at the venue you will have your own separate line where you enter the dayclub, walking by anyone else standing in line. There will also be no cover charge at the door of the dayclub as that will be completely waived because you are part of the crawl.
Drink specials are another added benefit you get when signing up for a pool crawl. Most of the venues on the tour will offer amazing drink specials like 2 for 1 drinks or even open bar. This will save you a ton of money as most dayclubs charge $20+ for drinks.
Something that people don't really think about when visiting Vegas is what club they are going to go to on a specific day. There are a lot of variables involved in making that decision like: What is open today? Or what club is the most popular? When joining a pool crawl that decision is made for you as the hosts have been partying here for years and already know where to go. Picking what club to go to is a really important decision and not one you want to mess up.
How do Pool Crawls Work?
After signing up for a pool crawl you will receive instructions on where to meet the hosts to get checked in. The venue where you start the crawl changes depending on the day but they typically start around 10:30 am.
Once you arrive at the starting venue you will get checked in and be given a wristband and an opportunity to take advantage of the drink specials at that venue. The drink specials are optional.
Once checked the hosts will start up drinking games with all the guests to get everyone mingling. If you don't want to participate in the games you are free to do whatever you wish at the venue. Then at the designated time the entire crawl will head to the first pool party where the same process of drink specials and games repeats itself.
The final venue is typically the most popular dayclub for that day. When the crawl arrives you will have your own separate line to enter the club, bypassing anyone already waiting in line. The crawl arrives at the final venue right when the headline DJ is coming on.
How Much do Pool Crawls Cost
There are a couple companies that do pool crawls in Las Vegas that have tickets ranging anywhere from $30 – $120. In my experience, the best one is LA Epic. They have the best hosts, go to the best clubs and also have the best prices. LA Epic sales reps will quote ticket prices at around $50 but if you go directly to their website, its only $40.
The ticket includes free entry into all venues, access to drink specials and the ability to skip the line at the busiest clubs. $40 for all of that is a great price considering that the general admission cost alone to some of these dayclubs is upwards of $50.
What do I Wear
Swimwear is required at all Vegas pool parties and dayclubs. Athletic shorts, cargo shorts and jeans are not allowed into the club. Women are required to wear a cover-up. If you try to walk around the hotel in your bikini the staff will tell you to leave. I made a full dress code guide for both men and women so if you are unsure what to wear check those out. T-shirts, tank tops and hats are also allowed here.