There are plenty of places that offer cheap tattoos in Las Vegas, but some tattoo parlors take it to the next level. A few tattoo shops will do tattoos for as low as $10! These are the shops that offer $10 tattoos in Las Vegas.
As a quick note, the inexpensive tattoos offered at these spots are usually very small, so just keep that in mind. If you want a full-size tattoo, I recommend you check out the article I wrote about the best Las Vegas tattoo shops.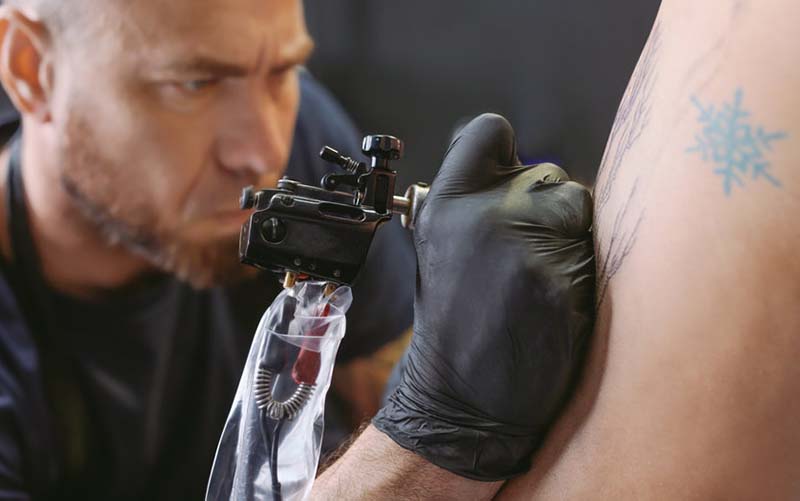 Where to Get $10 Tattoos in Las Vegas
Koolsville Tattoo
Koolsville Tattoo is the home of the $10 tattoo in Las Vegas. If you're getting your first tattoo, this is an excellent spot to get it. The staff at Koolsville have a ton of experience, which makes the whole process really easy.
A small $10 tattoo is a great way to test out how you feel about tattoos before you get a bigger more visible piece. It's very easy to cover up or hide too. Koolsville Tattoo has several locations in Las Vegas, but the one near the Strat Hotel is the closest to the Las Vegas Strip.
Location: 1501 S Las Vegas Blvd, Las Vegas, NV
Sacred Heart Tattoo
Sacred Heart Tattoo is actually owned by Koolsville Tattoo, so you can expect the same top-notch customer service. They do offer larger more detailed tattoos, but they're famous for their $10 tattoos.
These types of tattoos are perfect if you want to get matching tattoos with your friends. They're simply more cost-effective than a $500-$1,000 statement piece. You can find the Sacred Heart Tattoo shop near Fremont Street in downtown Las Vegas.
Location: 1232 S Las Vegas Blvd, Las Vegas, NV
Crown Electric Tattoo Co
Crown Electric Electric is another Vegas tattoo shop that does cheap tattoos. This shop technically doesn't offer $10 tattoos, but they do occasionally do $20 tattoo events. Crown Electric usually will share the date of the event in advance, but it typically falls on holidays like Halloween or St Patricks Day.
The shop is located in downtown Las Vegas, not too far from one of the Koolsville Tattoo locations. You'll find it a few blocks south of the hotels on Fremont Street. This is one of the most popular places to get a tattoo in Las Vegas.
Location: 911 E Charleston Blvd, Las Vegas, NV
Other Affordable Las Vegas Tattoo Shops
If you're looking to get a Las Vegas tattoo and are willing to spend a little more money, there are some additional tattoo shops on the Strip. Just now that you're likely going to be paying at least $100 for your tattoo.
It may be worth going to a custom tattoo shop if you already have a couple of tattoos and have an idea of what you want. You'll also have more control over what tattoo artist you get. Here are a few of the top tattoo parlors on the Las Vegas Strip:
Revolt Tattoos
Rockstar Tattoo
Club Tattoo
Vegas Ink Tattoo Shop
Aftercare for Your Tattoo
After you get your tattoo, there are some steps you're going to want to follow to take care of it. This is something that you'll want to do for 1-2 weeks after you get inked to ensure that your new body art doesn't fade or get infected.
Cover your tattoo with some antibiotic ointment and a bandaid immediately after getting it.
Carefully wash the tattoo the next day with soap. Make sure that you pat it dry to avoid smudging the ink.
Moisturize your tattoo once a day for the next few weeks.
You should also avoid swimming and taking overly hot showers for a few weeks. This is why it's important to get your tattoo towards the end of your Vegas trip. You won't be able to enjoy any of the pool parties once you get your ink.
Previous: Here's How Much a Tattoo Costs in Las Vegas [by & Size]
Next: 24-Hour Tattoo Shops in Las Vegas [Late-Night Tattoos]