Las Vegas is the city that never sleeps, so it's only natural that it has a few 24-hour tattoo shops. However, there are fewer late-night tattoo parlors than you would think. So, I decided to go out and find all of the 24-hour tattoo shops in Las Vegas.
Most of these tattoo shops are open 24-hours a day, 7 days a week, but just know that they can change their hours at some point. It's always best to call ahead to make sure that they're open.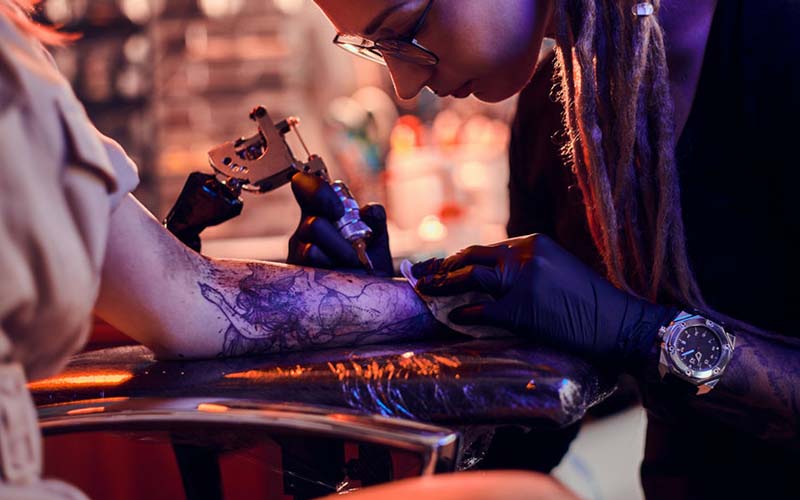 Also See: Complete List of Best Tattoo Shops Las Vegas
Where to Get 24 Hour Tattoos in Las Vegas
Tattoo Temptations Las Vegas
Tattoo Temptations is a 24-hour tattoo shop in Las Vegas. It's located near the Las Vegas airport, which is about a 10-minute drive from the Las Vegas Strip. The artists here are really talented and are able to do any style of tattoo you want. The shop also offers specials like $40 Tattoo Fridays and $60 tattoos on Tuesdays and Thursdays.
Location: 5006 S Maryland Pkwy Suite #13, Las Vegas, NV
Sessions Tattoo Club
Sessions Tattoo Club is another spot that's open 24-hours a day. You can find this shop in the Chinatown District of Las Vegas, which is only about a 10-minute Uber or cab ride from the Strip. They offer both tattoos and piercings at an affordable price.
Location: 3650 S Decatur Blvd Ste 5, Las Vegas, NV
70Duece Tattoos
70Duece Tattoos is a custom tattoo shop located just one block off the Strip. They're open all day and take both appointments and last-minute walk-ins. The artists at 70Duece are highly skilled and design 100% original tattoos for all of their clients. There's a reason why this is considered one of the top tattoo shops in Vegas.
Location: 2213 Paradise Rd, Las Vegas, NV
Las Vegas Tattoo Collective
Las Vegas Tattoo Collective is another 24-hour tattoo spot. It's located between the Strat Hotel and the Fremont Street Experience. The shop is open late, and it isn't too far from the Strip. They aren't as well-known as some of the other tattoo shops in the area, but they seem to get decent reviews online.
Location: 1506 S Las Vegas Blvd Unit 3, Las Vegas, NV
Late-Night Tattoos in Vegas
There aren't many 24 hour tattoo shops in Vegas, but there are some additional tattoo parlors that are open late. Here are a couple more tattoo shops that are usually open until 1 or 2 in the morning.
Golden Skull Tattoo
Golden Skull is a popular tattoo shop found on the northern end of the Strip. There are some world-class tattoo artists that work at this shop, so it's encouraged that you make an appointment ahead of time. With that being said, it's still possible to walk in, especially later at night. Golden Skull Tattoo is open until 2 am daily.
Location: 2310 S Las Vegas Blvd #101, Las Vegas, NV
Ship And Anchor Tattoo
Ship And Anchor Tattoo is located inside the Strat Hotel & Casino. There are a number of talented artists working here that are able to provide the exact designs you want. They do professional tattoos and piercings until 1:30 am most days.
Location: 2000 S Las Vegas Blvd D7, Las Vegas, NV (The Strat Hotel)
Precious Tattoo Company 4
Precious Tattoo is another late-night tattoo company located in downtown Las Vegas. They have been providing quality ink for over 20 years, so they pride themselves on excellent customer service. The shop is open until 2 am during the week and until 4 am on weekends. They do piercings as well.
Location: 1013 E Charleston Blvd, Las Vegas, NV 
Previous: $10 Tattoos on the Las Vegas Strip