If there's a city that knows how to prepare brunch, it's Las Vegas. Whether you're looking for a quick meal or a fancy multi-course breakfast with bottomless mimosas, you'll be able to find it in Sin City.
After eating at all of the major brunch spots on and off the Strip, I'm confident that these are the best places to eat brunch in Las Vegas. Let's dive in.
Top Las Vegas Brunches
1. LAVO Italian Restaurant
LAVO is one of the best places to eat brunch in Vegas. It's a high-energy Italian restaurant known for its wild party brunch events, which are hosted on select Saturdays. Even if you're not looking to party that early in the morning, LAVO still has some amazing food.
The brunch menu includes breakfast treats like eggs benedict, pancakes, waffles, breakfast pizza, cheese danishes, croissants, and doughnuts. You can also order Mimosas or even a Bloody Mary if you want. For seating, there are plenty of options at Lavo, but I recommend you try to get a table on the outdoor terrace overlooking the Strip. LAVO is located inside The Palazzo.
Location: 3327 Las Vegas Blvd S, Las Vegas, NV
Cuisine: Italian
2. Mon Ami Gabi
Mon Ami Gabi is another great spot for Vegas brunch. This restaurant is known for its authentic French cuisine and weekend brunches. They serve an assortment of breakfast essentials like eggs benedict, oatmeal, French toast, and corn beef hash, along with a number of breakfast cocktails.
The restaurant has a very relaxed ambiance making for a very pleasant dining expereince. You can grab a meal at Mon Ami Gabi by visiting the Paris Las Vegas Hotel & Casino in the center of the Strip. They serve brunch Friday, Saturday, and Sunday from 11 am to 2 pm.
Location: 3655 S Las Vegas Blvd South, Las Vegas, NV
Cuisine: French
Related: Best Las Vegas Buffets
3. Jardin
Jardin is great Las Vegas brunch spot. This restaurant is one of the most luxurious places to enjoy breakfast in the city. The food is flat-out delicious, the service is impeccable, and the restaurant overlooks the beautifully landscaped gardens of the Wynn Las Vegas.
Many of the dishes served here are health-conscious, but there are still plenty of sweets on the menu too. I recommend you try the chocolate chip red velvet pancakes, French toast, sticky buns, or berry bowl. The avocado Toast and steak & eggs are really good as well. When making reservations, getting a table on the patio is the way to go.
Location: 3131 Las Vegas Blvd S, Las Vegas, NV
Cuisine: American
4. Bouchon at The Venetian
Bouchon is another French restaurant that serves one of the best brunches in Las Vegas. This traditional French bistro is located on the 10th floor of The Venetian and serves seasonal breakfast delights that change with the season.
The chefs make daily additions to the menu, but some of my favorite dishes are the steak pane, pastry platter, and crab benedict with an English muffin. The mimosas and poached eggs are always fantastic as well.
Location: 3355 Las Vegas Blvd S 10th Floor, Las Vegas, NV
Cuisine: French
5. Tableau
Tableau is one more brunch spot in Las Vegas found inside the Wynn. This brunch restaurant uses seasonal ingredients to build some of the best breakfast dishes in all of Vegas. Brunch classics like steak & eggs, Belgian waffles, bagels, oatmeal, pancakes, granola, French toast, deviled eggs, and omelets are available to order.
They also have a ton of unique dishes that include smoothies, seared salmon, chicken sandwiches, and lobster burgers. The Tableau Burger is one of my favorite dishes on the brunch menu. It's made with avocado, blue cheese, tomato jam, a sunny-side-up egg, and smoked bacon on a brioche bun. It comes with french fries as well, which are cooked to perfection.
Location: 3131 Las Vegas Blvd S, Las Vegas, NV
Cuisine: American
6. SUGARCANE Raw Bar Grill
SUGARCANE is an excellent brunch restaurant on the Las Vegas Strip. This restaurant serves brunch daily until 4 pm, so you're able to grab breakfast here even if you woke up late.
Some of the brunch specials offered at SUGARCANE Raw Bar Grill include key lime doughnuts, smoked bacon, sunny side up eggs, buttermilk waffles, cheese pastries, and salmon benedict. There is also a pretty extensive seafood menu. You can find SUGARCANE inside The Venetian.
Location: 3355 S Las Vegas Blvd, Las Vegas, NV
Cuisine: American & Seafood
7. Ameribrunch Cafe
Ameribrunch Cafe is another one of the top brunches in Vegas. Brunch is their specialty, so the restaurant is typically closed by the early afternoon. But while they're open, they offer an expansive menu with plenty of mouth-water breakfast dishes.
I highly recommend you try their southwest breakfast and s'mores pancakes. The BLTA (bacon, lettuce, tomato, avocado & egg) hits the spot as well. If you're still hungry, the biscuits, sausage, and egg dish is always worth a try.
Location: 316 E Bridger Ave #102, Las Vegas, NV
Cuisine: American
8. CHICA Las Vegas
CHICA is one of the premium Vegas brunches available at The Venetian. This restaurant serves Latin cuisine in a number of unique tropical flavors and signature dishes. The menu is influenced by the cuisine of many Latin countries, including Mexico, Argentina, Venezuela, Peru, and Brazil.
Some of the dishes on the brunch menu include fried chicken & waffles, Baja breakfast burrito, tropical fruit plates, charred Poblano quesadilla, avocado toast, and strawberry guava waffles. If you love fruit for breakfast, this is one of the best spots to grab brunch on the Strip.
Location: 3355 S Las Vegas Blvd St 106, Las Vegas, NV
Cuisine: Latin
9. Sadelle's Cafe
Sadelle's Cafe is an excellent Las Vegas brunch restaurant located inside the Bellagio. You can find the restaurant near the Botanical Gardens in the lobby of the hotel.
A few of the signature dishes on the brunch menu include sticky buns, eggs benedict, omelets, huevos rancheros, cream cheese danishes, bagels, and salami & eggs. Sadelle's Cafe opens around 6 am and is one of the more affordable brunch spots at the Bellagio. If the line for the restaurant is long, they will serve you breakfast at the bar as well.
Location: 3600 S Las Vegas Blvd, Las Vegas, NV
Cuisine: American
10. Peppermill Restaurant and Fireside Lounge
Peppermill is one of the most popular brunches in Las Vegas. This classic Vegas diner has been a local favorite for years since its open 24 hours a day and has a lot of variety on the menu. Peppermill is also one of the more affordable brunches on the Las Vegas Strip.
You can order dishes like pancakes, English muffins, fruit bowls, bacon & sausage, waffles, and steak & eggs. There is also an extensive omelet menu available. Peppermill is located on the north end of the Strip, across the street from Resorts World.
Location: 2985 Las Vegas Blvd S, Las Vegas, NV
Cuisine: American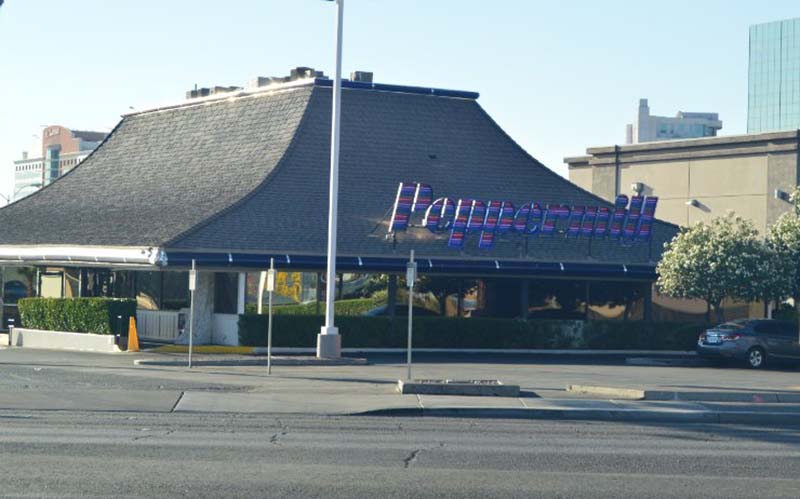 11. The Henry
The Henry is another one of the top brunch spots in Las Vegas. Located inside The Cosmopolitan, this trendy restaurant offers diners both early morning and late-night brunch. If you're looking for some good old-fashioned American comfort food, The Henry is a good place to find it.
The diner serves all of the classic breakfast items, like pull-a-part doughnuts, breakfast burritos, oatmeal, Greek yogurt parfaits, and steak & eggs. Two of my favorite dishes here are the brioche French toast and signature short rib benedict (it includes braised short ribs, soft poached eggs, and hashbrowns). The Henry has a separate gluten-free menu as well.
Location: 3708 Las Vegas Blvd S Level 1, Las Vegas, NV
Cuisine: American
12. DW Bistro
DW Bistro is a popular brunch restaurant in Las Vegas found off the Strip. It's located about 15 minutes from Las Vegas Boulevard, but the food is worth the trip. They serve a unique combination of Jamaican and New Mexican cuisine, which is loved by both locals and tourists.
If you read the menu, you'll find plenty of delicious foods like pastry baskets, chilaquiles, French toast souffle, fresh fruit tarts, omelets, and fried chicken & waffles. I recommend that you try the pastry basket. DW Bistro offers both takeout and delivery, but they only serve brunch on Saturday and Sunday.
Location: 9275 W Russell Rd #190, Las Vegas, NV
Cuisine: Caribbean
13. Giada – Italian Cuisine
Giada is a celebrity-run restaurant that serves brunch on the Las Vegas Strip. Head chef Giada De Laurentiis is known for her unique Italian entrees with a California twist. So if an Italian-inspired brunch sounds good to you, you'll want to check out this restaurant.
Some of the most popular brunch dishes include breakfast calzones, paninis, polenta waffles, yogurt parfaits, and eggs done your way. You'll be able to find Giada inside the Cromwell, but make sure you set a reservation ahead of time. Also, try to get a seat by the window so you can enjoy the view of the Vegas Strip.
Location: 3595 S Las Vegas Blvd, Las Vegas, NV
Cuisine: Italian
14. Kassi Beach House
Kassi Beach House is another one of the top Las Vegas brunches. It's located inside the Virgin Hotel a few blocks off the Las Vegas Strip and serves authentic coastal Italian cuisine. You can order dishes like ricotta pancakes, breakfast sandwiches, smoked salmon, and steak & eggs.
In addition to the main brunch entrees, you can also add on individual items like eggs, Italian sausages, and avocados for relatively cheap on the side. The restaurant is open for brunch daily from 11 am to 3 pm.
Location: 4455 Paradise Rd, Las Vegas, NV
Cuisine: Italian
15. Honey Salt
Honey Salt is a brunch spot located in the Summerlin area of Vegas. This is one of the restaurants where locals eat brunch on the weekends, so you'll find the food is really good for the price.
They serve a ton of brunch classics on the menu, like bacon grilled cheese, monkey bread, fried chicken benedict, dutch pancakes, breakfast pizza, and banana French toast. They have an option for $20 bottomless mimosas as well if cocktails with breakfast fits your style. Check them out on Instagram, to see some of the unique dishes the chefs serve for brunch.
Location: 1031 S Rampart Blvd, Las Vegas, NV
Cuisine: American
Brunch on the Las Vegas Strip
There are plenty of Las Vegas restaurants that serve brunch on the Strip. Most of these brunch restaurants are located inside Las Vegas hotels. Here are some of my favorite places to grab brunch in Vegas.
Jardin
The Henry
Sadelle's Cafe
Peppermill
Peppermill is the only brunch restaurant on the Las Vegas Strip not located inside a hotel. However, they still serve everything you could possibly want to eat for brunch and more. Aside from a few dishes, there is nothing you can't find on the menu at Peppermill that you can get anywhere else.
Brunch Restaurants in Downtown Las Vegas
The best brunch in Las Vegas isn't necessarily found on the Strip. There are a ton of great breakfast and brunch restaurants in downtown Las Vegas too. Here are a few of the top brunch spots located downtown.
eat.
Ameribrunch Cafe
7th & Carson
Hash House A Go Go
Map of Brunch Las Vegas
Looking for brunch Las Vegas? There are plenty of great spots to grab brunch in the city. To help you find all of the best brunch spots faster, I added them to the map below. This should make it easier to find dining in Vegas.
Tips for Finding a Good Brunch Restaurant in Las Vegas, NV
The best brunch isn't necessarily the most expensive. When looking for a place to eat brunch in Vegas, you don't need to find the perfect restaurant with 3 Michelin stars. There are hundreds of lesser-known brunch places spread throughout the city.
Most tourists aren't going to visit the more remote parts of Vegas like Summerlin or Henderson, but there are some good restaurants in those areas. Just find a brunch restaurant near you that's affordable and has some solid reviews.
Other Las Vegas Restaurants that Serve Breakfast & Brunch
There are so many restaurants that offer brunch in Las Vegas that it's difficult to list them all here. If you want a more in-depth list of restaurants that serve brunch and breakfast in Las Vegas, I recommend you check out this article.