Las Vegas isn't generally considered a family-friendly destination however, there are a few RV parks that offer plenty of activities for kids. Whether you're a full-timer, or simply taking a road trip through Las Vegas, you'll want to check out these family-friendly RV parks
These are the best kid-friendly RV parks and campgrounds in Las Vegas:
Circus Circus RV Park
Duck Creek RV Park
Oasis RV Resort
Hitchin' Post RV Park
Lake Made RV Village
Red Rock Canyon Campground
RV parks are typically cheaper than hotels in Las Vegas, but not always. In this post, I'll walk you through exactly what to expect at each family-friendly RV park, including prices, amenities, and nearby attractions.
1. Circus Circus RV Park
Circus Circus has the only RV park directly on the Las Vegas Strip, so it offers the best combination of kid-friendly and adult attractions. The RV sites are big, which is perfect for larger rigs. They all have full hookups (30 & 50 Amp), a dump station, 24-hour security, laundry facilities, a swimming pool, a pet park, and a children's play area.
The actual RV park isn't anything special, it's just a parking lot with hookups. But you get easy access to the Strip and the Circus Circus Casino, which is the most family-friendly casino in the city. Kid's attractions at Circus Circus include free circus acts, hundreds of carnival and arcade games, the Adventuredome, and Splash Zone.
The Adventure Dome has several theme park rides, like roller coasters, carousels, and mini-golf (day passes are $40 for adults and $20 for kids). The Splash Zone has a water park with huge slides and whirlpools (costs $10 for the family).
Location: Circus Circus Hotel & Casino
Hookups: Yes
Price: $35-$45/day
2. Oasis RV Resort
Oasis is another family-friendly RV resort. It's located south of the Strip across the street from the Silverton Casino. Oasis is one of the most luxurious RV parks in Las Vegas thanks to its amenities. Some of those amenities include free Wi-Fi, cable tv, a family pool, an adult pool, a fitness center, a dump station, a restaurant, golf greens, and 24-hour security.
The park has plenty of pull-through spots for big rigs and full hookups. Most of the sites have grass and picnic tables, which is exactly what you want if you have kids. Keep in mind that they only accept reservations from newer RV models (10 years old or newer), so if your RV is older, you may need to send in pictures to get it approved.
In addition to the amenities at the park, Oasis is also the closed RV park to Mandalay Bay. Mandalay Bay has a ton of family-friendly activities, including a Shark Reef Aquarium and a pool complex with a lazy river and wave pool. Oasis is also very close to the Pinball Hall of Fame.
Location: 2711 W Windmill Ln, Las Vegas
Hookups: Yes
Price: $55-$90/day
3. Hitchin' Post RV Park
Hitchin' Post RV Park is located in northern Las Vegas. Full hookups are available, along with pull-through sites with plenty of space between each rig (sites are 30ft wide and 60–70ft deep).
The best part about Hitchin' Post is that it's directly across the street from a park that has a playground, baseball fields, and basketball courts. There aren't too many other large fields like this near other RV parks in Las Vegas. If you're on a long road trip, it will be nice to give your kids a chance to run around in a grassy area.
Hitchin' Post also has a family pool, Wi-Fi, cable tv, showers, a fitness center, laundry facilities, a dog park, golfing greens, and a dump station. Additionally, this is the closest RV park to Las Vegas Motor Speedway if you're a NASCAR fan.
Location: 3640 Las Vegas Blvd N, Las Vegas
Hookups: Yes
Price: $50/day
4. Duck Creek RV Park
Duck Creek is an affordable RV park on the Boulder Highway in Las Vegas. This park has full hookups and can accommodate rigs up to 70ft long. Just know that the spots are pretty tight. So if you have a car, you may need to park it in a separate lot away from your RV.
This park has a heated pool, a dog park, and a small playground for kids. There's also a picnic area with a grill if you're looking to do some Barbequing. Some of the other amenities include showers, laundry facilities, free DVD rentals, and a convenience store.
The biggest reason why you would stay at Duck Creek is its proximity to Cowabunga Bay Water Park (it's only a 5-minute drive). Cowabunga Bay is the best water park in Las Vegas featuring 10 waterslides and 6 pools. This is one of the best attractions for kids of all ages in Las Vegas.
Location: 6635 Boulder Hwy, Las Vegas
Hookups: Yes
Price: $38-$65
5. Lake Mead RV Village
If you're looking to check out the Hoover Dam, you're going to want to stay near Lake Mead. There are two spots to park your RV on Lake Mead: Lake Mead RV Village and the Boulder Beach Campground. The RV park has full hookups, laundry facilities, Wi-Fi, and a propane station.
The campsite is cheaper (only $20 a day), but there are no hookups. However, you'll have plenty of space on your site, which comes with a fireplace and picnic table.
Both the RV park and campground are located about a mile from the Lake Mead Marina and a 15-minute drive from the Hoover Dam. On the lake, you can go fishing, swimming, or rent boats and jet skis. There are several family-friendly beaches on Lake Mead as well.
Location: 268 Lakeshore Rd, Boulder City
Hookups: Yes
Price: Campground: $20/day | RV Park: $50-$70/day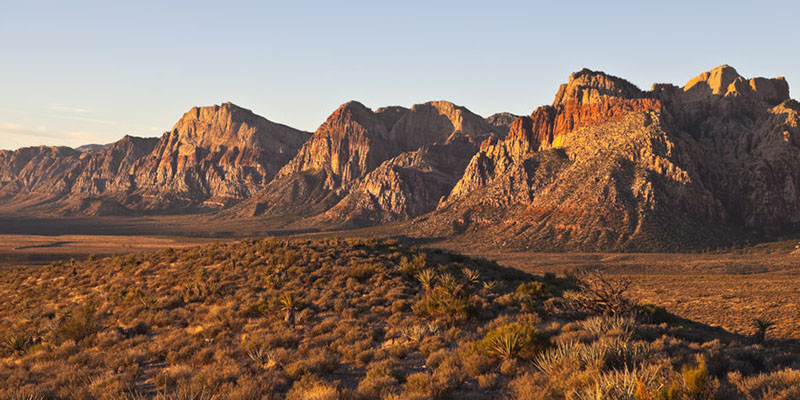 6. Red Rock Canyon Campground
If you're looking to go camping with the family, you'll want to stop by the Red Rock Canyon Campground. The campground has 53 standard camping sites, including 6 RV sites. You'll want to get here early because there is no reservations system. Everything is on a first-come, first-serve basis.
Red Rock Canyon is a true campground since there are no hookups, showers, or dump stations. All of the sites have a fire pit, grill, picnic table, access to drinking water, and access to public toilets. While on the campground, you can hunt, hike, bike, rock climb, and ride horses. It's also one of the many pet-friendly campgrounds in Las Vegas.
The scenic hiking trails at Red Rock Canyon are one of the biggest attractions in Las Vegas. There are over 60 miles of trails but don't worry-you'll get a map when you check in.
Location: 3293 Moenkopi Rd, Las Vegas
Hookups: No
Price: $25/day