The plant based dining scene is thriving in Las Vegas. There are so many great places to grab vegan and vegetarian food in the city that it can be overwhelming at times.
So, I decide to eat at the top vegan restaurants in Las Vegas to see which one are the best. After a couple days of trying all the most popular vegan eateries, I found these spots to have the best food.
12 Best Las Vegas Vegan Restaurants
1. Chef Kenny's Asian Vegan Restaurant
Chef Kenny's Asian Vegan Restaurant is one most popular vegan restaurants in Las Vegas. This plant-based restaurant is located in the Chinatown district of Las Vegas, which is about a 10-minute drive from the Strip. It's very accessible for both locals and tourists looking for some delicious vegan cuisine.
Chef Kenny prepares all of his traditional Asian foods with a vegan twist. My favorite dish at this restaurant is the vegan sushi, but you can also order other vegan dishes like vegan crispy beef and chow mein. Plus, the staff at the restaurant is always friendly, and they're open 7 days a week.
Address: 6820 Spring Mountain Rd, Las Vegas, NV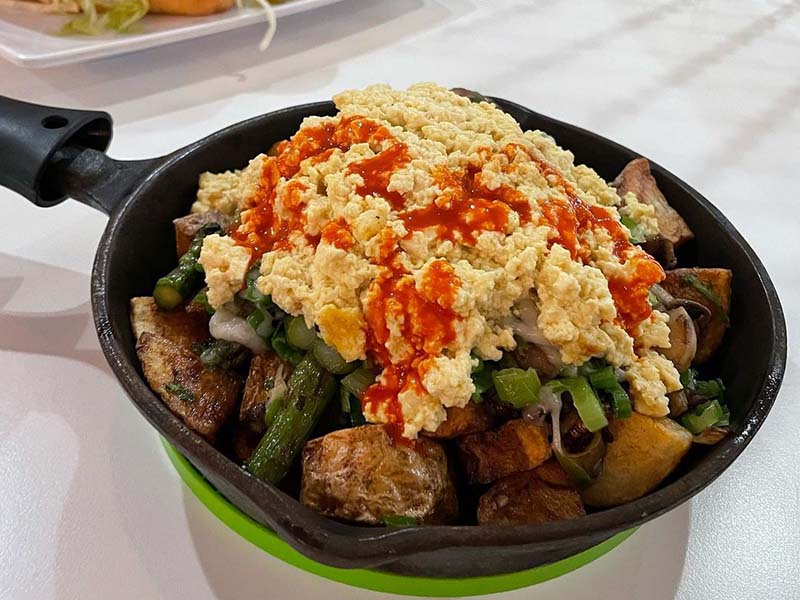 2. The Modern Vegan
The Modern Vegan is another high-rated vegan restaurant in Las Vegas. You can find this spot a few blocks off the Las Vegas Strip, near the UNLV campus. They serve an extensive menu of genuine vegan meals for breakfast, brunch, and lunch.
The Modern Vegan has some amazing protein bowls, which they make from mixed greens, chickpeas, mushrooms, potatoes, onions, and peppers, along with a bunch of other vegetables. The vegan burgers are really good as well. I highly recommend you check them out since they have one of the biggest fully-vegan menus in the city.
Address: 700 E Naples Dr #111, Las Vegas, NV
3. VegeNation
VegeNation is a Las Vegas vegan restaurant located downtown. This community-based restaurant prepares its dishes with locally grown vegetables and 100% vegan ingredients. Everything on the menu is vegan, including the meats, cheeses, and ice creams.
Some of the more notable items on the menu are the dumplings, Mac-N-Cheese pizza, the Mac Daddy Burger, and buffalo cauliflower wings. The service at VegeNation is usually very fast, and the food is always delicious. They serve breakfast, lunch, and dinner.
Address: 616 E Carson Ave #120, Las Vegas, NV
4. NoButcher
NoButcher is a vegan restaurant in Vegas that brands itself as a plant-based deli. They have an expansive menu of homemade vegan food, that includes vegan meats, cheeses, sandwiches, and ice cream.
One of the most popular dishes on the menu is the Pulled NoPork Sandwich, but the NoEgg and NoTuna sandwiches are excellent as well. They also have gluten-free options available. After eating here a few times, this has quickly become one of my favorite vegan restaurants in the area. You can order both takeout and delivery at NoButcher.
Address: 3565 S Rainbow Blvd Suite 110, Las Vegas, NV
5. Chikyu Vegan Sushi Bar & Izakaya
Chikyu Vegan Sushi Bar & Izakaya is one of the many Las Vegas vegan restaurants that serves vegan sushi. The chefs here prepare excellent vegan dishes using a variety of ingredients like vegetables, mushrooms, fruits, and flowers.
Sushi is the specialty at Chikyu Vegan Sushi Bar, so you'll notice that many of the dishes look similar to what you'll find at traditional sushi restaurants (except without the fish). They offer vegan appetizers, ramen, robata dishes, tempura, nigiri, and sushi rolls on the menu too. Chikyu is open every day except Monday from 4:30 pm to 9:30 pm. You can find this entirely plant-based Japanese restaurant just south of the Las Vegas airport.
Address: 1740 E Serene Ave #130, Las Vegas, NV
6. POTs
POTs is one of the vegan restaurants in Vegas located right off the Strip. This is an Egyptian restaurant that happens to serve vegan food, so some of the dishes on the menu may seem a bit foreign. Although some of the food was new to me, it was really good.
I got the cauliflower shawarma salad and was not disappointed. POTs also serves a bunch of other vegan entrees, salads, soups, fries, and desserts. The restaurant is open every day except for Sunday, and they offer both pickup and delivery.
Address: 333 W St Louis Ave, Las Vegas, NV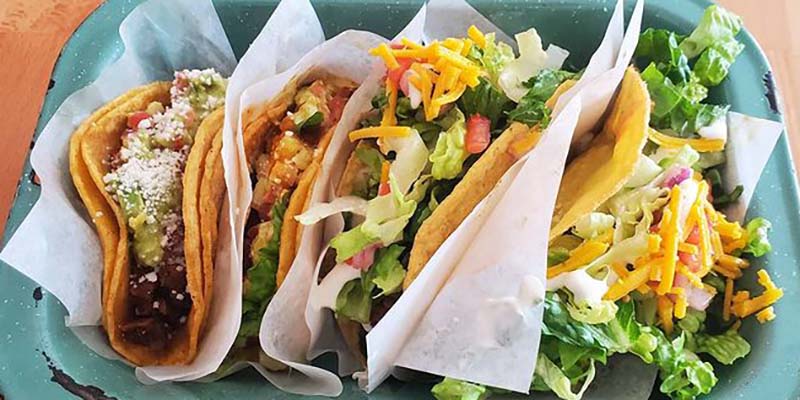 7. Tacotarian
Tacotarian is a plant-based Mexican restaurant that serves Vegan tacos. They serve over 14 different flavors of vegan tacos, along with several additional classic Mexican street food dishes. All the food here is flat out delicious.
Although it's vegan, Tacotarian definitely qualifies as one of the top taco spots in Vegas. The restaurant is open from 11 am to 9 pm, so you can order both lunch and dinner here. You can find Tacotarian near Fremont Street in downtown Las Vegas.
Address: 1130 S Casino Center Blvd #170, Las Vegas, NV
8. Garden Grill
Garden Grill is a local Vegas vegan restaurant found in Summerlin, about 20 minutes from the Las Vegas Strip. This highly-reviewed restaurant serves a number of vegan, gluten-free, and soy-free dishes.
Some of the options on the menu include vegan buffalo chicken sandwiches, Philly cheese steaks, beer battered avocado tacos, and Caesar wraps. The restaurant is open from 11 am to 7 pm on most days, but is closed Monday and Tuesdays.
Address: 7550 W Lake Mead Blvd Ste 8, Las Vegas, NV
9. Daikon Vegan Sushi & More
Daikon Vegan Sushi is another vegan restaurant located in Summerlin. The entire menu is 100% vegan, offering a wide range of plant-based dishes like ramen, sesame "chicken" rice, sushi, and crispy spring rolls. Daikon serves a number of affordable gluten-free options as well.
The servers here are always fast and friendly, making for a great experience. Daikon Vegan Sushi opens at 11 am and serves vegan food until 9 pm Monday through Saturday (they are closed on Sundays).
Address: 7210 W Lake Mead Blvd #1, Las Vegas, NV
10. VeggiEAT Xpress Henderson
VeggiEAT Xpress is one of the few Vegas vegan restaurants located in Henderson. This spot serves delicious Asian fusion vegan food, that's crafted with wheat, soy, and pea proteins. This combination of ingredients provides VeggiEAT dishes with a unique texture and flavor.
A few of the dishes on the menu include vegan sushi, vegan egg rolls, vegan chicken nuggets, vegan BLTs, and tofu, along with a number of chef specials. This is one of the restaurants that takes a break between lunch and dinner. They close from 3:30 pm and 4:30 pm every day.
Address: 390 N Stephanie St, Henderson, NV
11. Veggy Street
Veggy Street is another one of the restaurants in Vegas that's free of all animal products. They serve a large menu of tasty vegan and vegetarian dishes at a very affordable price point.
You can order vegan burgers, vegan appetizers, vegan sandwiches, vegan hotdogs, vegan wraps, and vegan desserts. For drinks, I was really impressed with Veggy Street's smoothies and milkshakes. Both were delicious and friendly for vegans. Veggy Street has 2 Las Vegas locations, one south of the Strip and one in Spring Valley.
Address: 1110 E Silverado Ranch Blvd #100, Las Vegas, NV
12. Saffron, The Vegetarian Eatery
Saffron, The Vegetarian Eatery is one of the best vegetarian restaurants in Las Vegas. This is an Asian restaurant that puts an emphasis on plant-based meals and locally grown ingredients.
You can order a wide range of locally sourced vegan and vegetarian cuisines, from garlic dumplings and California rolls to eggplant katsu. After trying a few dishes, I can see why this place gets such good reviews online. You can dine at Saffron every day except for Monday. Just note, that they are typically only open for dinner.
Location: 3545 S Decatur Blvd B, Las Vegas, NV
Vegan & Vegetarian Restaurants on the Las Vegas Strip
Although Las Vegas Nevada has more vegan restaurants than most cities, there aren't too vegan restaurants on the Las Vegas Strip. Many Las Vegas restaurants do offer a small vegan menu, but very few of them only serve vegan food.
The only two restaurants on the Strip that have a mostly vegan menu are True Food Kitchen at Caesars Palace and Truth & Tonic at The Venetian. Both are solid restaurants, however, I prefer the local eateries off the Strip.
Plant Based Food off The Strip
Most of the top vegan restaurants in Las Vegas are found off the Strip. In fact, all of the restaurants covered in this article are located off of Las Vegas Boulevard. Local restaurants in Vegas tend to have better prices and be less busy than their counterparts on the Strip. If you're staying at one of the hotels on the Las Vegas Strip, it's worth the trip to find a local vegan spot.
Map of Vegan Restaurants Las Vegas
If you're looking for the closest Vegan restaurants Las Vegas, check out the map below. All of the vegan spots mentioned in this post are on the map, along with a couple of other excellent vegan dining options not covered.
Final Thoughts – Vegan Food in Vegas
Vegans should be pleased with the Las Vegas food scene. There are plenty of high-quality vegan restaurants in the city, and a ton of variety is offered at each establishment. Vegan food in Las Vegas has never been better.