If you have a late flight, may need to rent a car outside of normal business hours. Fortunately, there are a few place is Las Vegas that will rent you a car 24 hours a day.
There are only 5 rental car companies in Las Vegas open 24 hours a day including, Alamo, National, Enterprise, Avis and Fox. All of these companies are located at the McCarran Rent-A-Car Center near the Las Vegas airport, except for Fox. They accept both walk-ins and reservations.
| Company | Hours Open | Location |
| --- | --- | --- |
| Alamo | 24 hours | Airport (7135 Gilespie St, Las Vegas, NV) |
| National | 24 hours | Airport (7135 Gilespie St, Las Vegas, NV) |
| Enterprise | 24 hous | Airport (7135 Gilespie St, Las Vegas, NV) |
| Avis | 24 hous | Airport (7135 Gilespie St, Las Vegas, NV) |
| Fox | 24 hours | 8801 S Las Vegas Blvd, Las Vegas, NV |
There are only have a handful of late night rental car options in Las Vegas. I'll walk you through which 24 hour rental car companies are the best.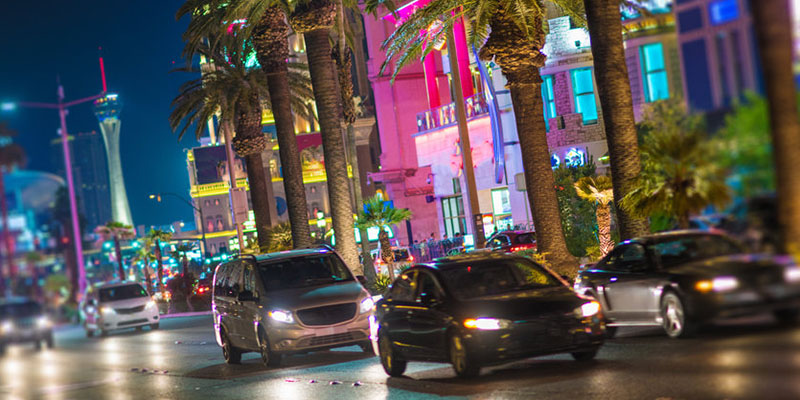 Cheapest Rental Cars Open 24 Hours a Day
I got quotes from each rental car company open 24 hours a day to see which was the cheapest. The rates below are for a 2-day compact car rental reserved for 11:30 pm.
| Company | Price (Prepay) | Price (Pay on arrival) |
| --- | --- | --- |
| Avis | $85.98 | $97.98 |
| Enterprise | – | $158.39 |
| Alamo | $214.08 | $224.62 |
| National | – | $222.01 |
| Fox | – | – |
Avis was the cheapest option for a late night car rental. They were nearly half the price of the next lowest option.
Fox is open 24 hours a day (I called to check), but their website won't allow you to get quotes past 9:30 pm. For this reason, I wouldn't recommend using them. It's possible they jack up prices late at night.
Enterprise was the only company that changed their rates late at night. A 2-day rental on the same day but with an earlier pickup time was $224.62. So by setting the pickup time to later, the price dropped by $66. Keep that in mind if you get rewards for using Enterprise.
Overall, Avis is best option for 24 hour car rentals. Avis has some bad reviews on Yelp, but the main issue is long lines. Wait times shouldn't be a big factor late at night.
Avis located at the McCarran Rent-A-Car Center. To get there, just take a shuttle from the baggage claim at the airport. The exact location is 7135 Gilespie St, Las Vegas, NV.
It's always better to make a reservation online instead of just walking in, even if it's a same-day reservation. This will lock in your rate. If you don't have a reservation, you can still get a car, but you'll be subject to whatever price the company gives you. Last minute rentals are ALWAYS more expensive.
How Late Can You Pick Up a Rental Car
Rental car companies are not obligated to hold your reservation if you show up past your pickup time. Generally, companies will hold your reservation for between 30 minutes to 2 hours after your reservation time. However, they are under no obligation to give this grace period.
On busy days, many companies will immediately give you're car away if you're not present at the reservation time. This is especially true in busy cities like Las Vegas.
If your flight is delayed and you know that you're going to be late for your reservation, it's best to call and let the company know ahead of time.
If you prepaid for your reservation, the company will typically make your car available for other customers after the 2 hour grace period, then attempt to give you a new vehicle based on availability. If you don't show up by the end of the day, the entire rental transaction will be cancelled and subject to cancellation fees.
What Happens if You Keep Your Rental Car Too Long
To avoid late fees on your rental car, you must return your vehicle at the specified return time. Once you pass that specified return time, most companies will give you a grace period (usually 30-60 minutes) where you won't incur extra fees.
After the grace period expires, you will be charge an hourly late fee. If the vehicle still isn't returned 2 hours after the original return time, most rental car companies will charge you for an additional day of rental.
Can You Rent a Car For Only 24 Hours (1 Day)
All rental car companies in Las Vegas will allow you to rent a car for a single day (24 hour period). Rates for a 24 hour rental are typically pretty low. Expect to pay between $50-$100 for the entire rental including taxes and fees. There also may be a mandatory security deposit as well.
If you're looking for the lowest rates on rental cars in Las Vegas, check out the article I wrote comparing all of the cheapest office locations. Cars rented from the same company can be up to 25% cheaper just by going to a different office location.
This post is part of a series comparing the best rental car companies in Las Vegas. Check out the next article in the series comparing all of the rental car companies at the airport in Las Vegas.