It can be difficult to find an affordable rental car in Las Vegas. So before my most recent trip to Las Vegas, I did some serious research to find out which rental car company had the cheapest vehicles. Here's what I found.
Rental car offices located away from the airport have the cheapest rates in Las Vegas. Cars rented from non-airport locations are nearly 25% cheaper than cars rented from the airport. The companies that consistently deliver the lowest prices are Avis, Hertz and Dollar.
Rental car offices belonging to the same company can have very different prices depending on their location. I'll walk you through which specific locations in Las Vegas have the cheapest cars.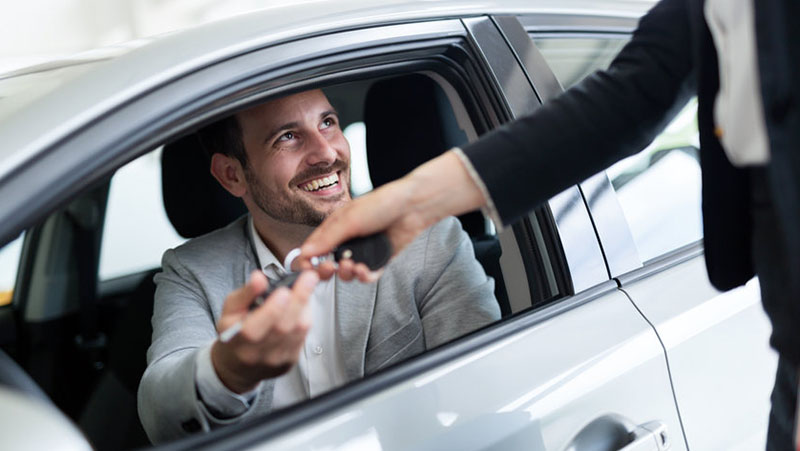 Where to Get Cheap Rental Cars in Las Vegas
I got quotes from every rental car company in Las Vegas to see which one has the cheapest rate for a 3-day compact car rental.
Company
Prepay Rate
(Airport)
Pay on Arrival
(Airport)
Prepay Rate
(Off-Airport)
Pay on Arrival
(Off-Airport)
Avis
$164.97
$209.97
$153.87
$161.97
Advantage
–
$194.72
–
–
Alamo
$270.16
$283.30
–
–
Budget
$176.30
$189.57
$181.35
$195
Dollar
$218.10
$283.37
$149.70
$174.98
Enterprise
–
$292.38
–
$174.98
Hertz
$224.89
$292.42
$137.10
$169.74
National
–
$313.30
–
–
Payless
$229.15
$239.97
–
–
Thrifty
$237.64
$261.59
–
–
SIXT
$212.13
$231.99
$161.42
$182.47
ACE
–
–
–
$173.36
FOX
–
–
$209.54
$215.78
NU Car Rentals
$193.02
$201.76
–
–
When comparing the prices, it's clear that the non-airport locations have the cheapest rates. Non-airport locations for Hertz, Dollar and Avis consistently have the cheapest rental cars in Las Vegas.
If you wanted to rent from directly from McCarran Airport, Avis and Budget have the best rates.
10 Cheapest Rental Car Locations in Las Vegas
It's often the case that the rental car companies with the lowest rates also have the worst reviews. It can be difficult to find the right balance between low rates and customer service.
In this section, I'll walk you through what to expect at each of the cheapest rental car locations so you can find the right balance between price and customer service.
If you want a more in-depth review of my experience with each rental company, check out this article here.
1. Hertz (Off-Airport Locations)
Hertz has over 20 locations in Las Vegas, many of them neighborhood locations. They also have a number of offices located inside of the hotels on the Las Vegas Strip. You'll find the cheapest rental cars in the entire city of Las Vegas at these offices.
My one complain about Hertz is the pushy sales reps. They really try to make you purchase extra insurance or gas coverage.
2. Dollar (Off-Airport Locations)
Dollar is actually operated by the same company that owns Hertz, so there's no surprise that they share the same low rates. The Dollar location with the cheapest rates is found on 4775 S University Center Dr.
This location is actually closer to McCarran Airport than official airport office (although there is no shuttle). This Dollar location has excellent prices, however they do have occasional inventory issues where they won't have the exact vehicle you reserved.
3. Avis (Off-Airport Locations)
Avis has a ton of locations inside hotels on the Las Vegas Strip, which makes it easy to find an office. These are some of the fastest and most affordable locations to rent a car in Las Vegas.
4. SIXT (Downtown Las Vegas)
There is a SIXT location inside of the Plaza Hotel in Downtown Las Vegas. They have excellent service and some of the best reviews of any rental car location in Las Vegas. This office is much cheaper and offers better service than the SIXT at the airport.
5. Avis (Airport)
If you want to rent a car at the McCarran Rent-A-Car Center at the airport, Avis has the best prices. The only downside to Avis is the ridiculously long lines. You'll get great rates here, but be prepared to stand in line for 1 or even 2 hours.
6. ACE (Off-Airport Location)
To get to ACE, you must take a shuttle from the airport to the McCarran Rental Car Center, then take a second shuttle to the ACE office. This is their only office in Las Vegas, and their rates are pretty low.
If you book here, just be aware that their sales reps are really pushy. By taking their extra insurance, you can easily end up paying hundreds of dollars more than the original booking price. Also know that they their car quality isn't the best.
7. Enterprise (Off-Airport Location)
Enterprise has over 30 locations throughout Las Vegas. The prices at non-airport Enterprise locations can vary, but I have found the office on 3401 W Sahara Ave to have the lowest prices. They also have some of the best ratings.
8. Budget (Airport)
The Budget Rent a Car location at the airport was actually cheaper than most of the non-airport locations. This location occasionally offers some fantastic deals, but the customer service and vehicle condition here isn't the best. The lines can also get extremely long.
9. Budget (Off-Airport Locations)
Budget has half a dozen non-airport locations in Las Vegas. They are usually about the same price as the airport location (or slightly more expensive) but, the lines are much shorter. These locations frequently have inventory issues. It isn't uncommon to them to not have the vehicle you reserved.
There is one Budget location inside of a Toyota dealership (3255 E Sahara Ave) that usually has really cheap cars, but it's pretty far away from the Strip. They have inventory issues as well.
10. NU Car Rentals (Airport)
NU Car Rentals is located across the street from the McCarran Rental Car Center. The rates at NU are pretty cheap, but their sales reps tend to aggressively sell you extra insurance. The costumer service here isn't great, and they often don't have the vehicle you reserved in stock.
Cheapest Way to Rent a Car in Las Vegas
The best way secure the absolute best price on a rental car in Las Vegas is to use a 3rd party website. Priceline and Hotwire usually have the best deals.
The prices on these websites are sometimes cheaper than direct rentals because of "opaque deals." This means that they don't tell you which company you booked until after you pay. However, I don't recommend using this option because you may get stuck with a location or company that has inventory problems or bad ratings.
The easiest way to get the cheapest rental car is to go to Priceline and set the location to the entire city of Las Vegas. This is much easier than looking up the prices for each location individually, since it aggregates everything for you.
When it shows you the list of all the prices, just choose a deal that tells you the company and the exact location of the office. Priceline will also show you ratings. I recommend booking with Hertz, Avis or Dollar.
Cheapest Time to Book a Rental Car in Las Vegas
As a general rule, the cheapest time to book a rental car is within 2 weeks of the pick up date. However, keep in mind that Las Vegas has one the busiest rental car markets in the world. You run the risk of inventory running out if you wait too long.
Prices don't change too much within 2 weeks, so it's important to lock in your reservation while you can. And if you book from one of the non-airport locations, you'll already be getting an excellent price to begin with.
Is it Cheaper to Rent a Car for a Week in Las Vegas?
In some cities, it's cheaper to rent a car for a full week instead of just 4 or 5 days. However, due to heavy demand for rental cars, this is not the case in Las Vegas. Renting a car for longer will almost always be more expensive. Some companies also charge fees for rentals that are returned early.
Cheap rentals are nice, but price isn't everything. A great deal on a car isn't worth it if you have to stand in line for several hours just to pick it up. To avoid these types of issues, check out the post I wrote comparing the best rental car companies at Las Vegas airport.