It's quite common for people to get a piercing while visiting Las Vegas. But if you're looking to get one, you're going to want to visit a reputable piercing shop. So, I put together a list of all the best piercing shops in Las Vegas.
This article will cover everything you need to know, including how much a piercing costs in Las Vegas, where to go to get one, and what body parts you can get pierced. I'll also cover some of the rules associated with getting a piercing in Las Vegas.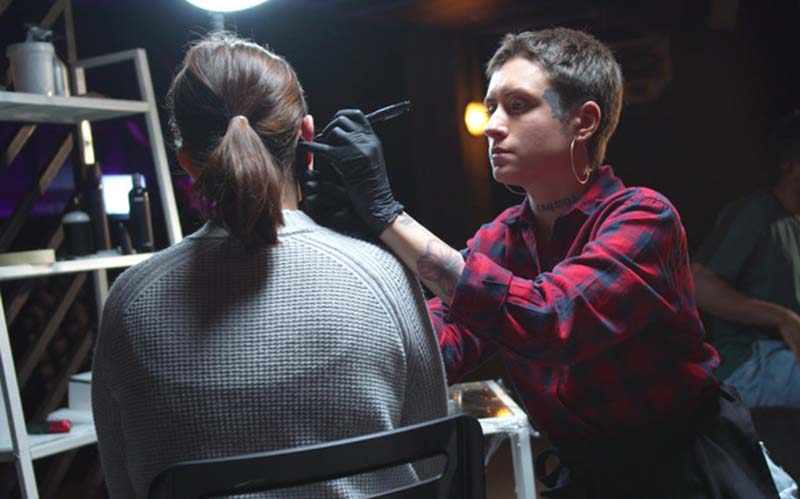 Also See: Best Tattoo Shops in Las Vegas
Best Las Vegas Piercing Shops
1. The Piercing Shop
The Piercing Shop Las Vegas is one of the best spots to get a piercing in Sin City. It's located in the Spring Valley part of Las Vegas, which is about a 15-minute drive from the Strip. This shop does a wide range of piercings, including ear piercing, facial piercing, tongue piercing, and body piercing, to name a few.
All of the piercers that work here are trained and highly experienced. Everyone takes safety and cleanliness extremely seriously. They also don't use piercing guns in favor of a freehand approach that is more gentle and ensures accurate placement. The Piercing Shop offers an extensive selection of piercing jewelry as well.
Location: 6985 W Sahara Ave suite 206, Las Vegas, NV
2. Piercing Vegas
Piercing Vegas can be found a few blocks east of the hotels on the Las Vegas Strip. This Las Vegas piercing shop offers a quick, clean, and gentle piercing experience, along with high-quality jewelry. They are able to stretch your piercings too.
The owner, Scott Wilkinson, is considered to be the top piercer in Vegas (if not, he's among the best). The team is always professional and never fails to deliver excellent customer service. You don't have to worry about hygiene or safety at Piercing Vegas since the shop's standards exceed the regulations set forth by the city.
Location: 2121 E Tropicana Ave Suite 6, Las Vegas, NV
3. Illuminati Tattoo Co
Illuminati Tattoo Co is another place to get piercings in Las Vegas. This is a Vegas tattoo shop that is also known for its piercing services. You can get a number of areas pierced, including the navel, tongue, ear lobe, ear cartilage, lip, neck, nose, rook, and back dimple.
They will pierce any part of your body that you want. It's recommended that you call to make an appointment, but the business also takes walk-ins. You'll find Illuminati Tattoo one block off the Strip, on Sammy Davis Drive.
Location: 3247 S Sammy Davis Jr Dr, Las Vegas, NV
4. Crown Electric Tattoo Co
Crown Electric Tattoo Co is another spot to get a piercing in Vegas. The main focus of the shop is tattooing, but you're also able to get affordable piercings. One of their piercers has over 25 years of experience and was actually the first body piercer in Nevada to get a Piercing Health Card.
There are several piercers that work at Crown Electric, but only a few of them can execute exotic piercings, so it's important to call ahead. If you want a simple piercing, you may be able to walk in. This is one of the shops located in downtown Las Vegas.
Location: 911 E Charleston Blvd, Las Vegas, NV
5. The Jungle Zone
The Jungle Zone is another great piercing shop in Las Vegas. They offer a wide range of piercings, including facial, lip, tongue, nose, eyebrow, body, and ear. The Jungle Zone can do tattoos too.
This piercing shop has been around for over 30 years, so the artists have plenty of experience. You can find the Jungle Zone about 15 minutes from the Strip.
Location: 3655 S Durango Dr #1, Las Vegas, NV
6. Primitive Accents Body Piercing
Primitive Accents Body Piercings is another one of the Las Vegas piercing shops that offer jewelry, along with piercing services. They also have a ton of experience and take customer satisfaction very seriously.
If you're looking to get a body piercing, you should seriously consider Primitive Accents. This spot is located in Spring Valley, so it's a favorite among Vegas locals.
Location: 4001 S Decatur Blvd Suite 6, Las Vegas, NV
7. Koolsville Tattoo
Koolsville Tattoo offers a wide range of services. They do tattoos, piercings, and tooth gems. Best of all, the work they do is highly affordable. They even offer $10 tattoos.
Koolsville has 4 locations in Las Vegas, all of which are on or near the Strip. This is the perfect spot to get a piercing if you're just looking to get something quick while you're on vacation.
Location: 1501 S Las Vegas Blvd, Las Vegas, NV
8. Skin Factory Tattoo & Body Piercing
Skin Factory Tattoo & Body Piercing is another popular spot for locals looking to get a piercing. It's located in Henderson, NV in the Green Valley Ranch area. They do a wide range of tattoos and body piercings, including micro dermal piercings.
The entire staff at Skin Factory is formally trained for your safety and to ensure that each client gets the exact piece of body art that they desire. The shop also puts a heavy emphasis on cleanliness.
Location: 2461 W Horizon Ridge Pkwy #110, Henderson, NV
How much do Piercings Cost in Vegas?
How much you pay for a piercing is going to depend on two things – the location of the piercing on your body and what shop you decide to go to. If you purchase jewelry, you'll want to consider that expense too.
Some places include jewelry in their listed price, while others do not. Higher quality jewelry is going to always cost more.
All of the piercing shops mentioned above offer relatively cheap prices. So let's take a look at how much each type of piercing is going to cost.
Nose Piercing
A nose piercing in Las Vegas is typically going to cost about $30-$40. Regardless of whether you get your bridge, nostril, or septum pierced, it's going to be roughly the same price.
Ear Piercing
An ear piercing in Las Vegas is generally the cheapest type of piercing you can get. There are many styles of ear piercings, but most of them are in the $20-$40 range. This includes earlobe piercings, helix, forward helix, industrial, flat, tragus, anti-tragus, surface tragus, snug, daith, sideburns, rook, and conch.
If you don't know what all of those terms mean, don't worry. Just ask you're piercer and they should have a chart.
Body Piercing
Body piercings are the most expensive type of piercing you can get in Las Vegas. Most places will pierce any body part you choose. Nothing is off-limits, but it's always best to call the piercing studio ahead of time to ensure that they can accommodate.
Most body piercings will be in the $50 range, but some surface piercings can cost even more.
How old do you have to be to Get a Piercing in Las Vegas?
According to the Southern Nevada Health District, you must be at least 18 years old to get a piercing. However, people under the age of 18 can get a piercing with written consent from their parents. In addition, it's required that a parent or legal guardian be present.
When you go in to get your piercing, make sure you bring in a valid photo ID. All piercing shops are required to keep a photocopied record of every client's ID.
Also, make sure that you haven't been drinking before your appointment. You cannot get a piercing if it appears that you're under the influence.
Where to Get Piercings on the Las Vegas Strip
These are the best places to get a piercing near the Las Vegas Strip.
Koolsville Tattoo
Illuminati Tattoo Co
Plan9piercing
Skin Design Tattoo Las Vegas
Ironhorse Tattoos & Piercings
Banter by Piercing Pagoda also has some small kiosks set up inside of the Fashion Show Mall. It's not a full piercing shop, but it's a nice alternative if you're short on time.
Las Vegas Piercing Shop Map
There are a lot of choices when it comes to piercing shops Las Vegas. So, I added all of the most popular spots to the map below.
Related: Best Tattoo Removal Shops in Las Vegas
Las Vegas Tattoo & Piercing Shops – Combination
Many of the popular tattoo shops in Las Vegas offer piercings as well, however, they're typically more expensive. Besides the ones already listed, here are a few more places that offer tattoos and piercings.
Revolt Tattoos
Club Tattoo
Rock N Roll Tattoo LLC
Last Chance Tattoo
Ironhorse Tattoo & Piercing
ClownyTattoos and Body Piercings