Nene Sushi is one of the best places in Vegas to eat high quality sushi off the Strip. Many of my friends recommended this spot and said a lot of locals know it as one of the best, so we had to go and check it out.
Like a lot of local restaurants, most of the time there isn't a lot of info online, so we took this as a sign and decided to visit Nene Sushi on Valentines day and write a review.
I hope other people will find this useful and I tried to include all the relevant info people would like to know before making a reservation. These will include prices, menu items and my impressions. Let's get started.
Nene Sushi Las Vegas Prices
Nene Sushi has a well put together menu which includes not only sushi but a few meat choices and special sushi dishes you don't always see in other places.
This place doesn't offer all you can eat menu so if you're looking for a AYCE options, I created a list with the best all you can eat sushi in Vegas so check that out.
The prices range from $16.50 as the highest lunch item to $10.50 as the cheapest option.
In the Specials menu prices may vary as the items change but in the regular menu the most expensive item you can order is the $30 King Crab with Risotto which is very well priced.
Overall, this is not an expensive place for the quality of food you get.
I recommend making a reservation before you go, even though it was Valentine's day I was under the impression that this place can be full pretty fast.
It's not a huge place, with maybe only like 20-30 people who can sit when it's full, so again, maybe on regular weekdays you can just drop by and wait for a little to be seated, but if you want to play it safe, I recommend making a reservation.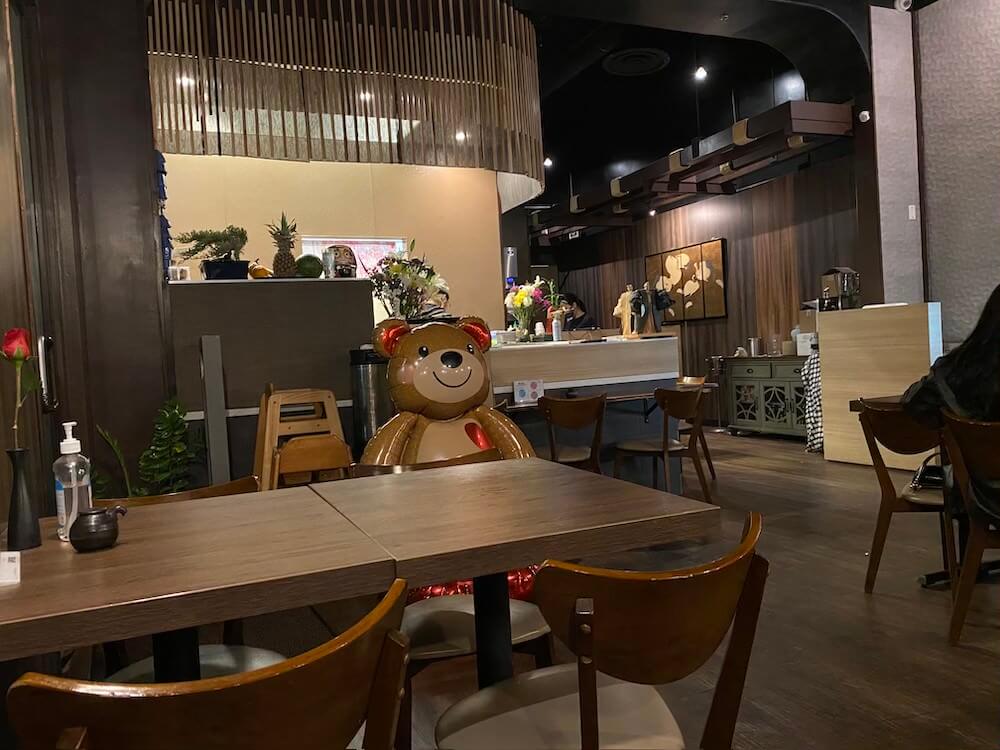 Sushi Nene location and hours
I called to make a reservation and they answered very fast, and the girl on the phone was very professional and handled my reservation quickly and easily.
Nene Sushi address: 4165 S Grand Canyon Dr, Las Vegas, NV 89147
Phone number: 702 463 2700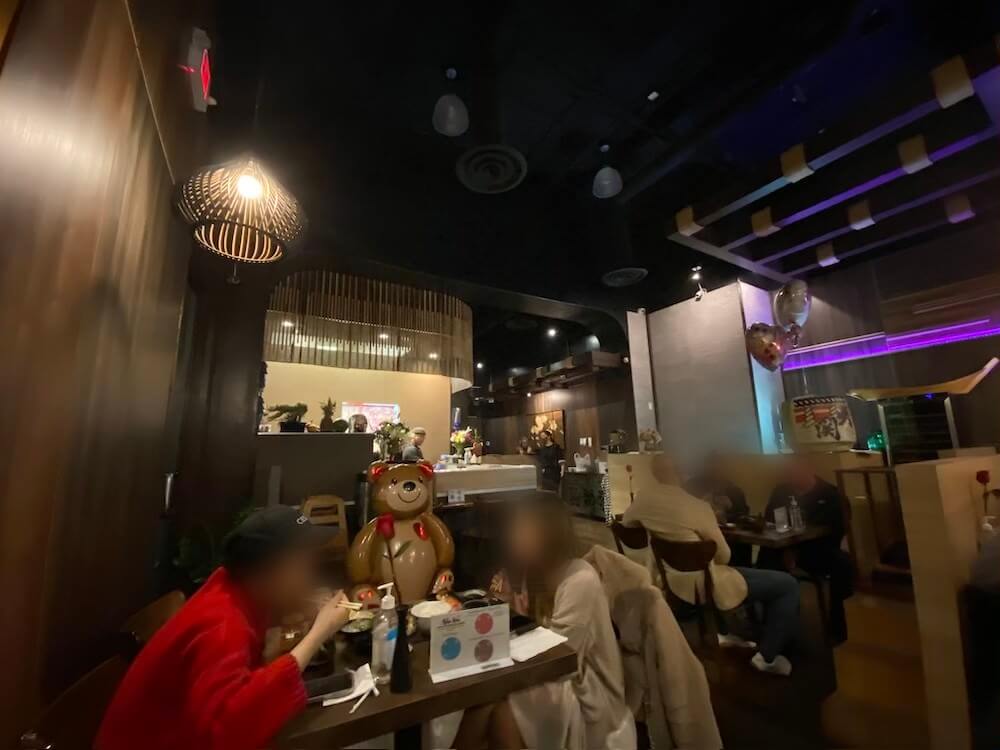 Nene Sushi Las Vegas Menu
Here is the full menu items with prices ( as much as I could gather )
The lunch special is served daily from 11:30am to 3:00pm
It comes with Miso soup and house salad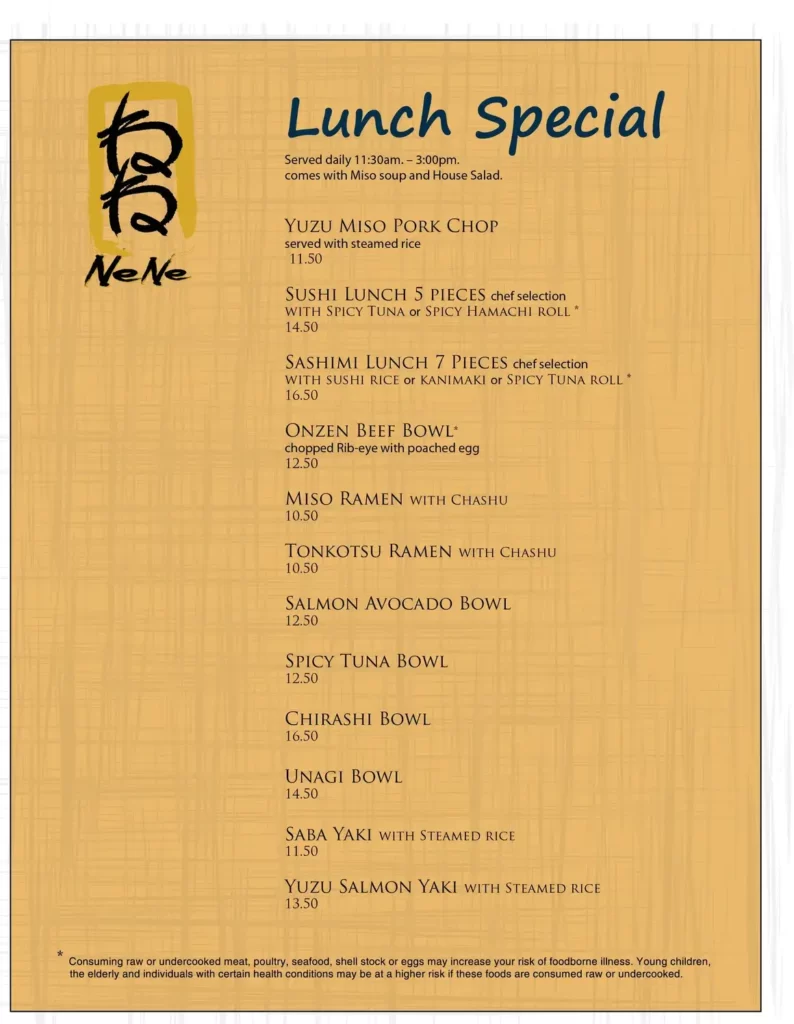 There's also the specials, which may change from time to time, but currently they are: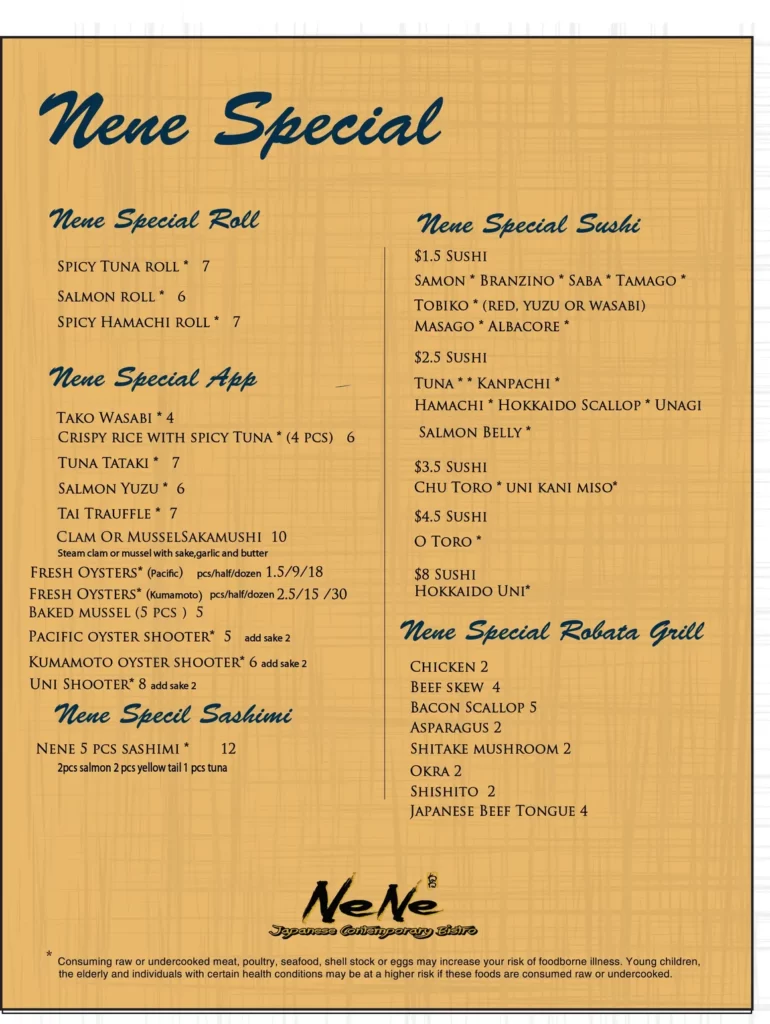 Happy hour menu
Monday – Saturday: 3pm – 6pm
Sunday: 4pm – 10pm
Regular menu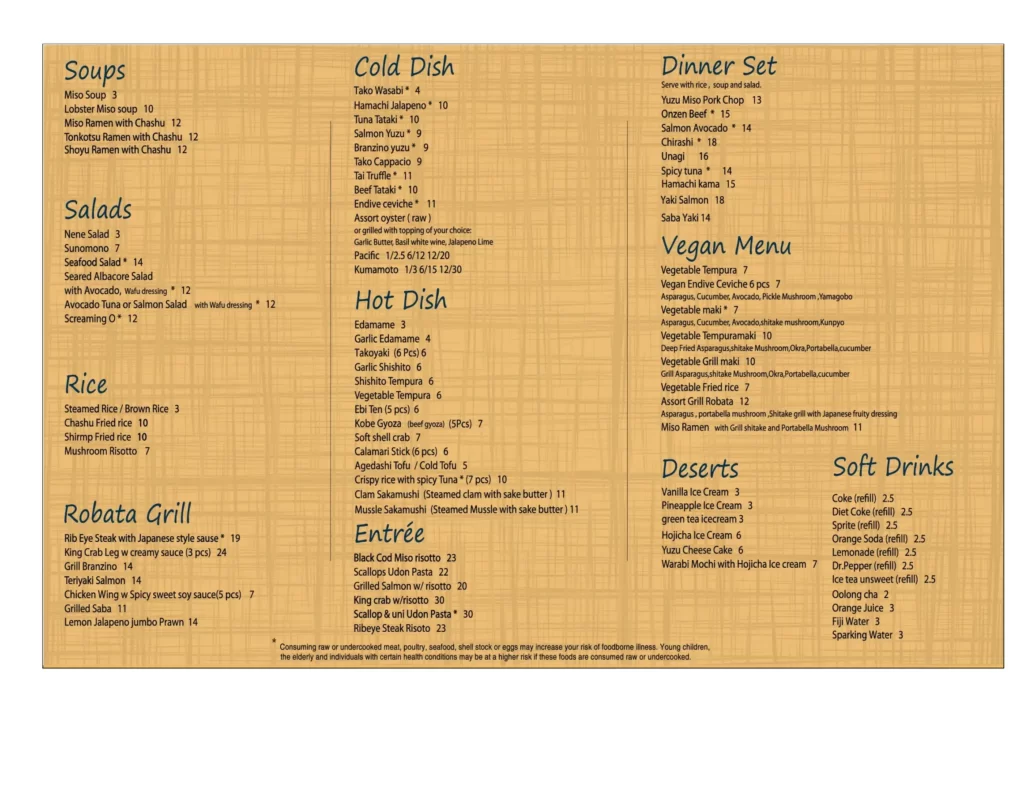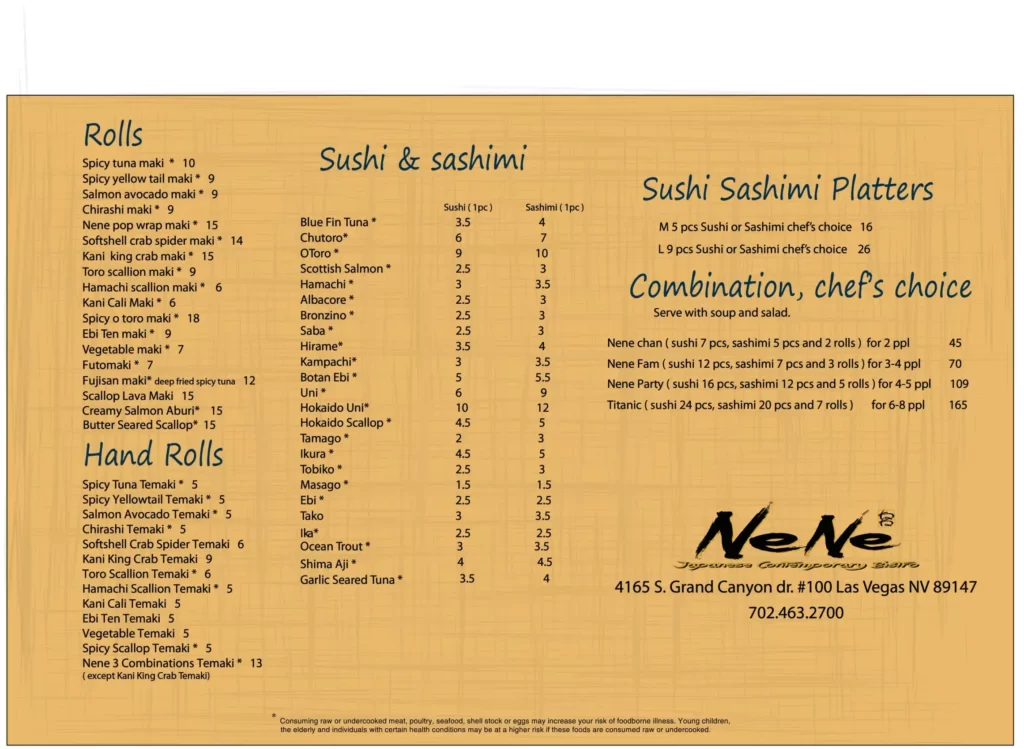 Best time to eat at Nene Sushi to avoid crowds
As mentioned before, this is not a big place and can only hold like 20 people at once, this means that if you come during peak hours you might need to wait. So we suggest coming in during weekdays, and after the lunch hour, make it a date and go during the evening.
Our personal review at Nene Sushi
We live in Las Vegas so we always look for cool places to try and see, this one was a place recommended by friends and my wife was really excited about it, with good reason. It's about an 18 minutes drive from the Strip if you come from there.
When we got there, we were greeted by a nice host that asked for our reservation and we were immediately seated, we didn't wait at all.
The decor inside is nice enough to give you the atmosphere of a cool authentic asian restaurant without going over the top. It's not a big place but in good taste.
I do have to point out that our server was a VERY knowledgable woman that helped us make the right choices and even suggested a switch when we ordered two things that are similar. Most people will just take your order and be done with it. She took the initiative and helped us out, and it was great.
What we ordered at Nene
We started with the Shishito peppers that come with a very good sauce which is soy and a LOT of garlic, this works and it was very good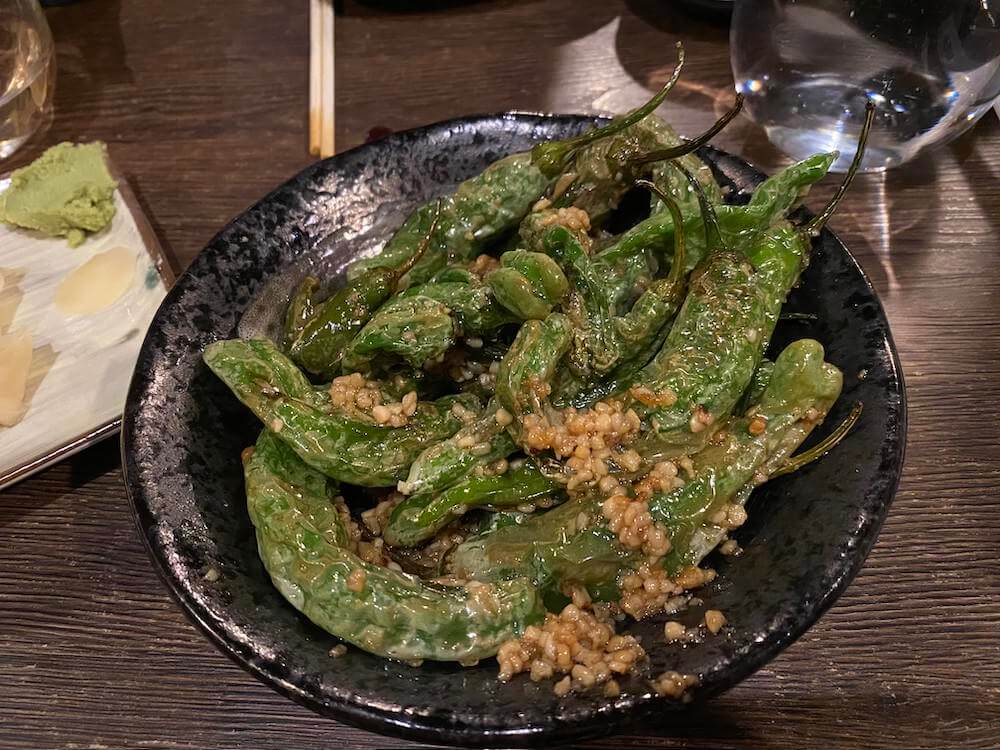 I don't honestly remember the name of this plate, but you can just show the server this picture and they will know. The fish here was extra fresh and fatty which I like.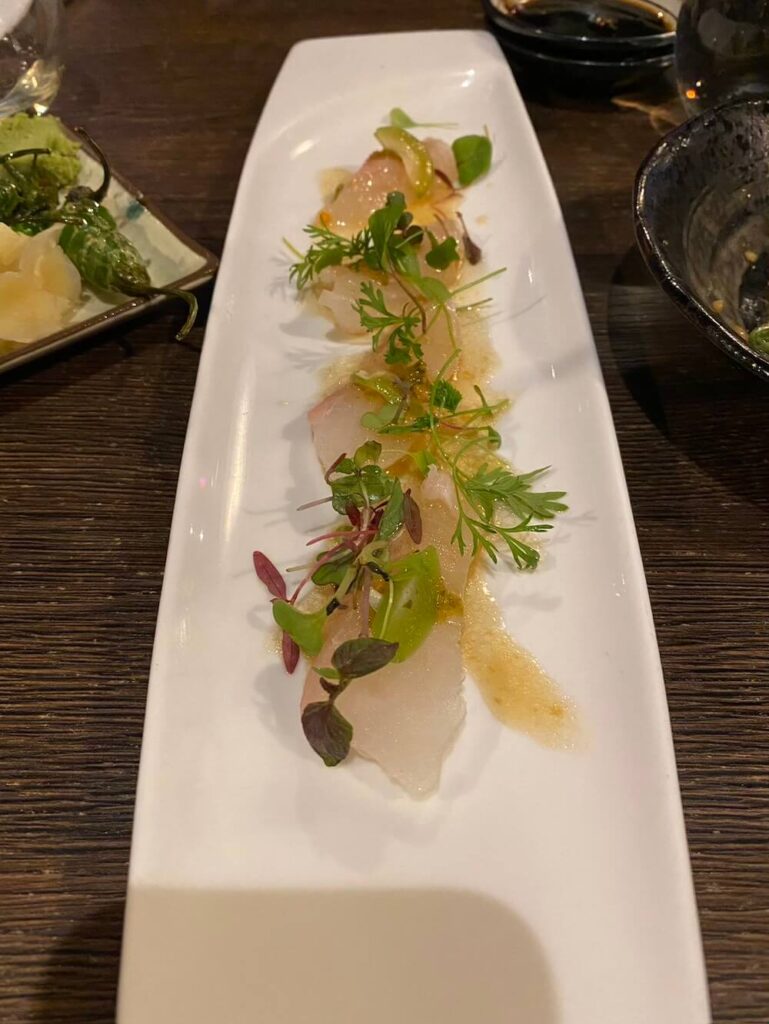 This was a beautiful bowl filled with ice and assorted sashimi pieces laying on top to keep it cool and fresh, it's a very cool plate to order to share with your group.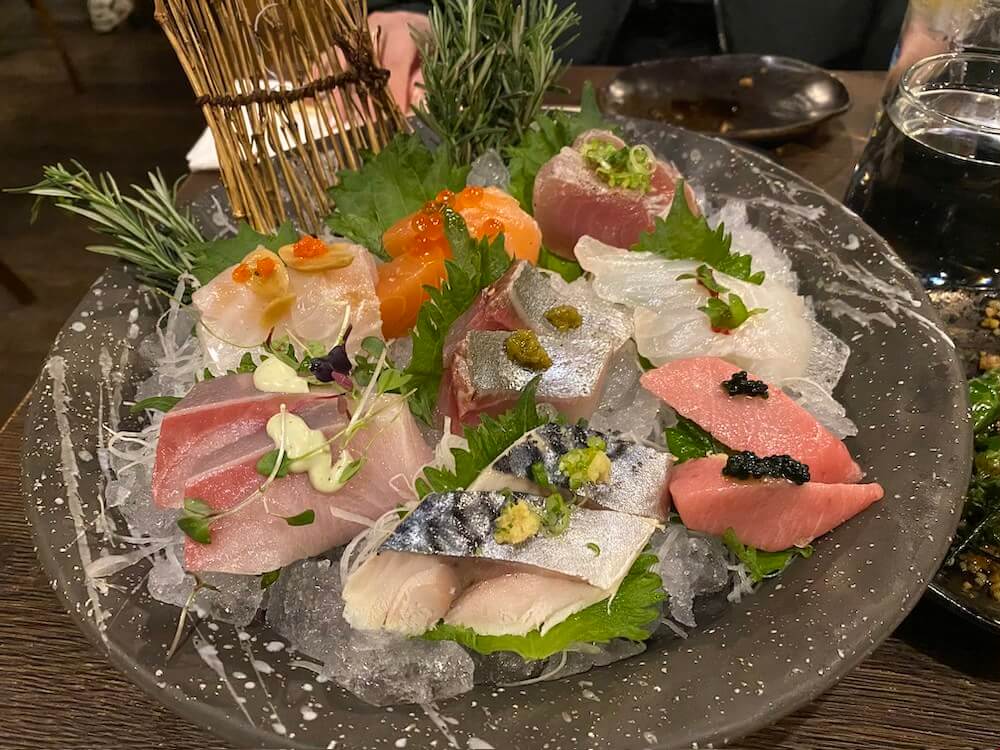 A plate from the specials menu, this was a roll with salmon on the inside and outside with cream sauce, for people who love more wet and creamy rolls this was very good.
This was an interesting plate with rolls filled with some sort of fish eggs and fresh fish as well.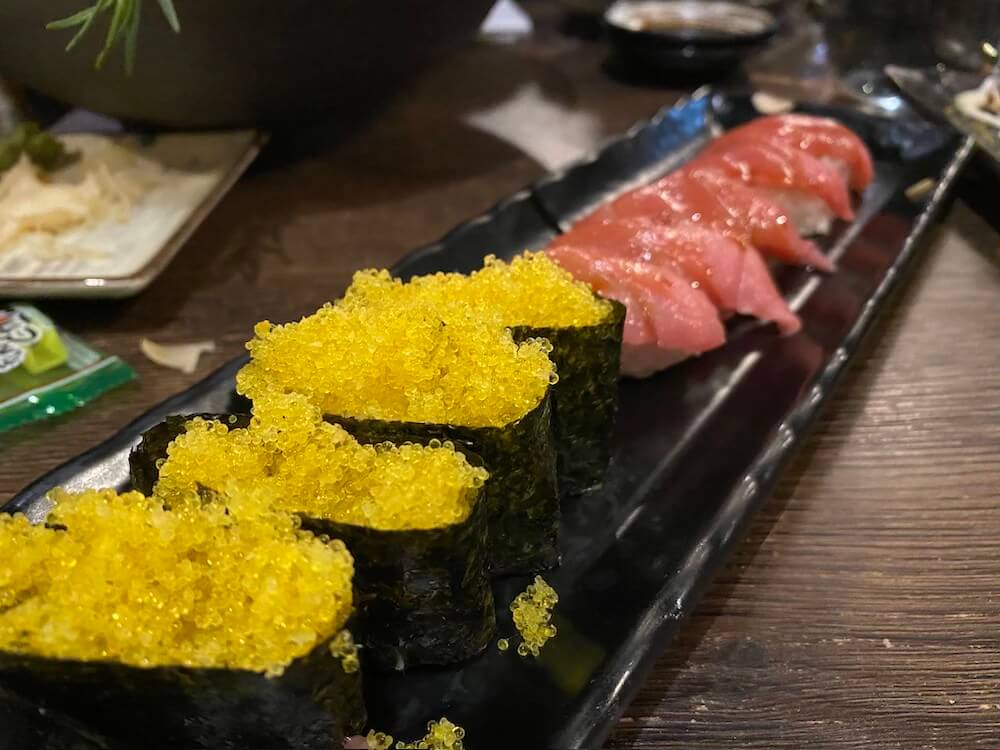 Overall, we had a really good experience at Nene, the things I remember mostly are the high quality and freshness of the fish, the waiter who served us was very good and helpful, and for the experience we got the price was very fair.
I would recommend this place to anyone who loves sushi and is in Las Vegas and doesn't mind getting off strip.