Bellagio is one of Vegas' most iconic hotels and casinos. It opened in 1998 and has since been a top tourist destination worldwide. The Bellagio is known for its luxury accommodations, fine dining, and world-class entertainment.
It is home to some of the most renowned restaurants in Vegas.
A wide variety of dining options are available, from fine dining to casual eateries.
One of the most popular restaurants in the Bellagio is Le Cirque, which features French cuisine in a whimsical circus-themed setting.
Another must-try dining experience is Picasso, which has earned two Michelin stars for its French and Spanish-inspired cuisine.
For those looking for a more casual dining experience, there are plenty of options, including the Bellagio Café and Noodles.
The Bellagio is also home to a number of celebrity chef restaurants, such as Michael Mina and Lago by Julian.
Moreover, it is also famous for its impressive fountain show, which takes place in front of the hotel.
The fountains are in sync with music and light, and it's a truly breathtaking sight.
The Bellagio Gallery of Fine Art is another popular attraction, which showcases a collection of artworks from some of the world's most celebrated artists.
The Bellagio is a must-visit destination for anyone traveling to Vegas.
Its luxurious accommodations, all of Bellagio restaurants options, and top-notch entertainment make it one of the city's most popular hotels and casinos.
Whether you're looking to enjoy a fine dining experience, catch a show, or take in the stunning sights, the Bellagio has something for everyone.
List of All Bellagio Restaurants
Here are all of Bellagio restaurants you must visit next time you check in Bellagio.
1- LAGO by Julian Serrano
Italian cuisine is served at LAGO by Julian Serrano, a restaurant that was designed by the acclaimed chef Julian Serrano.
LAGO is known for its extensive range of small plates and innovative take on traditional Italian meals.
The dishes on the menu are meant to be shared, and the restaurant itself has a lively vibe.
It is an excellent choice for spending the evening with friends.
It doesn't matter if you're hungry for pizza, spaghetti, or seafood; LAGO by Julian Serrano is certain to fulfill all of your food cravings
As you enter this Italian restaurant, a cool, almost airy, and quite personal atmosphere greets you.
One of the best places to have a romantic meal in Vegas is LAGO, which offers stunning views of the Bellagio fountains from every table and outdoor dining with a view of Lake Bellagio.
2- Prime Steakhouse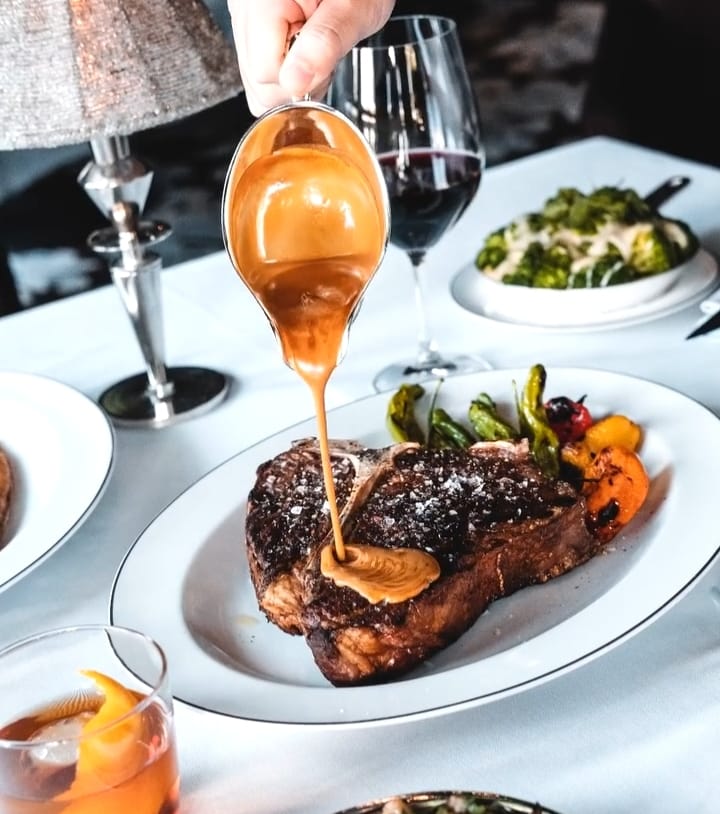 Prime Steakhouse is a traditional steakhouse that is known for serving some of the most tender and flavorful pieces of meat in the city.
The restaurant has an air of refined sophistication due to use of low lighting and luxurious leather seats.
On the menu, you'll find a large selection of meals.
They are all prepared to the highest standard, such as a prime rib, fillet mignon, and ribeye.
The sides are almost as good, with selections such as truffle mashed potatoes and creamed spinach among the available dishes.
Prime Steakhouse is a must-visit place, whether you are celebrating a particular event or are just searching for a dining experience that will stick with you.
You won't find better steaks than at Prime Steakhouse.
Everything in this four-star Michelin restaurant, designed by famous chef Jean-Georges Vongerichten, is precisely crafted to the highest standards.
The design of the restaurant is very nice and cozy.
It looks good with a dark brown color and a light blue color together. The food makes this place special compared to other restaurants.
3- Picasso
The renowned painter is honored with the hotel's namesake.
It also showcases an impressive collection of the painter's original works.
In addition to modern interpretations of traditional French cuisine items like escargot, foie gras, and bouillabaisse, the menu is filled with other time-honored specialties.
Equally noteworthy is the wine list, which features a comprehensive collection of wines from both France and Spain.
Picasso is a genuine masterpiece that art enthusiasts and gourmets alike should not miss out on seeing.
Celebrity chef Julian Serrano created a one-of-a-kind exquisite dining experience at Picasso at the Bellagio Hotel.
This Las Vegas eatery is well-known for its regional Spanish and French cuisine.
The unique aromas of these dishes welcome diners as soon as they go inside.
There are a number of Picasso paintings on the walls, but the real masterpieces are on the plates.
There is also a Prix Fixe Menu available.
We highly recommend splurging on the wine matching recommended by the Sommelier.
4- Michael Mina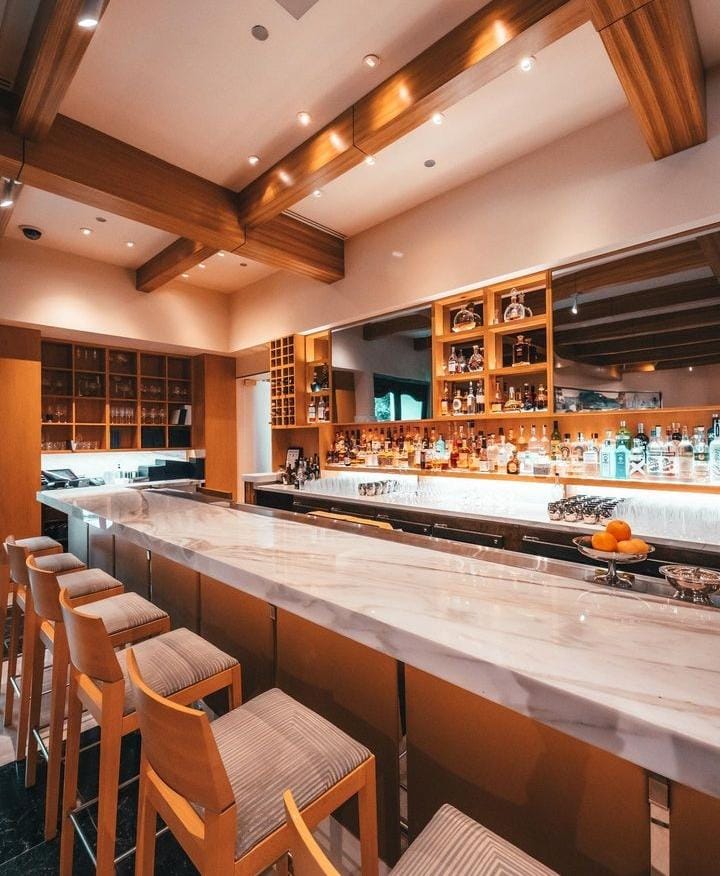 The restaurant Michael Mina is a modern American restaurant. Michael Mina places emphasis on robust tastes and seasonal ingredients.
At Mina, you can get special food like lobster pot pie, caviar parfait and wagyu beef.
The food looks really nice and tastes great too.
Michael Mina's main courses feature updates on classics like Lobster Pot Pie and Phyllo Crusted Sole.
Furthermore, Chef Michael Mina's culinary prowess is on full display across two distinct tasting menus.
The restaurant has lots of different kinds of wine. Most of them come from the United States and France.
5- Le Cirque
Traditional French cuisine is served at Le Cirque, a restaurant that also embraces modern culinary techniques.
Many traditional French foods are on the menu, such as foie gras terrine, escargot, and roasted duck. It also includes more new items, such as lobster risotto and sea scallops.
As per its cozy atmosphere that is influenced by the circus and its vast wine selection, this restaurant is ideal for celebrating important life events.
It is Bellagio's award-winning restaurant with a stunning view of the lake.
While taking in the sights and sounds of your surroundings, indulge your taste buds with its dishes.
These dishes include the Mishima Ribeye or Faucon Rouge served with black truffle coulis.
6- Spago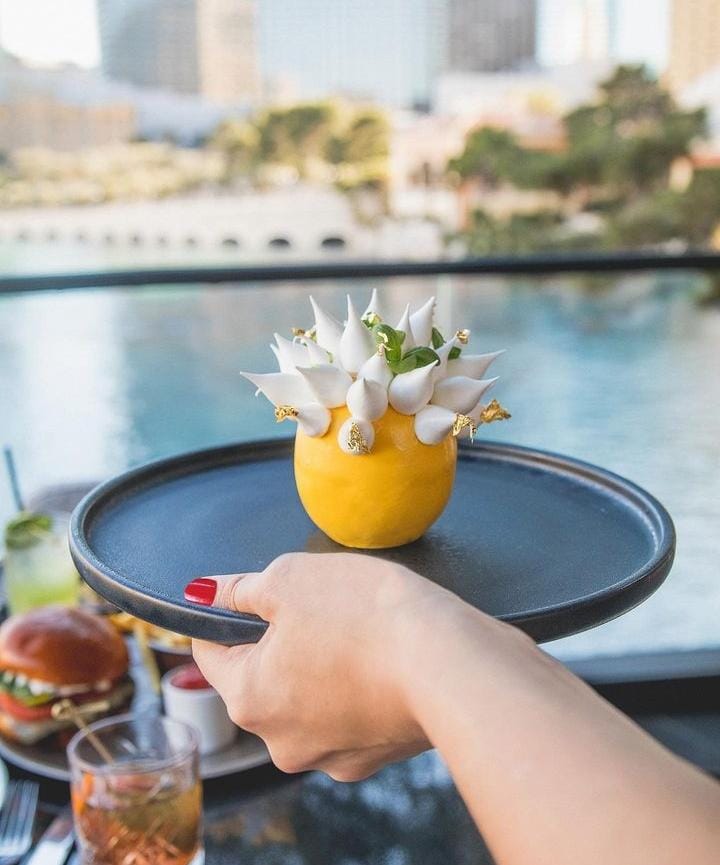 The cuisine of the fairly modern Italian restaurant Spago is reimagined in a way that pays homage to the country's culinary heritage.
The menu features handcrafted pasta, pizzas cooked in wood-burning ovens, and fresh seafood.
They are all created using the highest quality ingredients.
Spago has recently received a makeover, complete with a fresh new aesthetic.
Also, a rethought menu that promises to wow diners.
California influences the cuisine on the menu.
It has homemade portions of pasta such as campanelle with slow-braised pig ragu and sweet white corn agnolotti served with thyme butter.
Apart from the Wagyu Ribeye, the Colorado Lamb Rack and the Miso Marinated Fish are other must-orders.
The decor is ultra-modern and posh, with an open kitchen and a bar area that exudes sophistication.
It is sure to make a memorable mark since Spago is a restaurant that is visited not just by famous people but also by foodies.
7- The Mayfair Supper Club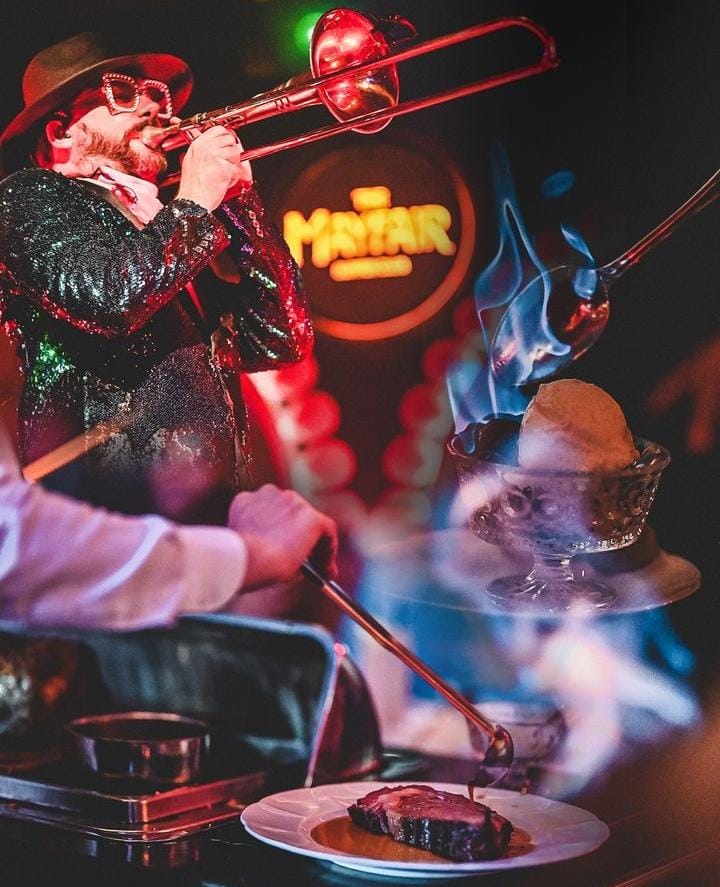 The Mayfair Supper Club offers a one-of-a-kind dining experience.
It is distinguished by the combination of live entertainment and delightful cuisine.
Mayfair is a restaurant that showcases sophistication and luxury.
The atmosphere is peaceful, with views of the Bellagio Fountains as a backdrop; the cuisine is exceptional.
The cuisine has a distinctly modern twist on the classic Vegas splendor.
On the menu, you'll find both time-honored American specialties like prime rib and crab cakes.
Also, the newer interpretations of such dishes as smoked salmon pizza and foie gras torchon.
The restaurant often hosts live music and dance acts.
It contributes to the cheerful and unforgettable ambiance.
It would be a mistake to skip out on the exceptional dining experience Mayfair Supper Club offers.
8- Harvest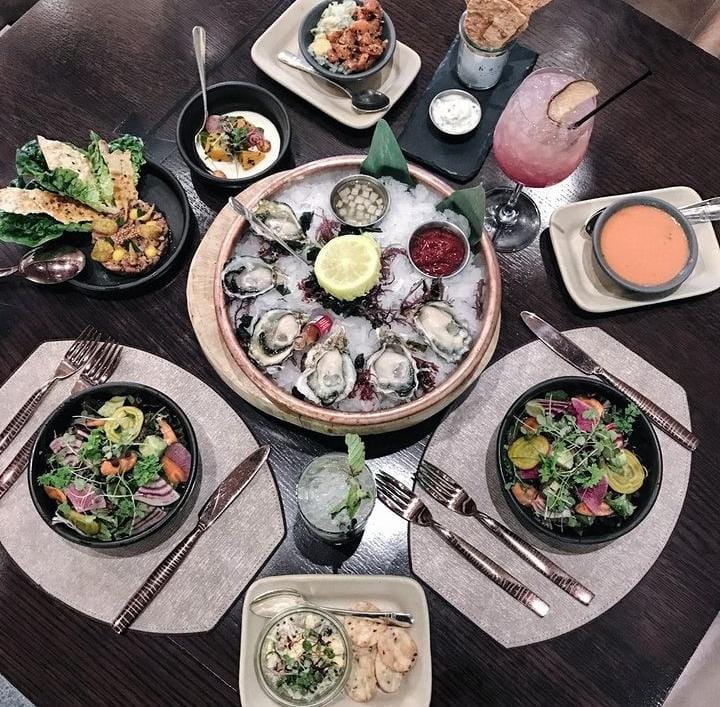 Harvest is a place that emphasizes using seasonal and locally sourced products.
All of the ingredients for the items on the menu, such as the roasted beet salad, braised short rib, and pan-seared scallops, come from farms and producers in the surrounding area.
A plate of fine cheese is a great way to kick off dinner.
Following that, enjoy your choice of Salmon or Roasted Half Chicken with a selection of delicious side dishes.
These include caramelized mushrooms in a sherry cream or roasted brussel sprouts in maple vinaigrette.
There is not a single imperfect dish throughout the entire meal.
The decor centers on natural elements and soft woods to create a warm and homey feel throughout the space.
The restaurant also has a comprehensive cocktail menu, which features handmade cocktails created with fresh juices and herbs collected from the surrounding area.
Harvest is a fantastic option if you're searching for a nutritious dinner or just want to show your support for environmentally responsible agriculture.
9- Yellowtail Japanese Restaurant & Lounge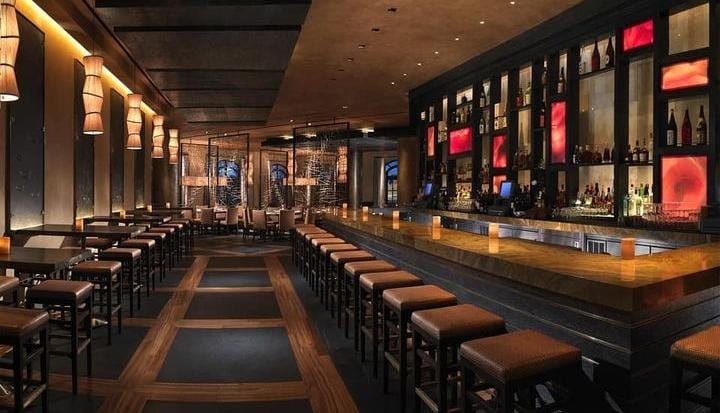 Yellowtail Japanese Restaurant & Lounge is a stylish and modern lounge that offers updated takes on traditional Japanese cuisine.
If you're looking for a place to eat in Vegas that serves a unique blend of traditional and modern Japanese dishes, go no further than Yellowtail.
Every day, award-winning chef Akira Back prepares fresh seafood that has been brought in from around the world.
While feasting on cold or warm shared appetizers, superbly cooked entrees, or the amazing tasting menu, you may watch the Bellagio fountain display.
There is also an outstanding sushi menu and a variety of unique drinks that go wonderfully with the other offerings.
In addition to grilled meats and vegetables, the menu features dishes such as sushi and sashimi that are prepared using only the most recent fish catches.
In addition, there is a wide selection of specialty cocktails available there.
It has a sleek and modern ambiance, and a patio outside looks out into the Bellagio Fountains and has amazing views.
10- Jasmine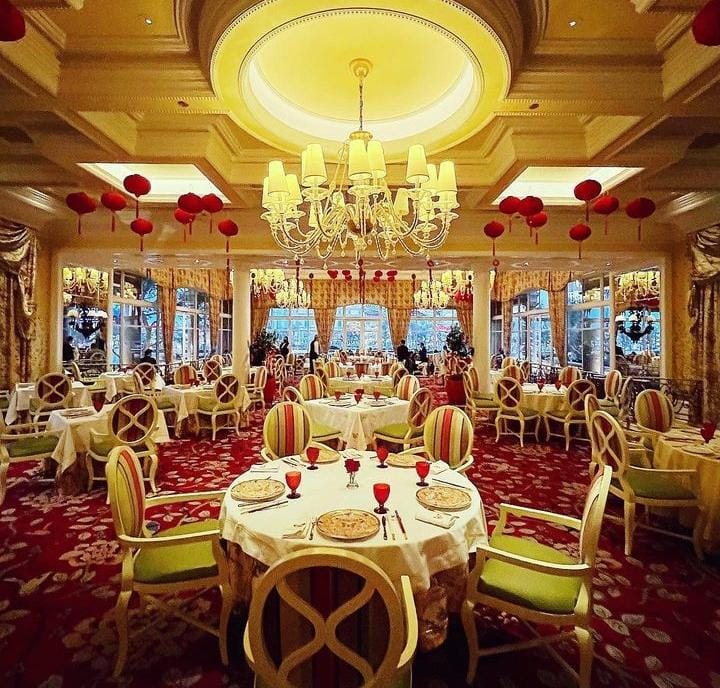 The Jasmine is a Chinese restaurant that features both classic and up-to-date paintings of Chinese cuisine on its large menu.
It's no exaggeration to say that Jasmine, a restaurant inside the Bellagio Hotel, is as stunning as its name suggests.
The live tank has various options, or you may choose from one of the many tasty dishes.
The customer favorites are the Spicy Chicken and Abalone Hot Pots, but you can't go wrong with any other menu options because they are all delicious.
The menu has a range of vegetarian alternatives in addition to dishes such as vegetarian dim sum, roasted meats, and seafood.
The ambiance is classy and refined, with a focus on flowery décor as the primary design element.
It doesn't matter if you're in the mood for special Cantonese dim sum or fiery Sichuan food; Jasmine has something to satisfy everyone's cravings.
11- Noodles
Noodles is an authentic Asian restaurant that serves a wide range of noodle-based meals.
They are inspired by cuisines found throughout Asia. Yet, the Bellagio Hotel's noodle bar serves more than just noodles.
Some of the current favorites on the menu are their Trademark Soy Chicken, congee with a variety of toppings, and Spicy Sambal Pork.
The menu has a selection of Chinese lo mein, Vietnamese pho, and Japanese ramen.
It is in addition to a number of other kinds of bao buns and dumplings.
The ambiance is cheery and vibrant, with an emphasis on communal sitting and buzzing energy throughout the space.
12- Sadelle's Cafe
Bagels with lox, pastrami sandwiches, and matzo ball soup are just some of the traditional Jewish dishes that you can find at Sadelle's Café.
Sadelle's Café is where you should go for a healthy and flavorful morning meal or afternoon snack.
The restaurant must be great if they provide sticky buns with omelets.
A bloody mary or mimosa is included in the price of their Signature Breakfast.
Sadelle's Café in Bellagio is a popular choice for those seeking both a light breakfast and a healthy midday snack.
In addition, the restaurant offers a wide selection of baked products and pastries.
It includes a fairly comprehensive coffee menu as well.
Sadelle's Café should absolutely be on your list of places to eat, whether you want a speedy breakfast or a laid-back lunch.
13- Buffet at the Bellagio
The Buffet at the Bellagio is renowned for the extensive range of cuisines from all over the world that it serves.
In a city widely recognized as the nation's buffet capital, the Buffet Bellagio stands out as a local favorite.
In the Bellagio Buffet, the chefs have created a world of different cuisines for you to try.
Remember to bring an empty stomach because there will be a gelato bar.
The buffet features an extensive selection of foods, including prime rib, fresh seafood, sushi, and several dishes suitable for vegetarians and those avoiding gluten.
The ambiance is casual, and there is a focus on communal sitting, which contributes to the vibrant and busy environment.
The Buffet at the Bellagio is a fantastic option for dining, regardless of whether you are in the mood for traditional American cuisine or unique dishes from around the world.
Hopefully, you enjoyed reading about all the Bellagio restaurants.
If you want more fun, visit the best country bars in Las Vegas. You can read about them here.