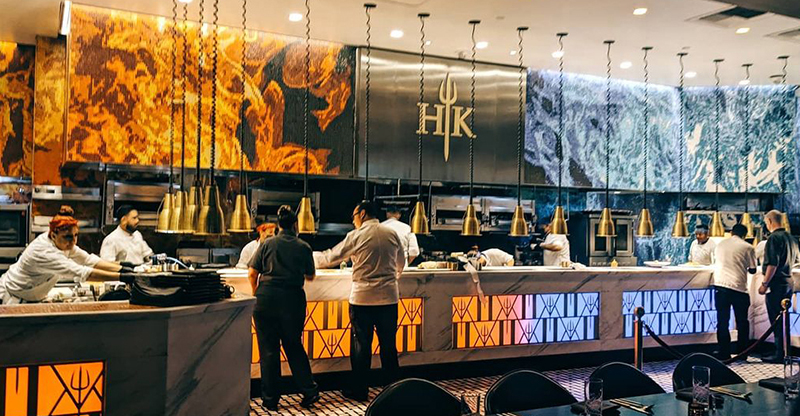 (This article may contain affiliate links and we may earn a commission if you make a purchase.)
On a recent trip to Las Vegas, I decided to eat at Gordon Ramsay's Hell's Kitchen restaurant. But before I made a reservation, a did some research to find out how much it would cost to eat there and what should I wear.
Dress Code at Hell's Kitchen Las Vegas
The official dress code at Hell's Kitchen is business casual. Some guests dress up, however many simply wear jeans and a t-shirt.
As long as you don't wear anything outlandish there shouldn't be an issue. Just don't wear shorts. If you want to play it safe, wear a collared shirt.
It's also wise to think about a what time do you plan on eating there. If it's lunch, a more casual outfit will do, especially during the hot summer months.
However if it's dinner and during the colder months, maybe you need something more upscale, not just because it's cold at night during the winter months in Las Vegas, but because usually for dinner people dress nicer.
Another point to think about is what are you doing after? Are you eating dinner and then going to a show? If so, wearing something nice is a good idea because no one wants to go to a Vegas show looking like they are on the beach right? Some points to think about.
Examples of business casual dress code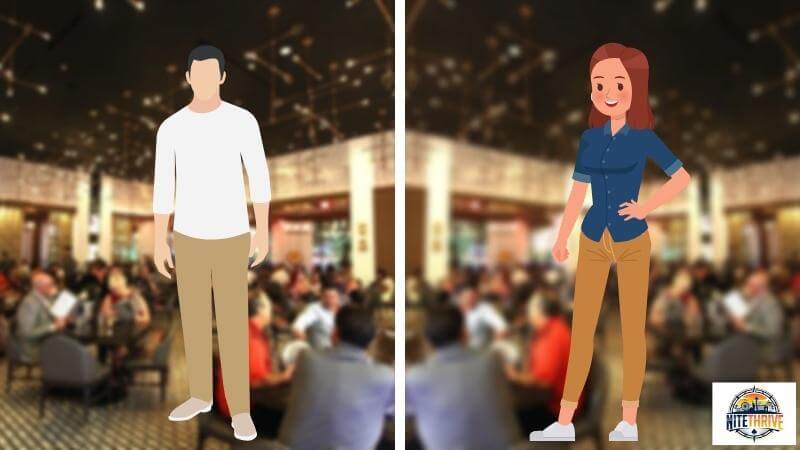 Now let's talk prices and menu. In total, a three course meal at Hell's Kitchen in Las Vegas costs $89.95 for dinner and $65.95 for lunch. The average entrée at Hell's Kitchen starts at $32.95, with the most popular dishes costing up to $70. Sides, soups and salads will run you an additional $13.95.
In this article, I'll walk you through exactly what each item on the Hell's Kitchen menu costs so you won't be surprised when you get the bill. I'll also show you how to make a reservation so that you're guaranteed to get seated, along with a couple other key tips to save you some money.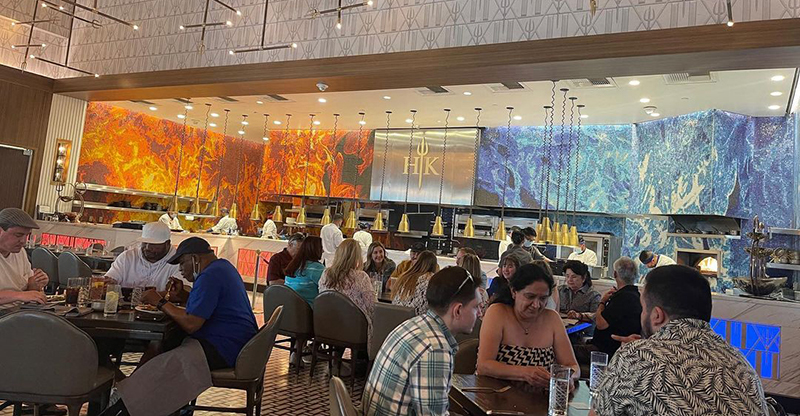 Hell's Kitchen Vegas Menu (with Prices)
There are two ways to order food at Hell's Kitchen. You can order items directly off the menu individually, or you can order off the Prix Fixe Menu (a.k.a. the three course menu). The three course menu offers the best deal and consists of an appetizer, a main and a dessert.
Hell's Kitchen has separate menus for lunch and dinner, but they are basically the same. You can order all of the same entrees both for lunch and dinner.
The only difference is that the three course LUNCH special costs $66 and the three course DINNER special costs $90. You can actually get the dinner special for only $76 if you are seated before 6pm.
| | |
| --- | --- |
| Three course lunch (11am-3pm) | $65.95 |
| Three course dinner (3pm-6pm) | $75.95 |
| Three course dinner (6pm-10:30pm) | $89.95 |
Most people get the three course special, since you get more food for less. But if you wanted to order specific items off the menu, here's what it would cost:
Seafood
Oysters on the half shell – $25 for a half dozen, $47 for a full dozen
Shrimp cocktail – $22
Appetizers
Seared foie gras – $26
Pan seared scallops – $26
Lobster risotto – $30
Salads and Soups
Heirloom tomato burrata salad – $23
Summer salad – $24
Quinoa salad – $20
Caesar salad – $20 (w/ grilled chicken $30, w/ shrimp $29)
Sweet onion soup – $15
Entrees
Beef wellington – $70
Braised short rib – $44
Jidori chicken scallopini – $33
Crispy skin salmon – $39
Filet mignon – $56
Prime dry aged New York strip (12oz) – $60
Sides
Baked macaroni and cheese – $14
Roasted corn – $14
Haricot vert – $14
Wild mushrooms – $14
Potato puree – $14
Desserts
Sticky toffee pudding – $14
Salted peanut decadence – $13
Chocolate sin cake – $13
Coconut 3-ways – $12
Vegan and Vegetarian
Hell's Kitchen also went out of their way to make a Vegan/ Vegetarian menu. Some of the items on the main menu already fall into this category, but here are a few more they added:
Risotto – $19
Vegan risotto – $19
Pan seared tofu scallops – $19
Romaine salad – $20
White bean in purgatory – $22
Glazed root vegetables – $14
Assorted sorbet – $10
Cocktails, Beer and Wine
Specialty cocktails – $18-$19
Classic cocktails -$16-$18
Beer – $9-$13
Wine – $16-$50 (most are about $20)
Best Deals at Hell's Kitchen Las Vegas
You get the best deal by ordering off of the Prix Fixe Menu (three course menu). By getting the three course special, you'll save $20-$30 versus ordering appetizers and deserts separately. Especially, if you plan on trying Gordon Ramsay's signature dish – the beef wellington.
The beef wellington is what Gordon Ramsay is best known for. It's the most popular item on the menu, but also the most expensive. The beef wellington costs $70 on its own. So ordering the three courses will help you save some money for appetizers and desserts.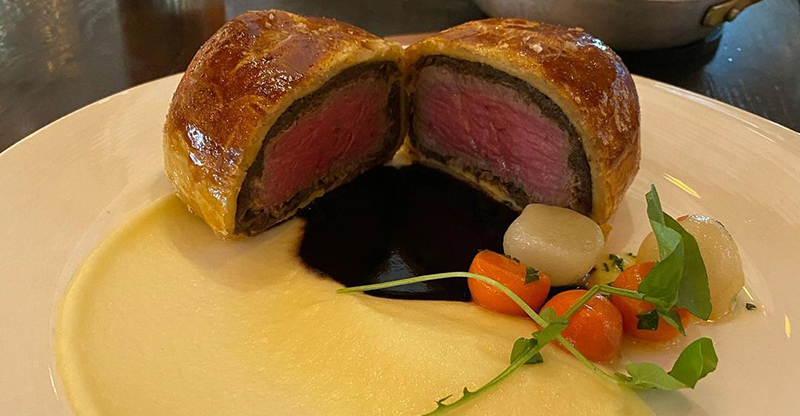 The three courses are available by themselves, or with a wine pairing. The wine pairing is optional, but worth it if you don't mind spending a little bit more. You can compare the prices below.
| | | |
| --- | --- | --- |
| Three course lunch (11am-3pm) | $65.95 | $124.95 (w/ wine pairing) |
| Three course dinner (3pm-6pm) | $75.95 | $124.95 (w/ wine pairing) |
| Three course dinner (6pm-10:30pm) | $89.95 | $148.95 (w/wine pairing) |
Cheapest Dishes at Hell's Kitchen
If you're on a budget the jidori chicken scallopini and the crispy skin salmon are both delicious and under $40. If you're just stopping in for a light lunch you can go with the caesar salad for $20. You can also add chicken or shrimp to your salad for an addition $10.
Hell's Kitchen Prices Compared to Other Restaurants
Prices at Hell's Kitchen are on par with other high end restaurants on the Las Vegas strip. However, if Hell's Kitchen is slightly outside your budget, I would highly recommend its sister restaurant, Gordon Ramsay Burger. It's located right across the street at Planet Hollywood.
Gordon Ramsay Burger is an inexpensive alternative to Hell's Kitchen.
The food at Gordon Ramsay Burger is just as good, and much less expensive. Here's a quick peak at their menu:
Hellfire chicken wings – $16
Hellfire chicken salad – $18
Hell's Kitchen burger – $18
Viva Vegan burger – $22
The best part is, you don't need a reservation. You can walk right into the restaurant most times. They also offer takeout.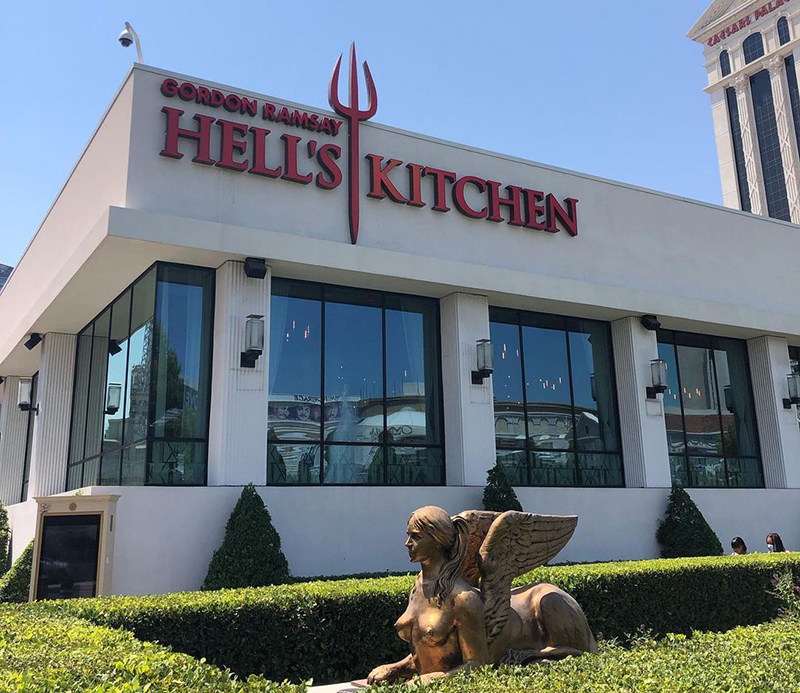 How to Make a Reservation at Hell's Kitchen in Las Vegas
Hell's Kitchen is extremely popular and always busy. However, it is possible to book a table. You just need to make a reservation in advance.
The restaurant does accept walk-ins, but only if there is seating available – which is rarely the case. So if you find yourself walking by Caesars Palace you could pop in to see if any things available, but don't get your hopes up.
The best way to ensure you get seated is to make a reservation. You can make a reservation on the Caesars Palace website, or by calling the restaurant directly (702-731-7373). I recommend doing this at least two weeks in advance to ensure you get a reservation for the date you want.
How to Eat at Hell's Kitchen During the Show
Eating on the set of the Hell's Kitchen Show is completely different from eating at the restaurant. Although, they do occasionally film at the Caesars Palace location, most of the show is filmed on a set. You can't actually get tickets to be on the show. You have to be invited through a casting agency or someone who works there.
This isn't necessarily a bad thing since many of the guests on the show never actually get their food. The guests are really just there as background extras. But if you're dead set on getting on the show, your best bet is to contact a casting agency.
Critic Reviews For Hell's Kitchen Las Vegas
I can tell you from personal experience that both the food and overall experience at Hell's Kitchen is amazing. The service is top notch too. But don't just take my word for it. This is a high profile restaurant and millions of people have dined here. Hell's Kitchen gets great reviews everywhere:
Google – 4.5 stars
Yelp – 4.5 stars
Tripadvisor – 4.5 stars
OpenTable – 4.7 stars
If you're eating at Hell's Kitchen for the first time I highly recommend you try the beef wellington. It's Gordon Ramsay's most famous dish and is well worth the big price tag.
Related Posts: