Guy Fieri has become really popular in recent years, largely due to his shows on the Food Network. However, the celebrity chef isn't just a TV Star. He has taken his culinary skills to Las Vegas and opened a couple of restaurants.
So, I decided to try all of the Guy Fieri restaurants in Las Vegas to see if they live up to the hype. After a few days of taste testing, here's what I found.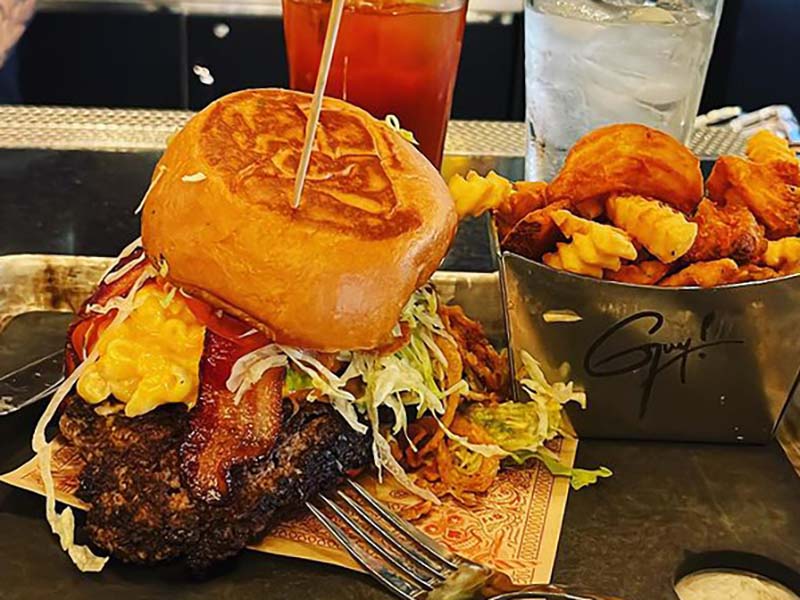 Guy Fieri Restaurants Las Vegas
1. Guy Fieri's Vegas Kitchen
Guy Fieri's Vegas Kitchen is the celebrity chef's flagship restaurant in Las Vegas. It's located directly on the Strip inside the LINQ Hotel. It serves American comfort foods, like burgers, nachos, wings, and ribs.
Location: LINQ (3535 S Las Vegas Blvd, Las Vegas, NV)
Type of Food: American
Price: $20-$25 per person
Menu
The Bacon Mac 'N' Cheese Burger is the most popular item on the menu. It's a huge burger with applewood bacon, onion straws, extra cheese, and Guy's Donkey Sauce on a garlic-buttered brioche bun, so there's a ton of flavor. My favorite dish on the menu is the Motley Que Pulled Pork Sandwich on a pretzel bun, which is actually the second best seller. It also comes with assorted french fries.
A few other notable dishes on the menu include trash can nachos, tuna poke won tacos, buffalo wings, American royal ribs, and cajun chicken alfredo. If you're over the age of 21, I recommend you try Guy's Famous BBQ Bloody Marys as your drink. And for dessert, you can't go wrong with the Cheesecake Challenge.
Prices
The majority of the menu at Guy Fieri's Vegas Kitchen is in the $15-$20 range, but there are also some sharable dishes too if you're on a tight budget. This restaurant has both indoor and outdoor seating. I recommend you take advantage of the outdoor patio and enjoy the beautiful view of Las Vegas Boulevard.
2. Guy Fieri's El Burro Borracho
Guy Fieri's El Burro Borracho is another Guy Fieri Restaurant in Las Vegas. This Mexican eatery's name literally translates to Drunk Donkey, which makes sense considering Guy's colorful personality.
Location: Rio (3700 W Flamingo Rd, Las Vegas, NV )
Type of Food: Mexican
Price: $15-$25
Menu
You find plenty of delicious Mexican-inspired recipes at El Burro Borracho, including burritos, tacos, enchiladas, and quesadillas. Many of the dishes here are made from scratch.
I highly recommend you try the Pork Chile Verde enchiladas (any of the pork dishes are really good here). They are very tasty and come in solid portion sizes. The El Gringo Burger and Carne Asado Tacos are really good too. Guy Fieri's famous Trash Can Nachos are also available at this restaurant.
On the dessert menu, you need to order the House-made Churros. It's one of the best desserts I've had in Vegas. For beverages, El Burro Borracho has an extensive margarita, tequila, and cocktail menu.
Price
Prices at El Burro Borracho are very similar to Guy Fieri's Vegas Kitchen. Expect most dishes to be in the $15-$25 range. You can find Guy Fieri's El Burro Borracho inside the Rio Hotel, which is about 5 minutes from the Las Vegas Strip.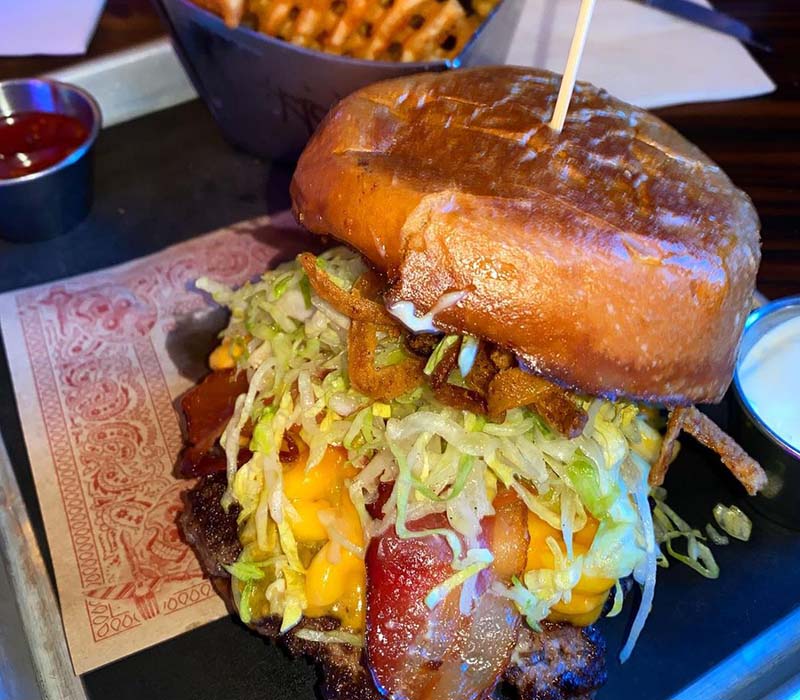 3. Guy Fieri's Flavortown Kitchen
Guy Fieri's Flavortown Kitchen doesn't have any physical locations. It's a delivery-only service that brings Guy's top dishes straight to your doorstep or hotel room. You can order on apps like DoorDash, UberEats, GrubHub, and Postmates. After you order, your food is prepared in one of the other Guy Fieri restaurants.
Menu
This new ghost kitchen concept allows you to order all of Guy Fieri's best dishes, including the Bacon Mac N Cheese Burger, Flavortown Fries, Bourbon Brown Sugar BBQ Wings, and the Real Cheezy Burger, along with a number of shareables. My favorite item on the menu is the Cheesesteak Egg Rolls.
The selection at Flavortown is a bit more limited than at the dine-in restaurants. But many of the dishes come with their own dipping sauces, so you're still able to experience a couple of different flavors.
Price
The food at Guy Fieri's Flavortown Kitchen is a little bit cheaper than it is inside a restaurant. However, once you add in delivery fees, it comes out to roughly the same price.
Location: Delivery only
Type of Food: American
Price: $15-$25
4. Chicken Guy!
Chicken Guy is a fast-food chain owned by Guy Fieri. It serves a variety of all-natural, fresh chicken dishes, in a quick-service format. There's a Chicken Guy restaurant that's scheduled to open at the North Premium Outlets in downtown Las Vegas.
Location: North Premium Outlets (875 S Grand Central Pkwy, Las Vegas, NV)
Type of Food: Fast Food
Price: $5-$10
Menu
The menu at Chicken Guy features affordable chicken tenders, sandwiches, wraps, and salads, along with some other dishes, like chicken & waffles with your choice of sauce. I like the combo meals since you get more food for a better price.
Chicken Guy also offers plenty of sides. The Fried Pickle Chips are great, and so is the Mac Daddy Mac 'N' Cheese. If you enjoy milkshakes, the restaurant also serves a half dozen different flavors of Flavortown Shakes.
Price
Chicken Guy was designed as a fast-casual restaurant, so it's much more affordable than the other Guy Fieri restaurants Las Vegas. The vast majority of the menu is in the $5-$10 range, and they serve breakfast, lunch, and dinner.
Guy Fieri's Best Restaurant in Vegas
Aside from the online-only delivery restaurants, Guy currently has two sit-down restaurants in Las Vegas (Guy Fieri's Vegas Kitchen and El Burro Borracho). Las Vegas Guy Feiri Restaurants are very popular, but the one inside The LINQ (Guy Fieri's Vegas Kitchen) gets the best reviews.
I ate at both restaurants and would personally rate them equally. I recommend that you try out both of Guy's restaurants in Vegas to see which one you more, but it's clear Guy Feiri Vegas Kitchen gets the better ratings online.
The only real difference is that Guy Feiri's Vegas Kitchen serves American cuisine, while Guy Fieri's El Burro Borracho serves Mexican food. Dining at either Las Vegas restaurant is a blast.
What Type of Food is Guy Fieri Known For?
Guy Feiri is known for his many shows on the Food Network, most notably Diners, Drive-Ins and Dives. If you're familiar with his shows, you'll know that Guy's bread and butter is American food. Most of his restaurants serve burgers, sandwiches, and barbecue dishes, but he also dabbles in Mexican foods a bit. It's not uncommon to see tacos, burritos, and nachos on the menu at Guy's restaurants.