I was looking for a good place to grab all-you-can-eat sushi in Las Vegas when I came across Gorilla Sushi. I was really impressed with the food, which surprised me since I had never heard of Gorilla Sushi before.
I quickly realized there wasn't much information about the restaurant online, so I decided to write this review to give some basic information about the restaurant. This article will cover everything you need to know about Gorilla Sushi, including the menu options, prices, locations, and how to make a reservation.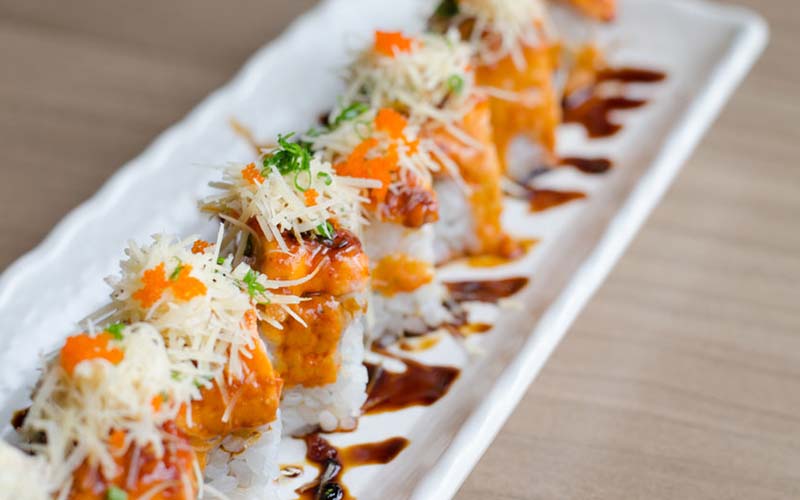 Gorilla Sushi Las Vegas Prices
Gorilla Sushi Las Vegas allows you to order individual items off of the menu, but they're better known for their all-you-can-eat (AYCE) sushi menu. The AYCE sushi here is extremely affordable.
Lunch – $22.95 (open – 3pm)
Dinner – $27.95 (3pm – close)
There are a handful of items that are available on the dinner menu but not the lunch menu (but not too many). There are also some items on the AYCE menu that are limited to 1 order per person (I'll cover what those items are later in this post).
If you have kids between the ages of 3 and 7, they can get 50%. However, sashimi and oysters are not included in the children's AYCE menu. The items not allowed are mostly premium sushi items.
If you don't go with AYCE, expect to pay between $4 and $12 per dish. If you do get the all-you-can-eat menu (which I recommend that you do), there are a few rules that you need to follow. They include:
90-minute time limit on AYCE
No sharing with guests who are not AYCE
There's an additional charge for leftovers
Also, you must eat both the rice and the fish. If you don't, you will be charged for the fish a la carte. The restaurant implemented this policy to prevent people from taking advantage of the AYCE special to just get fish.
Gorilla Sushi Menu Las Vegas
Appetizers
Gorilla Sushi has a wide assortment of both hot and cold appetizers. These are the hot appetizers:
Edamame
Baked Mussel
Dynamite (shrimp, scallop, lobster)
Corn Cheese
Takoyaki
Egg Rolls
Shrimp Tempura
Calamari Tempura
Vegetable Tempura
Korean Spicy Rice Cake
Fried Gyoza (dumplings)
Bulgogi
Spam Musubi
Chicken Teriyaki
Fried Chicken
Fried Rice
Fried Soft Shell Crab – 1 order limit
Kalbi (bbq ribs) – 1 order limit
Creamy Shrimp – 1 order limit
Garlic Butter Shrimp – 1 order limit
Cheese Pork Katsu – 1 order limit
Hamburger Steak – 1 order limit
Soft Tofu Soup – 1 order limit
Ceviche – 1 order limit
Now that we've taken a look at the hot appetizers, let's look at the cold appetizers. They are mostly different types of salads.
House Salad
Seaweed Salad
Cucumber w/ Crab Salad
Salmon Skin Salad
Poki Salad – 1 order limit
Sashimi Salad

– 1 order limit
Cajun Albacore Carpaccio – 1 order limit
Fresh Oysters – 1 order limit
Stuffed Tomato w/ Crab, Avocado & Salmon – 1 order limit
It should be noted that the fried soft shell crab, kabli, cajun albacore carpaccio, and fresh oysters are only available on the dinner menu.
Nigiri
If you're not ordering AYCE, the nigiri dishes are the most affordable options on the menu. For those of you that don't eat sushi often, nigiri is simply a mound of rice topped with fish. Gorilla Sushi has several nigiri options.
Chef Special (variety)
Tuna
Super White Tuna
Garlic Tuna
Seared Tuna
Yellowtail
Salmon
Garlic Salmon
Smoke Salmon
Seared Salmon
Cajun Albacore
Red Snapper
Eel
Shrimp
Sweet Shrimp (amaebi)
Squid
Octopus
Mackerel
Sweet Egg Custard
Smelt Roe
Flying Fish Roe
Salmon Roe
Yum Yum Scallop
Clam
Sashimi
Gorilla Sushi is one of the few AYCE sushi restaurants in Las Vegas that serves sashimi. Although you're limited to 1 order a person, I recommend that you take advantage of the sashimi dishes.
If you're not familiar, sashimi is basically thinly sliced fish without rice. It's considered a delicacy since the fish is the most expensive part of a sushi roll. You'll have two sashimi options at Gorilla Sushi.
Tuna Sashimi – dinner only
Salmon Sashimi – dinner only
Classic Rolls & Hand Rolls
There are also a bunch of classic sushi rolls and hand rolls served at Gorilla Sushi. The sushi rolls are massive and well worth the money.
California Roll
Philadelphia Roll
Tuna Roll
Spicy Tuna Roll
Yellowtail Roll
Spicy Crab Roll
Spicy Salmon Roll
Chicken Teriyaki Roll
Yum Yum Roll
Eel Roll
Salmon Roll
Salmon Skin Roll
Salmon Mayo Roll
Avocado Roll
Cucumber Roll
Vegetable Roll
Deep-Fried Vegetable Roll
Deep-Fried Asparagus Roll
Specialty Rolls
In addition to the classic Rolls, Gorilla Sushi also has over 50 specialty rolls, including Dragon Rolls, Alaska Rolls, Vampire Rolls, Rainbow Rolls, and Gorilla Dream. I'm not going to list all of them here, but the specialty rolls fall into 3 categories.
Chef Special Rolls
Baked Rolls
Deep Fried Rolls
Soups
There's also a limited soup menu at the restaurant. It includes:
Miso Soup
Kake Udon
Korean Ramen (spicy)
Gorilla Ramen (spicy)
Desserts
If you're still hungry for dessert after eating all of that sushi, you can order a couple of delicious desserts.
Ice Cream
Mochi Ice Cream
Affogato
Honey Toast
Melona Bar
Drinks
The drink menu at Gorilla Sushi includes both alcoholic and non-alcoholic beverages. They cost between $2-$8.
Soda
Bottled Water
Sparkling Water
Ice Green Tea
Hot Tea
Thai Tea
Bear
Wine
Gorilla Sushi Reservations & Contact Information
Every time I've been to Gorilla Sushi, it's been very busy. You should definitely try to make a reservation in advance if at all possible (I included their phone number below). The busiest time to eat here is during the dinner rush, which is usually between 6pm and 8pm.
Gorilla Sushi is located in Tropicana Spencer Square right next to the Las Vegas airport. It's only about a 5-minute drive from the southern part of the Las Vegas Strip, and there's always a ton of parking in the area.
Gorilla Sushi Las Vegas Contact Information
Phone number: (702) 586 5111
Address: 1801 E Tropicana Ave #2, Las Vegas, NV
Gorilla Sushi Las Vegas Hours
Gorilla Sushi is open from 11am to 1am Sunday through Wednesday. On Thursday, Friday, and Saturday they are open until 2am, which makes them one of the top late-night sushi spots near the Strip.
Other Gorilla Sushi Locations
There are a couple of other Gorilla Sushi locations outside of Las Vegas. Here are a few of them:
Gorilla Sushi Jefferson Park
Gorilla Sushi Jefferson Park is located in Chicago Illinois. It doesn't look like this restaurant is affiliated with the Las Vegas locations, but they have gotten some good reviews online.
Gorilla Sushi Wicker Park
Gorilla Sushi Wicker Park is another sushi restaurant found in Chicago. They aren't associated with the Las Vegas location, but it does seem like they are owned by the same group that runs the Jefferson Park restaurant.
Gorilla Sushi Logan Square
Gorilla Sushi is a spinoff of the Jefferson Park and Wicker Park locations. Again, it doesn't seem like it's run by the same people that own Gorilla Sushi Las Vegas, but it may be worth visiting in the future. If you're currently in Las Vegas, there's only one Gorilla Sushi location.
Final Thoughts
I can't speak for all of the locations, but the Gorilla Sushi in Las Vegas is fantastic. They are one of the few AYCE sushi spots that offer sashimi, so you know that they don't skimp out on quality.
If you want to check out a few other AYCE sushi spots while you're in Las Vegas, I recommend Sushi Way. It's only a 2-minute drive from Gorilla Sushi. ITs SUSHI is also worth checking out if you want to dine in Las Vegas' thriving Chinatown District.