If you've ever rented a car, you know that the sales reps typically try to sell you extra insurance. I normally decline the additional coverage, but Las Vegas has a lot of distracted drivers. And that begs the question, is the extra insurance in worth it in Las Vegas?
Drivers in the state of Nevada are required to have a minimum amount of insurance for bodily injury and property damage. Rental car companies typically provide the minimum required coverage as part of their rental contract, so additional coverage is optional.
Extra rental car insurance is not required in Las Vegas, however the amount of coverage provided by the rental car company isn't sufficient to cover major accidents. If you don't have your own insurance policy that extends to your rental car, additional insurance is highly recommended.
Even if you do have you're own insurance policy, getting into an accident with your rental car can be expensive and have long lasting effects on your normal insurance premiums.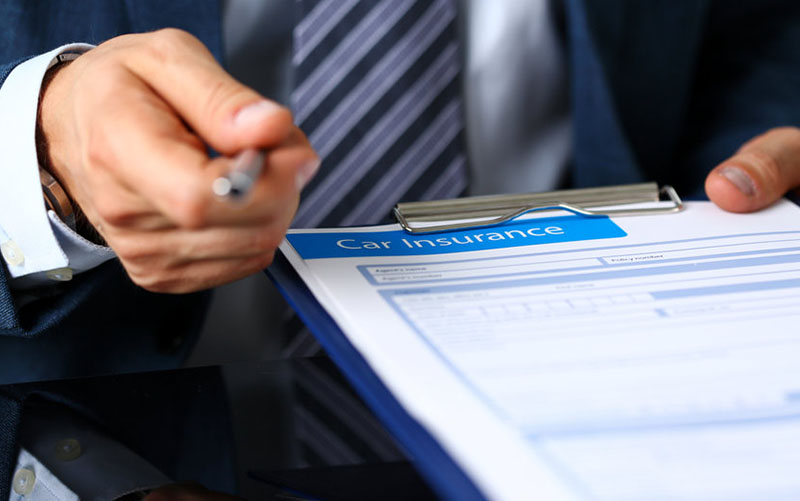 (This article may contain affiliate links and we may earn a commission if you make a purchase.)
Should You Get Rental Car Insurance in Las Vegas
You are much less likely to get into an accident in a rental car than you are with your own vehicle. According to the National Highway Traffic Safety Administration, roughly 70% of all accidents occur within a 10 mile radius from home.
However, if you do end up getting into an accident with a rental car, you are responsible for damage done to the rental vehicle along with possible injuries to other drivers. Even if the accident wasn't your fault, you may be responsible for damage done to the car you rented.
Rental car companies in Nevada do provide the minimum coverage required by the state in their basic rental agreement, however this amount doesn't cover very much. You are on the hook for the rest.
The minimum amount of coverage required in Nevada is $15,000 for personal injury, $30,000 for personal injury of two or more people, and $10,000 for property damage.
If you have a personal auto insurance policy that covers your rental car, you may not need extra insurance. However, it still may be a good idea to get secondary coverage since you'll still have to pay a deductible with your primary insurance. An accident will also have an affect your primary insurance premiums in the future.
If you use secondary insurance for a rental car, you can walk away from an accident without paying a deductible. It will also ensure that the accident will have absolutely no effect on your primary insurance premiums.
Does Your Credit Card Provide Rental Car Coverage
Many credit cards offer free rental car coverage. However, the extent of your coverage can vary depending on the card issuer. More often than not, credit card coverage only acts as secondary insurance.
This secondary coverage only kicks in after your primary auto insurance pays. The card will only cover costs not covered by your primary insurance. So you may still be on the hook for deductibles and may be subject to premium increases with your primary insurance.
Credit card rental coverage typically only covers damage or theft of the rental car. Personal injuries and damage to other vehicles may not be covered at all.
How Much Does Rental Car Insurance Cost
The most popular type of coverage is LDW (Loss Damage Waiver) and CDW (Collision Damage Waiver). These coverages protect against vehicle damage and theft. They are also really expensive.
If you get LDW or CDW through a car rental company directly, it will cost between $25-$30 per day depending on the company. If you want protection against personal injury (medical bills for yourself), it will cost another $5-$8 per day.
| Company | Damage to Car (per day) | Personal Protection (per day) |
| --- | --- | --- |
| Avis | $26.88 | $7 |
| Advantage | $25.49 | $7.99 |
| Alamo | $28.99 | $6 |
| Budget | $30.40 | $7.99 |
| Dollar | $29.04 | $6.99 |
| Hertz | $29.04 | $6.95 |
| National | $28.99 | $6 |
| Payless | $26.88 | $6.95 |
| Thrifty | $29.04 | $6.99 |
| FOX | $26.99 | $4.99 |
| NU Car Rentals | $23.99 | $5.19 |
| SIXT | $30.43 | $8.00 |
| Expedia | $10 | – |
| Priceline | $13 | – |
| Allianz Global | $11 | – |
Price is the main reason why people don't want anything to do with supplemental insurance. However, you can purchase rental insurance through a 3rd party for the fraction of the cost.
When you book a car through websites like Expedia, Priceline or Hotwire, they give you the option to add rental insurance for only $10-$13 per day.
You can also get cheap coverage through other carriers like Allianz Global. I like Allianz because it not only protects your rental car, but it also includes traditional travel insurance for trip cancellation and lost bags.
Can You Rent a Car in Las Vegas Without Any Insurance?
Since the rental car company provides the minimum amount of coverage required by the state, you don't need any additional insurance. Neither a primary insurance policy or a policy from the rental company is required.
However, if you don't have your own primary insurance and don't take the secondary insurance from the rental company, they may not rent to you.
So, is Rental Car Insurance in Las Vegas Necessary?
For most people, extra rental car insurance is nice to have but isn't completely necessary. It's just too expensive to justify. However, when booking through a 3rd party website like Expedia or Priceline, the coverage is so cheap it's worth it. For an extra $10/day, you can save yourself a massive headache.
Rental cars are also cheaper when booking through 3rd party sites. If you're looking for the cheapest place to rent a car in Las Vegas, check out this article. I compared rental car prices taken from 3rd party websites to quotes taken directly from the rental companies themselves.
If you don't have primary car insurance, then rental car insurance is extremely important. By not getting coverage, you are opening yourself up to a lot of liability. Even if you're a safe driver, you can still pay for other people's mistakes.
This post is part of a series comparing the best rental car companies in Las Vegas. Check out the next article in the series comparing all of the rental car companies at the airport in Las Vegas.