Cowabunga Bay is one of the largest water parks in Las Vegas. However, the first time I visited Cowabunga Bay, I didn't know what to expect.
There were a lot of things I wish I knew ahead of time like, How much do tickets cost? When does the park close? What are the food options? Are the rides family friendly? And how does Cowabunga Bay compare to other water parks?
After visiting Cowabunga Bay a couple of times, I have the answers to all of those questions and more. This is the complete guide to Cowabunga Bay water park in Las Vegas!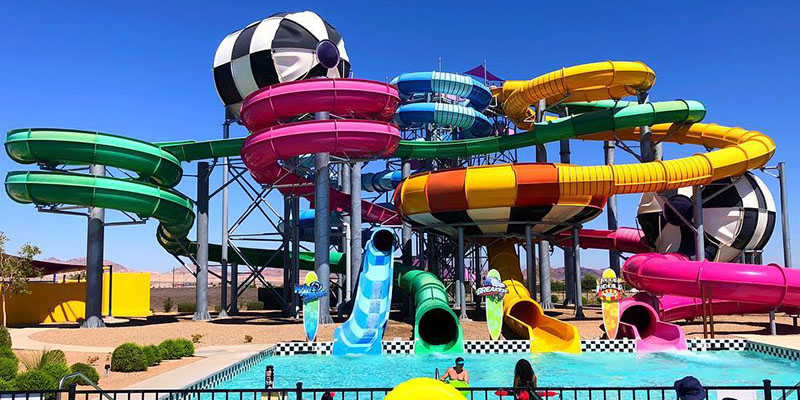 (This article may contain affiliate links and we may earn a commission if you make a purchase.)
If you're looking for a Las Vegas water park close to the Strip, check out the other article I wrote comparing all of the top water parks in Las Vegas. You can see a list of rides and prices for every Las Vegas water park in that post.
Cowabunga Bay Ticket Prices
Let's start with the ticket prices. You're able to purchase tickets at the gate to the park, but I recommend getting them online. If you purchase tickets directly from the Cowabunga Bay website, general admission tickets for kids and adults are $5 cheaper.
These are the normal prices without the online discount:
| Admission Type | Price |
| --- | --- |
| General Admission (48″and above) | $42.95 |
| General Admission (under 48″) | $29.95 |
| Military (with valid ID) | $37.95 |
| Seniors (60+) | $15.95 |
| Summer Nights (last 3 hours of operation) | $21.95 |
| Summer Nights (Friday 4pm-9pm) | $24.95 |
You can also get discounted tickets by going later in the day. Prices drop down to $20-$25 around 4pm. That still gives you plenty of time to enjoy most of the rides, but at half price.
Season Passes
If you're local to Las Vegas and plan on visiting the water park a lot, it's worth investing in a season pass. Cowabunga Bay has three types of passes available:
Plus Pass: ($149.99) – Free daily admission, priority entry, free parking, and 3 bring-a-friend tickets.
Season Pass: ($119.99) – Free daily admission and priority entry.
Senior Pass: ($59.99) Free daily admission and priority entry.
The season passes include other rewards as well. For example, for every $100 you spend in the park, you get $10 in rewards cash. Also, friends can get free day passes and discounted tickets if you're a season pass holder.
I prefer the Plus Pass just because of the free parking. Parking costs $8 a day, so if you're visiting the park more than 4 times, you'll end up spending less in the long run. But any pass is good. Just remember, purchasing tickets at the entrance is the most expensive option.
Cabanas
Cabanas are available for guests as well. Cabanas give larger groups a place to relax, hang out and order food directly from servers. Some cabanas also have access to a private pool.
Unless you have a large group, cabanas aren't worth the extra money in my opinion. There is normal seating available, and most people just come to the water park for the rides. Plus, park admission is not included in the cabana cost.
However, if you're considering getting a cabana, you'll find the prices in the table below.
| Cabana Type | Price (Mon-Thur) | Price (Fri-Sun) | Guests |
| --- | --- | --- | --- |
| VIP | $219.99 | $249.99 | 10 |
| Standard | $179.99 | $199.99 | 10 |
| Lounge | $54.99 | $64.99 | 2 |
Cowabunga Bay Rides and Attractions
Cowabunga Bay has the most rides out of any water park in Las Vegas. It has a total of 10 water slides and 6 pools. I'll post a video and give a brief description of each water slide below so you know what to expect. Here are your options.
Slides
Beach Blanket Banzai – a raft slide with turns and dips. There is a 4-person limit on all rafts.
Breaker 1-9 – 1 or 2 person high-speed tube slide.
Point Panic – 1 or 2 person fully enclosed pitch-black tube slide with a launch capsule and trap door.
Rock-A-Hoola – 1 or 2 person tube slide into a giant bowl.
Surf-A-Go-Go – 1 or 2 person tube slide going up and down the walls.
Surfin' USA – 6 person race on a water sled.
Wild Surf – 4 person ride going up the side of a huge wave on a raft.
Zuma ZOOMa – instantly drop 70 feet into a high-speed 360-degree loop. For advanced riders.
Downhill Doggers – racing slides for smaller kids.
Squigglers – slides for smaller kids.
Attractions
Boardwalk Bay – pool with tubes.
Caban-A-Rama Pool – Exclusive pool for VIP cabanas.
Splash Pools – pool with water slides.
Cowabunga Kids Cove – pool designed for younger kids.
Cowabunga River – a lazy river. The river runs halfway around the park.
Surf-A-Rama Wave Pool – huge wave pool. Waves are 4 feet high.
Cowabunga Bay has a ride for everyone. It has a good mix of intense rides for older guests and less intense rides for smaller kids.
It's important to note that there is a 48-inch height requirement for many of the bigger rides. However, using a 2-person tube lowers that height requirement to 42 inches.
Food Menu at Cowabunga Bay Water Park
There are two main dining options at Cowabunga Bay: Bullwinkle's Boardwalk Grille and Duke's Surfside Snacks. They serve typical lunch items at these restaurants like burgers, pizza, and sandwiches. The rest of the restaurants are mainly for ice cream and desserts.
You can purchase alcohol at Cowabunga if you're over the age of 21, however, they don't carry hard liquor. They only have beer and wine. The frozen drinks the park does offer (margaritas, daiquiris, pina Coladas) are all wine-based.
Bullwinkle's Boardwalk Grille – pizza, burgers, chicken strips, salads, wraps, and sandwiches.
Duke's Surfside Snacks – hot dogs, nachos, pretzels, and frozen bananas.
County Fair Sweets & Treats – deep-fried foods (like Oreos and pickles) and milkshakes. Dole Pineapple Whip is a fan favorite.
Dippin' Dots – Dippin' Dots ice cream.
Funnel Cakes – different flavored funnel cakes with fruit or pudding topping.
Hawaiian Shave Ice – unique flavors of ice cream.
Slush Factory – create your own slushy.
Boris' Bora Bora Bar – alcoholic drinks (beer and wine only).
If you have a cabana, you also have the option to order food directly off the menu. Many cabanas have a call button for servers, so can order anything you need without ever leaving your seat.
Coolers and lunch boxes are not allowed into Cowabunga Bay Water Park. Outside food and beverage cannot be brought into the park and must be left at the gate.
Cowabunga Bay Hours and Dates Open
The Cowabunga Bay hours change frequently depending on how busy the park is. Cowabunga Bay is usually open by 11am. The park closes at 7pm Sunday-Thursday and stays open until 9pm on Friday and Saturday. However, towards the end of the season, they do tend to close earlier.
Many of the pools at Cowabunga Bay are heated in the spring and fall, so the water is actually comfortable early in the season. The park is typically open from late March to early October every year.
It's important to note that Cowabunga Bay is open 7 days a week in summer (June-August) but, the rest of the season it's only open on the weekends (Friday, Saturday, and Sunday).
January – CLOSED
February – CLOSED
March – CLOSED (sometime open the last weekend of March)
April – OPEN (Friday, Saturday, Sunday)
May – OPEN (Friday, Saturday, Sunday)
June – OPEN (every day)
July – OPEN (every day)
August – OPEN (every day)
September – OPEN (Friday, Saturday, Sunday)
October – OPEN (Friday, Saturday, Sunday)
November – CLOSED
December – CLOSED
** The dates of operation change every year. You can get an exact schedule for the season on the Cowabunga Bay website.
Cowabunga Bay Location (Distance from the Strip)
Cowabunga Bay is located in Henderson, which is east of the Las Vegas Strip. It takes about 20 minutes to get to the park from the Strip.
The best way to get there is to drive yourself, but you can also take an Uber or Lyft.
The exact location is 900 Galleria Dr, Henderson, NV 89011.
Dress Code at Cowabunga Bay
Cowabunga Bay does not allow you to wear jeans, long pants, or cut-off shorts at the park. Also, any swimwear that's too revealing or has metal ornaments is prohibited.
Some rides require that you take off loose jewelry and eyewear. If your swimwear isn't in line with the park rules, you can get appropriate attire from their gift shop.
Things to Know
Before you head to the park, here are some important things to know about Cowabunga Bay Las Vegas:
Parking costs $8.
Tubes and life jackets are provided for free by the park.
Lifeguards are always on duty.
Towels are not provided.
Changing rooms are available at the park.
The charge for lockers is between $11-$15, depending on the size.
If you need to leave the park, you can get a return pass from the gate attendant.
Flip flops, water shoes, towels, sunscreen, and sunglasses are available for sale in the gift shop if you forgot to bring your own. You definitely need protection from the sun.
Cowabunga Bay vs Other Las Vegas Water Parks
Cowabunga Bay is the most popular Las Vegas water park for families. It has more rides than any other water park in the area and the service is great. If you're bringing your family to Vegas, this is a great place to have some fun.
I also like Cowabunga Bay when compared to Wet 'n' Wild because you get fully submerged in water at the end of each slide. There is a full pool of water at the end of most of the slides at Cowabunga Bay, while Wet 'n' Wild only has a shallow breaking pool to slow you down.
However, Cowabunga Bay may not be the best option if you're looking to stay close to the Strip. If you're looking to stay on the Las Vegas Strip, check out the article I wrote comparing the best Las Vegas water parks. In that article, I reviewed a few parks near Las Vegas that you can get to without driving.
Nevada has some of the largest and best waterparks in the world, all of them are worth a visit. A few hotels on the Strip have small waterparks as well, which makes for a great experience.
Update: The Las Vegas Cowabunga Bay recently purchased Wet 'n Wild and rebranded the theme park as Cowabunga Canyon. If you want to learn more about Cowabunga Canyon Las Vegas, check out this article. The new waterpark has the same attractions, rides, shows, and wave pool as the old one. I don't think a single ride was changed.