Why eat at a Chinese restaurant when you can eat at a Chinese buffet! There are plenty of Chinese buffets in Las Vegas that offer affordable all-you-can-eat food.
I recently got a chance to try out many of the best Chinese buffets in Vegas. So, after eating at a few of the most popular Chinese restaurants, I'm convinced that these are the best places to grab Chinese food in the city.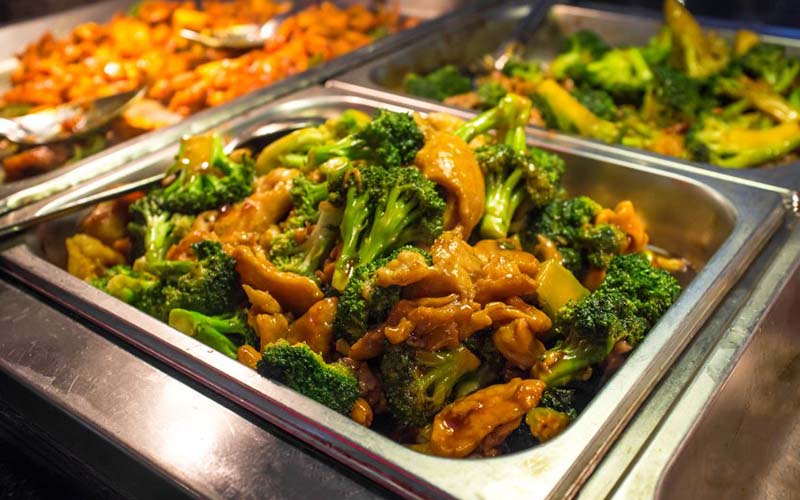 Chinese Buffets in Las Vegas
Krazy Buffet
Krazy Buffet is the best Chinese buffet in Las Vegas. This Asian buffet is located in the Summerlin neighborhood of Vegas, about 20 minutes from the Strip. The restaurant is very family-friendly and serves modern Pan-Asian cuisine,
Dining at this buffet is super affordable. You get a ton of food for cheap, along with a fair amount of variety. You can eat seafood, spring rolls, sushi, vegetables, chicken, and beef, along with plenty of other dishes. Lunch at the Krazy Buffet costs $13 a person and dinner costs $18. Kids get a significant discount. It's open 7 days a week from 10:30 am to 9:30 pm.
Location: 8095 W Sahara Ave, Las Vegas, NV
Kirin Buffet
Kirin Buffet is another one of the top Chinese buffets in Las Vegas. You can order all kinds of Asian food at the buffet, including seafood, chicken, noodles, and sushi dishes. A meal at the Kirin Buffet will cost you less than $15 a person, which is one of the cheapest in Vegas.
The restaurant can be found within 5 minutes of the Las Vegas Strip, so you don't have to drive very far to dine here. This buffet opens at 11 am and closes around 9 pm on most days.
Location: 1518 E Flamingo Rd, Las Vegas, NV
Makino Sushi & Seafood Buffet
Makino Sushi & Seafood Buffet is an excellent Las Vegas Chinese buffet located in Spring Valley. Well, technically it's a Japanese restaurant, but they have a Chinese section. You can order all kinds of food from China, like flavored chicken dishes and assorted seafood.
This is a very popular buffet, so the food isn't cheap. For adults, dinner costs $40 a person while lunch will run you $27 per person. However, children can eat for half price. If you don't have time for a full sit-down meal, Makino has a to-go menu as well. The restaurant is open from 11:30 am to 9 pm daily, but closes around 3 pm every day for a 2-hour break.
Location: 3965 S Decatur Blvd #5, Las Vegas, NV
China Star
China Star is another Chinese buffet in Vegas. It's located a few minutes west of downtown Las Vegas in the heart of the city. This buffet offers a ton of Chinese appetizers and entrees for both take-out and dine-in (although takeout orders don't have unlimited portion sizes).
Some of the dishes you can grab at this buffet include soups, chop suey, fried rice, pork, beef, chicken, and seafood. They are open from 11 am to 9:30 pm on most days.
Location: 4595 W Charleston Blvd, Las Vegas, NV
Hibachi Grill and Supreme Buffet
Hibachi Grill and Supreme Buffet is a top Japanese and Chinese buffet in Las Vegas. It's located about 30 minutes from the Las Vegas Strip. They serve all-you-can-eat Asian cuisines, including sushi, noodles, oyster, crab legs, and various chicken dishes.
There is a solid variety of food here and the prices are very reasonable. Lunch at Hibachi Grill costs about $12 per person while dinner costs $18. If you have kids they can get a 50% discount. The buffet is open daily from 10:30 am to 9:30 pm.
Location: 313 N Nellis Blvd, Las Vegas, NV
Buffet at Asia
The Buffet at Asia is located right up the street from the Hibachi Grill. This is another solid Chinese restaurant serving an extensive buffet of Asian classics, including many seafood dishes. You can order both takeout and delivery at the Buffet at Asia.
The lunch buffet here is about $12 a person and the dinner buffet is roughly $18. On the weekends, buffet prices are raised to $20. Also, note that drinks are not included in the buffet prices. The restaurant gets mixed reviews online, but it's a solid restaurant in my opinion. If you want more information about them, I recommend you view their profile on Yelp or Facebook since the business doesn't currently have a website.
Location: 151 N Nellis Blvd, Las Vegas, NV
Other Buffets that Serve Chinese Food in Las Vegas
There are a lot of Las Vegas buffets that serve Chinese food. Here are a few buffets near the Strip that serve really good Asian cuisine.
Buffet at Bellagio
Garden buffet at South Point
Fresh Buffet at the Westgate
If I had to choose one, I would go with the Bellagio Buffet. It's just such a surreal experience dining at one of the most famous hotels in Vegas while looking out the window and watching the Bellagio Fountain Show.
Other Top Chinese Restaurants in Vegas
If you want to visit a Chinese restaurant but aren't too fond of buffets, there are additional food options for you in Vegas. You may want to check out these restaurants. All of these places serve top-notch Chinese food.
Wazuzu at the Encore Las Vegas
Wing Lei at the Wynn Las Vegas
Dagu Rice Noodle in Chinatown
Joyful House Chinese Cuisine in Chinatown
Mott 32 at the Palazzo
Mr Chow at Caesars Palace
Asian Buffet vs Chinese Buffet in Las Vegas, NV
Las Vegas Nevada is known for having a variety of buffets, not just its Chinese buffets. If you want to eat at a Chinese buffet Las Vegas, I recommend the restaurants listed above. If you want to try a buffet that offers several types of cuisines, you should check out this article about the best buffets in Las Vegas.