Nevada isn't usually considered an RV-friendly state, however, there are advantages to living here. But before your move domicile to Las Vegas, or sell your house to live in an RV, there are some things you're going to want to know.
Can you live in an RV in Las Vegas? It's only legal to live in an RV in Las Vegas if it's located in an RV park. RVs and motorhomes cannot be used as legal residences if parked on the street or in your front yard. RVs parked on the street will receive a violation if left there for more than 72 hours.
It is legal to live in an RV in Las Vegas, but there are some rules. In this article, we'll cover some of the basics of RV living in Las Vegas, including laws and the best long-term RV parks.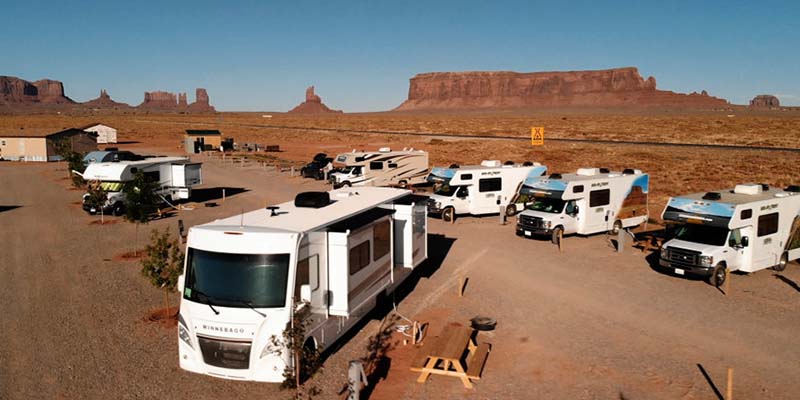 Living in an RV in Las Vegas – Laws
According to the city of Las Vegas, it's illegal to live in an RV outside of an official RV park. There is no way around this if you're going to be living in Las Vegas for an extended period of time. You're going to need to find an approved RV park (more on this later).
Some people may be tempted to disregard these rules if they're only staying in Las Vegas for a few days or weeks. Just know that if you're caught violating the regulations, you will get a ticket and possibly have your rig towed.
There are very few places outside of paid RV parks that will let you park for more than a couple of hours. Most parking lots (including Walmart) no longer allow overnight parking.
If you're looking for an RV park, I made a complete list of all the best Las Vegas RV parks here.
Can I live in a RV Parked on my Property or on the Street?
If you have friends or family in Las Vegas, you may want to park your RV on their property. To store an RV, motorhome, or trailer on residential property, certain conditions must be met first. Some of the conditions include parking the RV directly on surface pavers and then surrounding it with a fence.
Unfortunately, even if the requirements for storing an RV on residential property are met, it is still illegal to live inside it. The same goes for RVs parked on the street. Even if it's parked legally, you cannot live in it, and it must be moved within 72 hours.
Although it's not technically allowed, many people still overnight in their RVs parked on the side of the road. You do run the risk of getting a ticket, but if you're only there for a night or two, your chances of getting into trouble are low. It's just not a good long-term solution if you plan on actually living in your rig full-time.
Where Can You Live in an RV Full-Time in Las Vegas
If you're living in your RV full time while in Las Vegas, you're going to need to find a long-term RV park. The following RV parks offer both daily in monthly rates with full hookups:
Oasis Las Vegas RV Resort
Hitchin' Post RV Park
Las Vegas RV Resort
Riviera RV Park (ages 55+ only)
Duck Creek RV Park
King's Row RV Park
You can find a full list of rates for every RV park in Las Vegas here.
Is Las Vegas a Good State to Domicile?
If you're planning on moving your domicile to Las Vegas, there are a few things you're going to want to know. Here are some of the pros and cons of living in Las Vegas:
Pros
There are no state income taxes (including dividends)
Weather is warm most of the year
Cost of living is low
Easy to change domicile to Nevada
Cons
Vehicle registration costs on new vehicles is high (then it depreciates every year)
The only real negative is that the cost to register a new vehicle is relatively high. However, the annual fee does decreases by approximately 10% every year.
Also know that summer temperatures get really hot (above 105°F), but winter temperatures remain mild (they rarely drop below 40°F). You can get an idea of the climate by checking out the temperature graph below.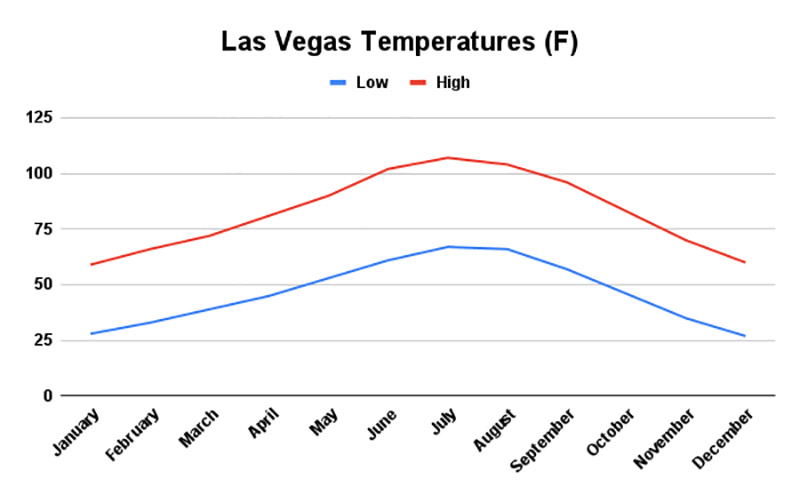 Final Thoughs
Overall, Las Vegas is an excellent place to live in your RV. This is especially true if you have an older rig since your registration fees will be lower.