I've been looking for a good local sushi spot in Las Vegas and decided to check out Umami. It's been recommended to me several times, but the restaurant is a bit of a hike from where I live. After putting it off for a while, I finally got around to trying Umami.
Aside from Yelp, there isn't much information available about Umami online, so I decided to share my experience here. This article will cover everything you need to know about Umami Las Vegas, including the menu, prices, location, and how to make a reservation.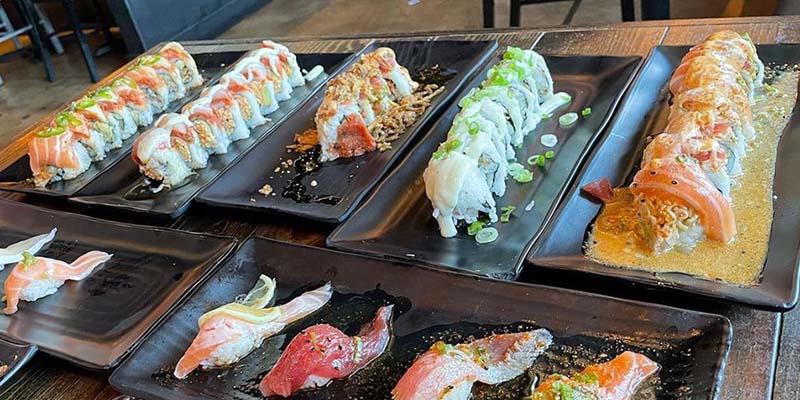 Also See: Best Spots to Get All You Can Eat Sushi in Las Vegas
Umami All-You-Can-Eat Sushi Price
Umami Sushi allows you to order an all-you-can-eat (AYCE) menu or a la carte. I recommend that you get the AYCE menu since it has nearly 100 different sushi dishes. When ordering AYCE, Umami charges a different price depending on the time of day that you visit.
Lunch – $25.95 (11:30 am – 4:00 pm)
All-Day – $29.95 (11:30 pm – 11:00 pm)
The lunch and all-day menus are nearly identical, however, there are a handful of additional dishes on the all-day menu (I'll talk about this later). Also, kids between the ages of 4 and 7 get a 50% discount.
If you decide to go with the all-you-can-eat menu, there are some rules that Umami enforces:
There's an 80-minute time limit
An 18% gratuity is automatically charged to groups of 5 or more
No sharing (unless all party members get AYCE)
Leftovers are charged (so order a little at a time)
Umami Sushi Menu
Appetizers
There are nearly 30 appetizers on Umami's menu. Here's a look at a few of your options.
Edamame
Spicy Garlic Edamame
Gyoza (dumplings)
Shamai
Egg Rolls
Shishito Peper
Pang (garlic bread & fish)
Vege Tempura
Calamari Tempura
Shrimp Tempura
Creamy Shrimp
Baked Mussel
Agedashi Tofu
Chicken Kara

Pork Belly
Bulgogi (beef)
Fried Rice (w/ chicken, beef & vegetables)
Salmon Kama
Hamachi Yellowtail Kama
Bulgogi Fries
Mini Udon
Mini Ramen
Chicken Katsu
Pa Fried Chicken

Korean Fried Chicken
The Salmon Kama and Hamachi are only available on the all-day menu. Since they are premium items, they are restricted to only one order person.
Skewers
There are also some excellent skewers on the menu. I highly recommend all of them.
Shrimp

Bacon & Green Onion
Bacon & Lobster
Bacon & Scallop
Bacon & Asparagus
Garlic
Spicy Tofu
Mushroom
Sushi Nigiri
These are the nigiri options at Umami Sushi. You can choose from over 30 different dishes. Each order comes with 2 pieces, and if you got the AYCE menu, you can order as much nigiri as you want.
Tuna
Garlic Tuna
Salmon
Yellowtail
Seared Lemon Salmon
Yuzu Yellowtail
Albacore
Super White Tuna
Red Snapper
Cajun Tuna
Smoked Paprika Salmon
Shrimp
Crab
Mackerel
Fresh Water Eel
Squid
Octopus
Clam
Tamago (sweet egg)
Scallop
Lobster
Salmon Egg
Smelt Egg
Quail Egg
Tobiko (caviar)
Ocean Trout – limited to 1 a person
Salmon Belly – limited to 1 a person
Yellowtail Belly – limited to 1 a person
Oyster – limited to 1 a person
Uni – limited to 1 a person
Ama Ebi (shrimp) – limited to 1 a person
The last 6 dishes on this list are only available on the all-day menu. These specific items also are limited to 1 order per person.
In addition to the nigiri sushi options, there is also a sashimi plate available. You can only order the sashimi platter if you get the all-day menu.
Classic Rolls
These are the classic rolls served at Umami. Each plate comes with 5-8 rolls.
Tuna Roll
Avocado Roll
Vegetable Roll
California Roll
Alaska
Philadelphia
Yumyum Roll
Spicy Tuna
Spicy Crab
Spicy Scallop
Shrimp Tempura Roll
Spider Roll
Salmon Skin Roll
Rainbow Roll
Spicy Salmon
Hand Rolls
Umami also has a few hand rolls on the menu, each with a special name.
Umami Special (Tuna, Crab, Shrimp, Jalapeno, Onion, Tomato)
300 Spicy (Tuna, Salmon, Albacore & Ponzu Sauce)
No Name (Shrimp Tempura, Eel & Salmon wrapped in soy paper)
Batman Burrito (Spicy Tuna, Spicy Crab & Shrimp Tempura wrapped in soy paper)
Hulk Burrito (Salmon, Shrimp Tempura, Avocado & Garlic Ponzu Sauce)
Black Jack Burrito (Scallop, Spicy Crab & Ponzu Sauce)
Specialty Rolls
There are nearly 60 additional specialty rolls on the menu. I'm not going to list all of them, but you can be certain that your favorite roll is on the menu. The types of specialty rolls include:
Deep-fried rolls
Tempura Rolls
Signature Rolls
Baked Rolls
Spicy Rolls
Seafood Salad
Soups & Salads
There are a couple of soups and salads on the menu as well.
Miso soup
House Salad
Cucumber Crab Salad
Seaweed Salad
Sashimi Salad (only available on the all-day menu)
Desserts
If you still have an appetite after eating AYCE sushi, Umami offers a handful of desserts.
Ice Cream
Mochi Ice Cream
Affogato
Tempura Ice Cream

Deep-Fried Banana

Honey Toast
Drinks
These are the drink options at Umami Las Vegas.
Soda
Iced Tea Hot Tea
Beer
Wine
Soju
Sake
Premium Sake
Umami Restaurant Contact Information & Reservations
Umami Sushi Las Vegas no longer takes reservations over the phone. You have to show up in person to make a reservation, so expect a wait time of 30 minutes to an hour. If you have a large group, you can try to call ahead, but I have found it to be very difficult to get Umami on the phone (I included their phone number below).
You can find Umami just north of Summerlin, at 6640 N Durango Dr. It's located directly next to the Vitamin Shoppe. If you're coming from the Las Vegas Strip, it's roughly a 20-minute drive.
Umami Restaurant Las Vegas is open from 11:30 am to 11:00 pm. I find them to be the busiest around 6 to 7 pm. There is also normally a lunch rush around 1 pm. If you're looking to get seated quickly, you should avoid those times.
Umami Sushi is not related to the failed Umami Burger at Sahara Las Vegas. Umami Burger was closed in late 2019.
Umami Las Vegas Contact Information
Phone number: (702) 776 8627
Address: 6640 N Durango Dr #180, Las Vegas, NV
Is AYCE Sushi at Umami Las Vegas worth the Price?
The food at Umami is excellent, but the service can be a bit slow at times. This is the complete opposite of Umami's sister restaurant, Sakana Sushi, where the servers are much quicker.
Overall, Umami Las Vegas is a fantastic spot to grab top-notch sushi on a budget. If you live in the northern part of Las Vegas, this should be your go-to sushi spot. If you live closer to Spring Mountain, you may want to try ITs SUSHI.