Sushi Neko is one the of most popular places to grab all-you-can-eat sushi in Las Vegas. A few friends have been recommending the restaurant for a while now, so I was excited to finally give it a shot.
However, when I went to make a reservation, I realized that there isn't a whole lot of information available about Sushi Neko online. So after eating here, I decided to write this article to give other people some basic information about the restaurant. I'll cover everything you need to know, including the menu, prices, and how to make a reservation.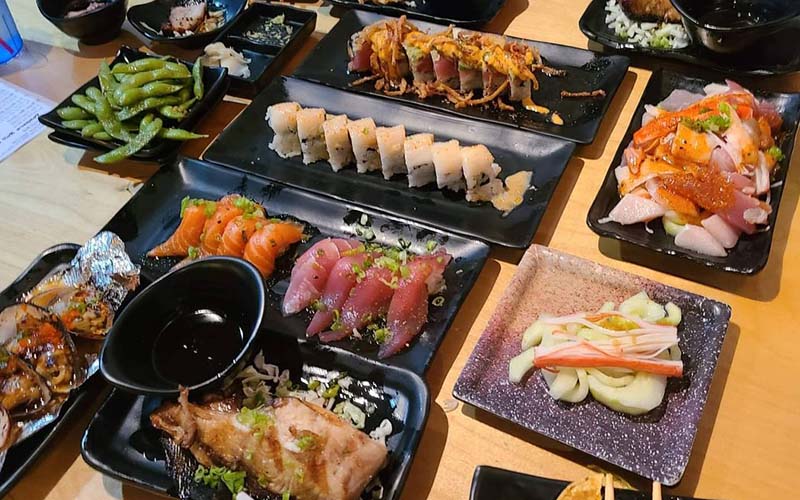 Sushi Neko Las Vegas Prices
Sushi Neko has an extensive menu that includes over 100 different sushi options. You can order a la carte or all-you-can-eat (AYCE). The menu items are the same, so I highly recommend you go with the all-you-can-eat option.
When ordering AYCE, they charge different prices depending on the time of day that you visit, but the menus are nearly identical (with a few exceptions). Here are the prices:
Lunch – $23.95 (11:30 am – 3:00 pm)
All-Day (dinner) – $27.95 (3:00 pm – 2:00 am)
You can only get the lunch prices during the week. On the weekends, they charge you the all-day price for lunch. Also, there are some items that are on the all-day menu that aren't available on the lunch menu. However, you can have the all-day menu at lunchtime if you're willing to pay a little bit more.
If you're not too hungry and prefer to order individual items off of the menu, expect to pay $2-$12 per dish depending on what you get.
Kids under the age of 4 eat for free if you're getting the all-you-can-eat menu. Kids between the ages of 4 and 8 also get a big discount. Lunch only costs $12.95, while dinner is $15.95.
Sushi Neko Menu Las Vegas (AYCE)
There are some rules if you get the all-you-can-eat menu. Here's what to expect:
There's a 90-minute time limit
You cannot share food unless everyone in your party is AYCE
Leftovers will be charged
An automatic 18% gratuity will be charged to groups of 5 or more
It's important that you order food a little at a time since Sushi Neko will charge you for leftovers. Now let's take a look at the actual menu.
Appetizers
There are over 2 dozen appetizers that you can order. The bulgogi nachos and gyozas (dumplings) were delicious, but many of the other options looked just as good.
Edamame
Spicy Garlic Edamame
Menbosha (shrimp)
Gyoza (dumplings)
Egg Rolls
Truffle Fries
Pang (garlic bread & fish)
Vege Tempura
Calamari Tempura
Shrimp Tempura
Creamy Shrimp
Baked Mussel
Agedashi Tofu
Chicken Kara
Korean Fried Chicken
Pork Belly
Bulgogi (beef)
Crab, scallop, lobster & mussel
Fried Rice (w/ chicken, beef & vegetables)
Salmon Kama
Hamachi Yellowtail Kama
Bulgogi Nachos
Cheese Katsu
Japchae Crunch
The Salmon Kama and Yellowtail Kama are only available on the all-day menu and can only be ordered once per person.
Sushi Nigiri
What sets Sushi Neko apart from other AYCE sushi restaurants is the quality. The fish to rice ratio in the sushi here is very generous. Here are some of your nigiri options:
Tuna
Garlic Tuna
Salmon
Yellowtail
Seared Lemon Salmon
Yuzu Yellowtail
Albacore
Super White Tuna
Red Snapper
Cajun Tuna
Smoked Paprika Salmon
Shrimp
Crab
Mackerel
Fresh Water Eel
Squid
Octopus
Clam
Tamago (sweet egg)
Scallop
Lobster
Salmon Egg
Smelt Egg
Quail Egg
Tobiko (caviar) – limited to 1 a person
Ocean Trout – limited to 1 a person
Salmon Belly – limited to 1 a person
Oyster – limited to 1 a person
Umi – limited to 1 a person
Ama Ebi (shrimp) – limited to 1 a person
Please note that the last 5 sushi items on this list are only available on the all-day menu.
Each order of nigiri comes with 2 pieces, however, you can always order more. The Salmon Belly is limited to 1 order per person, but it's one of the best items on the menu.
All Day Menu Only
There are a couple of additional items that you can only order on the all-day menu. They include:
Salmon Carpaccio
Yellowtail Carpaccio
Salmon Nigiri
Shrimp Gambas
Salmon Center Cut Steak
Stuff Tomato
Classic Rolls
These are the classic rolls available. They come with 5-8 pieces.
Tuna Roll
Avocado Roll
Vegetable Roll
Alaska
Philadelphia
Yumyum Roll
Spicy Tuna
Spicy Salmon
California Roll
Spicy California Roll
Spicy Scallop
Shrimp Tempura Roll
Spider Roll
Salmon Skin Roll
Rainbow Roll
Additional Specialty Rolls
There are over 50 additional specialty rolls on the menu. It doesn't make sense for me to list them all here, but you can be certain that they have the flavor you're looking for. Some of the other menu items include:
Deep-fried rolls
Tempura Rolls
Signature Rolls
Baked Rolls
Spicy Rolls
Seafood Salad
Soups & Salads
There are several soup and salad options. They include:
Miso soup
Mini Udon
House Salad
Cucumber Crab Salad
Seaweed Salad
Sashimi Salad (only available on the all-day menu)
Desserts
If you're still hungry, Sushi Neko offers a few dessert options.
Ice Cream
Mochi Ice Cream
Tiramisu with Coffee
Affogato
Deep-Fried Banana with Ice Cream
Drinks
You'll have a few options for drinks. They aren't included in the AYCE price.
Soda – $2
Beer – $7-$9
Soju – $12
Sake – $10
Premium Sake – $13-$17
Best Time to Eat at Sushi Neko to Avoid Crowds
Sushi Neko Las Vegas is always busy, so it's important to avoid the dinner rush around 6 pm to 7 pm. I found the best time to visit is before 4 pm or after 9 pm. They are open late, so don't worry about them closing on you.
If you show up when the restaurant is busy, you can expect to wait about an hour before you're seated. However, once you're seated the service is extremely fast.
Restaurant Hours
It seems like their hours change all the time. Yelp says that they are open until midnight, but their website says that they are open until 2 am daily. They were open until 2 am the last time I visited, but that may change in the future.
Sushi Neko Contact Information & Reservations
I find that Sushi Neko doesn't always answer their phone, so it can be difficult to make a reservation. Sushi Neko also doesn't have its own website since it's part of the larger Dragon's Dream Factory restaurant group, so you can't make a reservation online.
The best thing to do is try calling (I included their contact info below), and if you can't get ahold of them, try visiting during a non-busy time.
Sushi Neko is located in the Pacific Asian Plaza in the Chinatown neighborhood of Las Vegas. They actually have two locations right next to each other in that plaza. There is no difference between the two restaurants, just go to the one that's less busy.
The parking is tight, but there is a covered parking garage right next to the restaurant. Tourists should eat here as well. If you're staying on the north end of the Strip, it's only a 10-minute Uber to get to Neko Sushi.
Sushi Neko Contact Information
Phone number: (702) 247 4241
Address: 5115 W Spring Mountain Rd #117 & #121, Las Vegas
Is the All You Can Eat Menu at Sushi Neko worth it?
The all-you-can-eat menu at Sushi Neko is the way to go. You get a ton of sushi for under $30, and the quality is really high. Unlike some other AYCE sushi spots in Las Vegas, Sushi Neko doesn't overload on rice. If you're looking for some cheap sushi in Las Vegas, this is the place to go.
I also recommend that you check out Sushi Neko's sister restaurant, Sakana Sushi.