There are dozens of amazing pizza restaurants in Las Vegas, making it difficult to choose just one. Whether you prefer New York-style pizza, deep-dish pizza, or thin-crust pizza, you'll have plenty of options in Vegas.
Being a local, I've eaten at most of the pizza restaurants in the city. So, I decided to put together a list of the best places to eat pizza in Las Vegas, both on and off the Strip. Here are my top 20.
Top Las Vegas Pizza Restaurants
1. Pizza Rock
Pizza Rock is widely considered one of the best places to grab pizza in all of Las Vegas. There are a ton of different toppings and flavors on the menu, but the classic cheese pizza is the best in my opinion. If you're feeling fancy, you can also get pepperoni, ranch, or buffalo chicken.
There are meatless and gluten-free pizzas on the menu too. But aside from the pizza, the restaurant also serves Italian cuisines like classic meatballs and garlic bread. You can find Pizza Rock near the Mob Museum, in downtown Las Vegas.
Location: 201 N 3rd St, Las Vegas, NV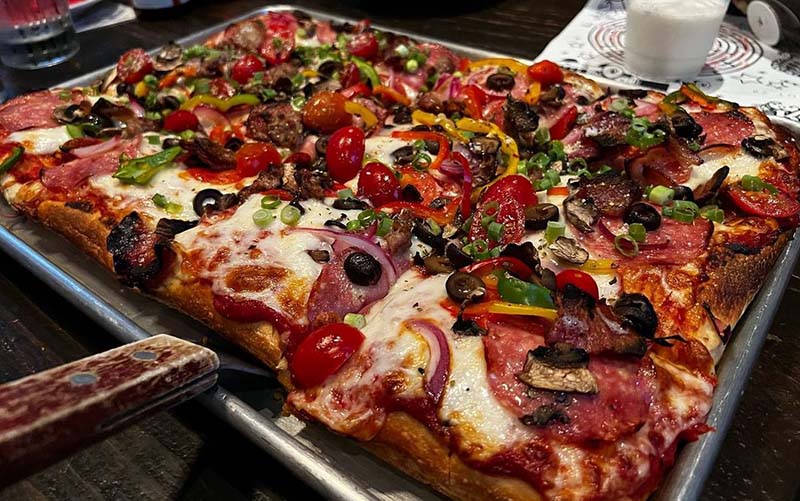 Related: Best Restaurants in Las Vegas
2. Old School Pizzeria
Old School Pizzeria is another top pizza restaurant in Las Vegas. This pizzeria has multiple locations spread throughout the city and makes its pizzas with naturally leavened dough. All of the ingredients used here are fresh and regionally sourced.
You're able to build your own custom pizza with a selection of meats, vegetables, and toppings. Or, you can opt for one of Chef Giovanni Mauro's signature Italian recipes, like Regina Margarita pizza, carnivore pizza, pork pizza, 5-cheese pesto pizza, or vegetarian pizza.
Location: 2040 E Craig Rd, North Las Vegas, NV
3. Evel Pie
Evel Pie is a popular place to grab pizza on Fremont Street in downtown Vegas. It's a rock 'n' roll themed pizza joint that features a ton of classic Evel Knievel memorabilia. You're able to order your pizza by the slice or get a whole pie. They sell beer as well.
This restaurant is a great place to grab a quick slice before you go back out and explore Fremont Street. They truly have something on their menu for everyone, especially since they have a gluten-free and vegan options in addition to their traditional pizza menu.
Location: 508 E Fremont St, Las Vegas, NV
4. Giordano's
Giordano's is the best place to grab a deep-dish pizza in Vegas. There are two Giordano's locations in Vegas, one on the Strip near Bally's and one in Summerlin. The restaurant on the Strip is by far the most popular.
The menu has a number of classic pizzas, including their famous stuffed deep dish pizza, an extra-thin crust pizza, and a parmesan-crusted pizza. Giordano's is easy to find, but they also offer both takeout and delivery options if you don't want to leave your hotel.
Location: 3619 Las Vegas Blvd S Ste 200, Las Vegas, NV
5. Secret Pizza
Secret Pizza is a New York-style pizza joint hidden on the 3rd floor of The Cosmopolitan. It's called "Secret Pizza" because it isn't listed anywhere on The Cosmopolitan's website, and there are no signs for it in the hotel. The pizza here is super affordable, and it tastes amazing.
This is one of the best places to grab a late-night pizza in Las Vegas since Secret Pizza is open until 4 am every day. Just know this spot gets busy late at night.
Location: 3708 Las Vegas Blvd S Level 3, Las Vegas, NV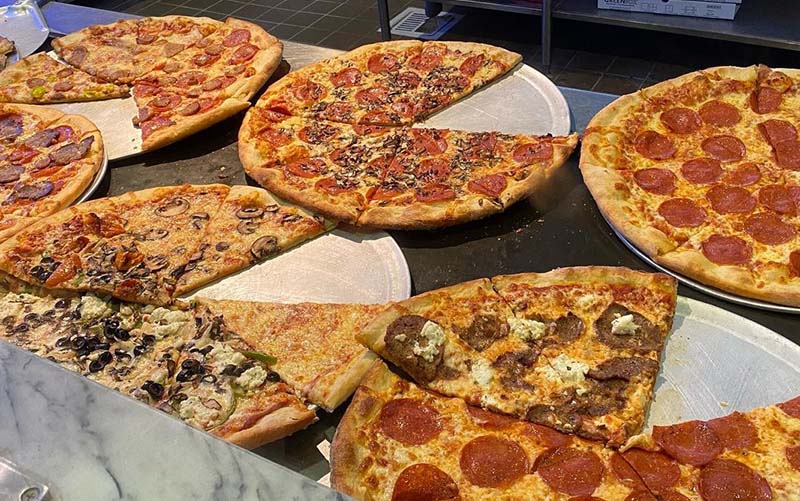 Also See: 24-Hour Restaurants on the Las Vegas Strip
6. Amore Taste of Chicago
Amore Taste of Chicago is another excellent spot to grab a Las Vegas pizza. This restaurant serves Chicago-style pizza fresh from the kitchen. If you like thick-crust pizza, you'll love this pizzeria since the crust is nearly 3 inches thick around the edges of the pie.
The menu features a number of pizza toppings, including cheese, pepperoni, sausage, bacon, chicken, meatballs, mushrooms, onions, peppers, garlic, and jalapenos to name a few. You can visit this pizza shop in the Spring Valley part of Las Vegas, which is about a 15-minute drive from the Strip.
Location: 3945 S Durango Dr, Las Vegas, NV
7. Dom Demarco's Pizzeria
Dom Demarco's Pizzeria is one of the best pizza restaurants in Vegas for NYC-style pizza. It's located in Summerlin, so this place is a favorite of both locals and food tourists alike.
The menu at Dom DeMarco's showcases a couple of classic pizzas, like barbeque chicken, spicy Hawaiian, and veggie, but you can also build your own. Additionally, the pizzeria has a weekday happy hour special from 2 pm to 6 pm, where they offer drinks for 50% off.
Location: 9785 W Charleston Blvd, Las Vegas, NV
8. Monzu Italian Oven & Bar
Monzu Italian Oven & Bar is a Las Vegas pizza restaurant found near the Chinatown district of Las Vegas. This casual pizzeria is owned by Chef Giovanni Mauro who also runs Old School Pizza, so the quality of ingredients is very similar.
Monzu offers plenty of pizza options like pepperoni, Margarita, and pork pizza, but there are also plenty of traditional Italian entrees on the menu for anyone in your group that isn't in the mood for pizza. The food at this restaurant is always top-notch, and so is the service.
Location: 6020 W Flamingo Rd #10, Las Vegas, NV
9. Those Guys Pies
Those Guys Pies is another top spot to grab Vegas pizza. This pizzeria serves thin-crust pizzas in Summerlin, so it's a local favorite with good prices. The pizzas are hand-tossed to perfection so that you get the best flavor out of each pizza pie.
You can order a ton of specialty pizzas at Those Guys Pies, including buffalo chicken, mushroom, cheesesteak, and meat lovers. The meat pie pizza is my favorite since it includes meatballs, sausage, bacon, and pepperoni as toppings. You can order your pizza online or by calling the restaurant directly. They offer both carryout and delivery.
Location: 2916 W Lake E Dr, Las Vegas, NV
10. Grimaldi's Pizzeria
Grimaldi's Pizzeria is a popular Vegas pizza restaurant with multiple locations throughout the city. They have one restaurant directly on the Strip inside the Venetian, where they prepare delicious coal brick oven pizzas.
There are a couple of different pizza sizes served at Grimaldi's so you have your choice of a 12″, 16″, or 18″ pie. You're also able to select your preferred sauce and toppings. I always enjoy the traditional pizza with grilled peppers and pepperoni, but their calzones are always good too (the dough is hand-tossed and filled with ricotta and mozzarella cheese).
Location: 3327 Las Vegas Blvd S Ste 2710, Las Vegas, NV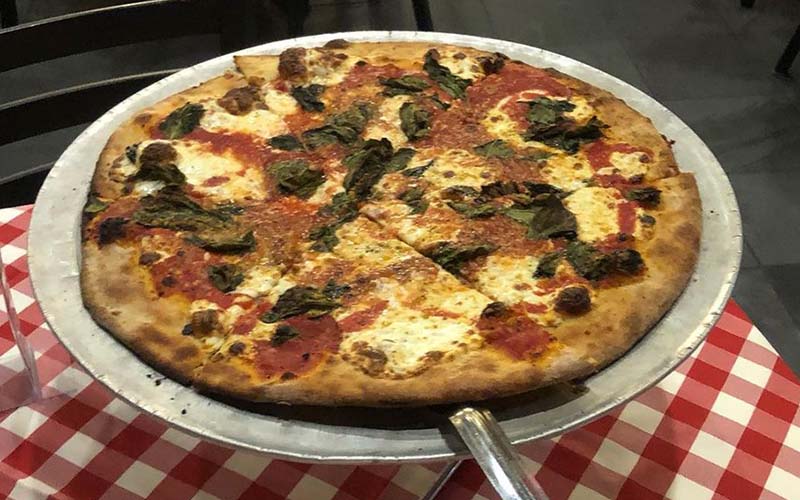 11. Good Pie
Good Pie is one of the Vegas pizza restaurants found near Fremont Street. They serve a variety of pizza types, including NY-style single slices, Detroit-style squares, and whole round pies. If you follow a specific diet, you can also get your pizza vegan or glutten-free.
One of the reasons why Good Pie pizzas are so tasty is because they only use high-quality ingredients, like tomatoes that are imported directly from Italy. There's a lot on the menu, but I highly recommend you try their Brooklyn cheese pizza and garlic knot appetizer.
Location: 1212 S Main St, Las Vegas, NV
12. Joe's New York Pizza
Joe's New York Pizza is one of the Las Vegas pizza restaurants located right off the Strip. The award-winning pizzas here are handmade with their own dough, special sauces, and fresh ingredients.
The restaurant serves pizzas in three sizes (12″, 16″, and 20″) and a variety of flavors, including gourmet pepperoni, Spanish chorizzo, meat pie, lasagna, BBQ chicken, Hawaiian, spinach, and super cheesy. You can find this pizzeria across the street from the Virgin Hotel, but they also have a location in Henderson.
Location: 4480 Paradise Rd #1100, Las Vegas, NV
13. Pin-Up Pizza
Pin-Up Pizza is a pizza parlor in Vegas located inside Planet Hollywood on the Strip. They serve large hand-tossed slices of New York-style pizza. In fact, these slices are some of the biggest you can get on the Las Vegas Strip.
The menu at Pin-Up pizza is very simple, they serve cheese, pepperoni, sausage, Margherita, meat, and chicken & mushroom. The pizza is super affordable as well, at less than $9 a slice. The restaurant has both indoor and patio dining.
Location: 3667 S Las Vegas Blvd, Las Vegas, NV
14. Settebello Pizzeria Napoletana
Settebello Pizzeria Napoletana is one more local pizza joint in Vegas. They make handmade Neapolitan pizzas in old-school wood ovens. If you didn't know, Napoli Italy is where pizza was invented, so this restaurant really does make authentic Italian pizza.
The menu features plenty of original pizza flavors, like margarita, marinara, and capricciosa. There are so many different toppings to put on your pie, and every pizza that I've tried here tastes fantastic. Settebello Pizzeria is open from 12 pm to 9 pm on most days, but the hours are often extended a bit on the weekend.
Location: 9350 W Sahara Ave Suite 170, Las Vegas, NV
15. Flour & Barley
Flour & Barley is a highly affordable pizza restaurant in Vegas. This traditional pizzeria is located inside the LINQ, and offers a number of brick-oven pizzas, pastas, and paninis, along with other Italian classics.
There are plenty of different pizzas on the menu, including Margherita pizza, Hawaiian pizza, farmhouse pizza, shrimp scampi pizza, goat cheese pizza, and vegan pizza. You can ask for gluten-free dough as well. Flour & Barley offers indoor dining as well as outdoor dining on the patio.
Location: 3545 S Las Vegas Blvd L-25, Las Vegas, NV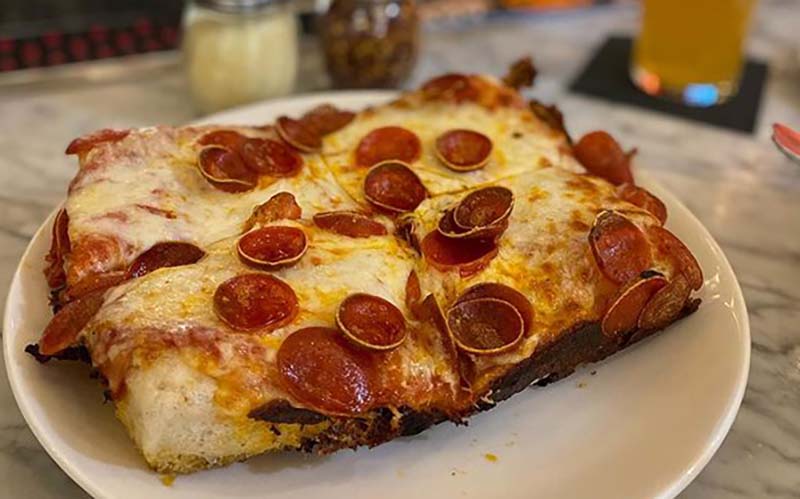 16. Metro Pizza
Metro Pizza is another popular pizza chain with multiple Las Vegas locations. The one closest to the Strip is located inside the Ellis Island Casino, but there are half a dozen restaurants in the city.
The great thing about Metro Pizza is that there's likely one close by, so you won't have to travel across the city to get your food. All the pizzas here are cooked fresh, and the prices are very reasonable.
Location: 4178 Koval Ln, Las Vegas, NV
17. Slice of Vegas Pizza Kitchen & Bar
Slice of Vegas Pizza Kitchen & Bar is a family-friendly pizza place in Mandalay Bay. This is one of the best Las Vegas restaurants for grabbing a quick bite on the south end of the Strip. The pizza is affordable and there's plenty of variety.
You can order all the classic pizza flavors at Slice of Vegas, but they also offer an extensive menu of appetizers, entrees, sandwiches, calzones, and strombolis. Plus, they offer a number of gluten-free, vegan, and vegetarian options.
Location: 3930 Las Vegas Blvd S Suite 120, Las Vegas, NV
18. Broadway Pizzeria
Broadway Pizzeria is one of the best places to eat pizza in Vegas. This authentic NY pizza restaurant has been around serving gourmet pizzas, calzones, grinders, and wings for over 20 years.
The pizzeria makes a wide range of pizzas, including meat lovers, vegetarians, Sicilian cheese, Sicilian marina, and Hawaiian. Broadway pizza also makes different types of crusts like gluten-free and cauliflower. If you're not in the mood for pizza, their calzones are great as well and come in very generous portion sizes.
Location: 840 S Rancho Dr, Las Vegas, NV
19. Naked City Pizza
Naked City Pizza is another highly-reviewed pizza joint found right off the Las Vegas Strip. It's located just north of the Las Vegas airport, which is only 5-minutes from the Strip. They serve a combination of pizzas, subs, pasta, burgers, and wings.
The restaurant has some solid deals. You can get a quarter sheet pizza, 10 wings, and a 2-liter soda for $25. They open at 11:30 am and close around 8 pm during the week (11 pm on the weekend).
Location: 4608 Paradise Rd, Las Vegas, NV
20. Northside Nathan's Detroit Pizza
Northside Nathan's Detroit Pizza is one more local pizza joint in the Summerlin neighborhood of Vegas. This spot serves tasty, old-fashioned Detroit deep-dish pizza, along with traditional round pizzas.
You can order pies in 6″, 11″, or 15″ sizes with a number of different toppings. The pizza's size will determine how many slices you get, but a 15″ should be enough to feed 3 or 4 people. After you dine here and have a slice, you can easily see why Northside Nathan's Detroit Pizza gets so many good reviews online.
Location: 7531 W Lake Mead Blvd #120, Las Vegas, NV
Best Pizza on the Las Vegas Strip – Las Vegas Restaurants
There are some great places to eat pizza on the Las Vegas Strip, but the best spots are Secret Pizza, Giordano's, and Grimaldi's Pizzeria. All three of these pizzerias serve extremely high-quality, pizza pies.
Map of Pizza Las Vegas
If you're looking for pizza Las Vegas, check out the map below. All of the pizza restaurants mentioned in this article can be found on the map.
Other Excellent Places to Eat Pizza in Las Vegas
There are too many good pizza places in Las Vegas to list them all. Here are some honorable mentions. Any one of these spots is a great place to eat pizza in Vegas.
Boston Pizza
California Pizza Kitchen
Carmine's Pizza Kitchen
Custom Pizza Truck
Marsigliano's Pizzeria & More
Lucino's Pizza