Although Las Vegas is known as a warmer destination, temperatures do tend to drop in the winter. But does it get cold enough for snow?
Does it snow in Las Vegas? Las Vegas receives an average of 0.3 inches of snow every year, but there is rarely any substantial accumulation. Las Vegas Valley does occasionally see a meaningful amount of snowfall, but it only happens once every few years.
Although snow is rare in the city, there are places around Las Vegas that get plenty of snowfall. You can even go skiing within an hour's drive from the Strip. Even if you don't plan on participating in winter sports, you're still going to want to pack for the cold weather.
Related Article: Las Vegas Meaning: Complete Origin of Las Vegas
How Often Does it Snow in Las Vegas?
It does snow in Las Vegas, but only once every couple of years. Snow is a rare occurrence in the city for two reasons:
It doesn't usually get cold enough for snow
The area doesn't get a lot of precipitation
Although uncommon, there are a handful of days that see temperatures drop below freezing in the winter each year. However, to produce snow, those days must also have precipitation in the forecast. If there is no precipitation, there will be no snow, even if the weather is below freezing.
Las Vegas is located in the Mojave Desert, making it the driest city in the United States. It's also surrounded by mountains on all sides, putting it in a rain shadow.
A rain shadow basically means that clouds in the area release all of their moisture in the surrounding mountains before reaching the city. This explains why Mount Charleston gets plenty of snow, while the urban parts of Las Vegas don't get any.
The fact that Las Vegas gets over 300 days of sunshine a year also doesn't help with snow accumulation. Any snow that does fall in Las Vegas Valley often melts before it even reaches the ground.
Average Las Vegas Snowfall per Year
On average, Las Vegas Nevada gets about 0.3 inches of snow per year. However, several big outlier years bring up the total. It is much more typical to see only trace amounts of snow every year (which is around 0.1 inches per dusting).
There are also plenty of years where Vegas doesn't get any snow whatsoever. Since the year 2000, there have only been two years where Las Vegas has seen more than an inch of accumulated snow (2003 and 2008).
The heaviest snowfall ever recorded in Las Vegas was 12 inches of snow. That happened over 100 years ago in 1909 so it's not likely to happen again. Las Vegas snowfall is rare, but snowstorms are even less common.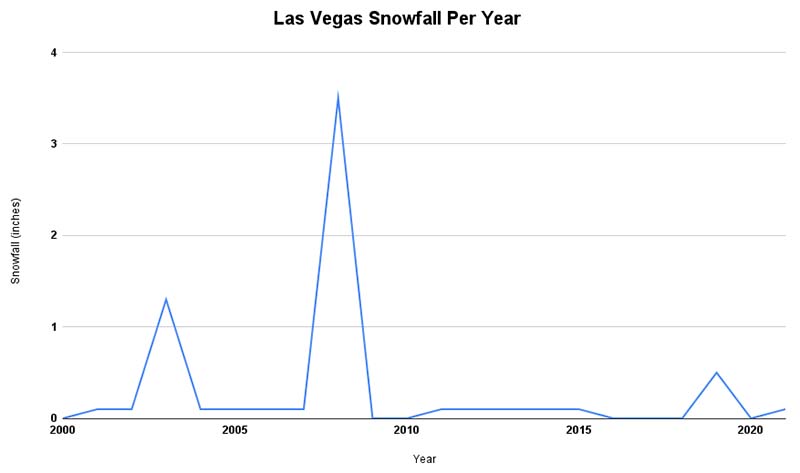 There are areas near Las Vegas that see more snowfall. For example, Lee Canyon Ski and Snowboard Resort get an average of 130 inches of snow annually. Lee Canyon is located on Mount Charleston, which is only about a 50-minute drive from the Las Vegas Strip.
Since the peak of Lee Canyon is located about 11,000 feet above sea level, it gets snow while the city doesn't. Mount Charleston is also located on the near side of the rain shadow, so it receives more precipitation than urban Las Vegas.
Does it Snow on the Las Vegas Strip?
Snow on the Las Vegas Strip is rare. Unless there is more than an inch of snowfall, accumulation in the city isn't likely. If you're lucky enough to experience snowfall on the Strip, it's a beautiful sight to see. Especially if you're visiting in December when the Cosmopolitan has its ice skating rink open. But a full-blown snowstorm isn't likely to happen. The roads are rarely ever covered with snow.
What are the Coldest Months in Las Vegas?
The coldest months in Las Vegas are December, January, and February. If it's a year that does get some snow, it will likely occur during one of these months.
Vegas does get cold in the winter, but there are usually only a handful of days that drop below freezing during the season. You'll experience the coldest temperatures at night since it's often sunny during the day. The average temperature in the winter is roughly between 30-50 degrees Fahrenheit. You can see the temperature by month below.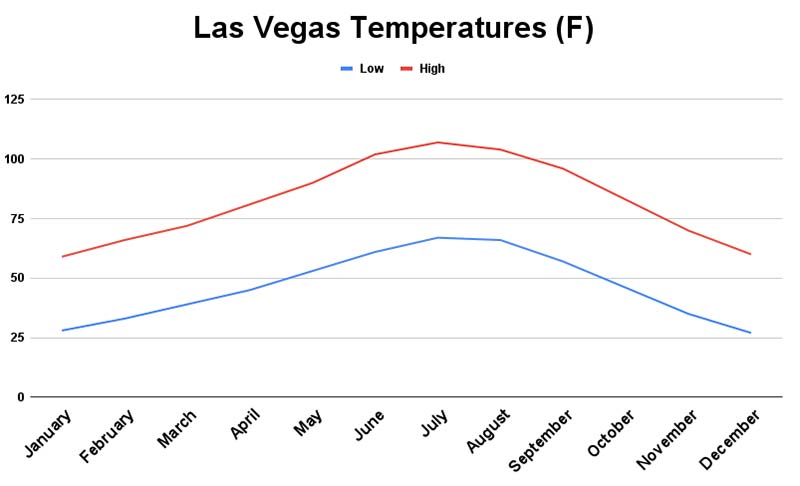 When Does it Start to Warm Up?
Las Vegas starts to warm up by the end of March, which is when most hotel pools start to open. The best weather is in April, May, and June. The average temperatures for those months are roughly between 60 and 90 degrees Fahrenheit.
This is the perfect time to visit Nevada since the weather has started to warm up but has yet to reach the summer peak. These are also the months that see the least amount of rainfall. If you visit Vegas in July or August, you should expect temperatures to consistently stay in the 100 to 110 degrees Fahrenheit range.
Also See: How Often Does it Rain in Las Vegas?
What are Winters Like in Vegas?
Winters in Las Vegas are relatively mild compared to other parts of the county. There isn't much snowfall, but the weather isn't exactly tropical. Daytime temperatures usually sit in the mid-40s to 50s, while nighttime temperatures drop into the mid-30s. The air is also very dry.
The city averages over 300 sunny days per year, so you can expect plenty of sunshine in the winter. This is part of the reason why daytime temperatures can remain so mild.
It does tend to get windy in the winter, so the climate may feel colder than what the official forecast states. It's never a bad idea to bring a light jacket if you plan on visiting during this time of year. Overall, the winter weather in Las Vegas isn't too bad, especially for visitors who are used to colder temperatures.
Do Hotels and Casinos Maintain Warm Temperatures in the Winter?
Every hotel in Las Vegas is climate-controlled, so you don't have to worry about getting cold inside of a casino. Resorts want to keep guests on the casino floor, so it's in their best interest to keep players as comfortable as possible.
If you spend all of your time inside, you probably won't even notice that it's cold outside. You only need to put additional layers on when walking on the Strip. You'll be glad that you wore a jacket when walking between hotels.
Do You Need to Pack Warm Clothes in the Winter?
It's a good idea to pack warmer clothes if you're visiting Las Vegas in the winter. A heavy winter jacket isn't necessary, but a light coat or sweatshirt will help keep you warm. The best thing to do is wear layers so you can take them off if you get too hot.
Swimsuits are also not needed in the winter unless you stay at a hotel with a heated or indoor pool. Even if you stay at a hotel that has its pool open, the weather still makes it uncomfortable to go swimming.
Also See: Does Las Vegas Have Tornadoes?
Things to do in the Winter while visiting Las Vegas Nevada
While the weather is relatively cold in the winter, Vegas doesn't get cold enough to shut down any major attractions, even if it snowed. The pools are really the only thing that gets closed in the winter. Everything else in the city is still open. Here are some fun things to do in Las Vegas during the winter:
Seeing a show or concert
Attending a live sporting event (NFL, NHL, UFC & Boxing)
Going shopping
Eating at restaurants and buffets
Having a fun night out at a bar or nightclub
Hitting the casino floor
Spending the day at the spa
Playing some golf
Going out hiking
The best time to go hiking in the Las Vegas area is during the winter since the weather is more manageable. A few of the best hiking spots include Red Rock Canyon, the Valley of Fire State Park, and Death Valley. The southern rim of the Grand Canyon is open as well, but the northern rim is not.
Las Vegas snow is rare in the city. If you're looking to go skiing or snowboarding while in town, Lee Canyon is the place to go. That's the area that sees the most snowfall in Las Vegas.