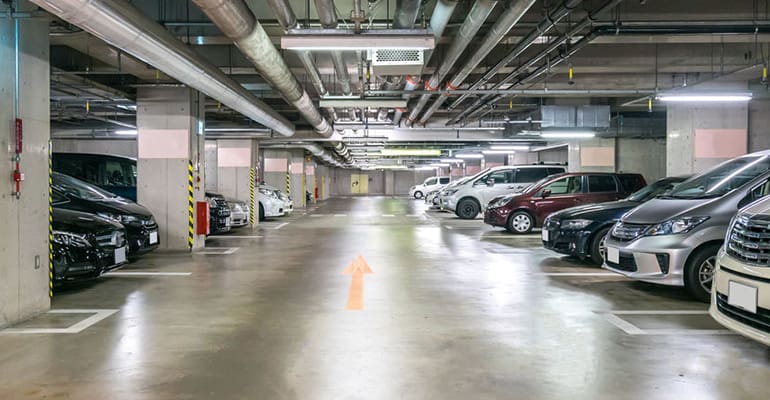 Parking on the Las Vegas strip is expensive. That is, unless you know what casinos have free parking! There are only a handful of hotels left on the strip that offer free parking, so I did some searching to find all of them.
Where to park for free ON THE STRIP:

Wynn Las Vegas
Encore Las Vegas
The Venetian
The Palazzo
The STRAT Hotel, Casino & Skypod
Sahara Las Vegas
Circus Circus Hotel & Casino
Planet Hollywood Resort & Casino/Miracle Mile Shops
Tropicana Las Vegas
Treasure Island
Fashion Show Mall
Where to park for free NEAR THE STRIP:

OYO Hotel & Casino (formerly Hooters)
Ellis Island Casino & Brewery
Rio Hotel & Casino
Palms Casino Resort
Tuscany Suites & Casinos
Westgate Resort & Casino
Silver Sevens Hotel & Casino
Gold Coast Hotel & Casino
Orleans Hotel & Casino
Palace Station Hotel & Casino
All the casinos listed above offer free parking to both guests and non-guests. Hotels that are farther off the strip (like Red Rock Resort and JW Marriott) pretty much all have free parking. To make your easier, I added all of the hotels that offer free parking to the map below. The parking icons indicate the entrance for each garage.
You'll notice that there are more casinos with free parking towards the north end of the strip. If you're looking for free parking towards the middle or southern end of the strip, your options are limited. In the next section, I'll provide some more information on each free parking area, and help you find the lot that is closest to the attractions you want to visit.
Wynn & Encore Las Vegas
Location: North end of the Strip
Close To: Fashion Show Mall, Resorts World, Palazzo
Wynn and Encore are two of the most luxurious and expensive hotels on the strip. With that being said, the hotel is kind enough to offer a ton of free parking!
The Wynn and the Encore each have their own multilevel parking garages. The garages are easy to find, and parking is always available (I park here several times a week, and always find a ton of spots).
Venetian & Palazzo Las Vegas
Location: North/Center of the Strip
Close To: Treasure Island, Mirage, Harrah's
Just like the Wynn and Encore, the Venetian and Palazzo are two luxury hotels that offer free parking. Both of these casinos are connected, so it doesn't really matter which garage you use.
The Venetian garage can be accessed off of Las Vegas Blvd, while the Palazzo garage can be found off of Sands Ave (which is about 100 feet from the strip). I personally like to use the Palazzo garage since it's super easy to find. There is also less traffic on Sands Ave.
Treasure Island
Location: North/Center of the Strip
Close To: Fashion Show Mall, Mirage, Palazzo
Treasure Island is located across the street from the Palazzo. You can access their free parking garage off of Sands Ave. This one can be difficult to find if you don't know the area. If you're having trouble, take a look at the map at the top of this page.
Treasure Island is a great place to park if you're going to the Mirage. There is a free tram that goes back and forth between the two casinos every 10-15 minutes. Treasure Island is also only two casinos away from Caesars Palace, so if you're going to Caesars it may be worth parking here.
Planet Hollywood
Location: Center of the Strip
Close To: Cosmopolitan, Bellagio, Paris
Planet Hollywood has a large free parking garage attached to the Miracle Mile Shops. The garage can be accessed on E Harmon Ave, directly off of the strip (again you may want to refer to the map above, since this can be hard to find).
This is the closest garage to the Cosmopolitan and the Bellagio that offers free parking. You do have to walk across the street to get to the Cosmopolitan, but the walk isn't too bad. There is even a sky bridge that runs over the strip, connecting the two hotels.
Tropicana Las Vegas
Location: Southern end of the Strip
Close To: MGM Grand, New York-New York, Excalibur
Tropicana has a free paring garage easily accessible from the strip. This lot is small (only 2 levels) but it's convenient if you want to go to the MGM Grand. There is second, much larger outdoor lot on the property. It's designated for guests, but if you're really in a pinch you can usually get away with parking there for free.
Parking at Tropicana is free as long as there are no events going on at the T-Mobile Arena or the MGM Garden Arena. If there are big events scheduled at those arenas Tropicana charges for parking.
The STRAT Las Vegas
Location: Northern tip of the strip
Close To: Nothing
The STRAT (formerly Stratosphere) is considered the last hotel on the strip. It's so far north that it's out of walking distance of the other hotels. However, being the tallest building in Vegas, the STRAT is a popular tourist spot.
You'll find the parking garage directly off the strip on W Bob Stupak Ave. However signage for the self-park garage is limited, so you may want to look at the map above. I had a difficult time finding this garage my first time visiting the STRAT.
Circus Circus
Location: North end of the strip
Close To: Resorts World, Sahara
While not as far north as the STRAT, Circus Circus is pretty close to being in no man's land. Besides Resorts World, no casino is really within walking distance. Technically, you could walk to Sahara, but very few people do.
Circus Circus has several garages and outdoor parking lots. As a visitor, you'll want to use the main lot. If you enter the property from the strip, you'll see the main lot on your left. There's plenty of signage on the property too.
Sahara Las Vegas
Location: North end of the strip
Close To: Monorail Station, Circus Circus, Resorts World
Sahara (fromally SLS Las Vegas) is in between The STRAT and Circus Circus. It's only about a 10 minute walk to either hotel, but the route isn't very scenic (you'll feel like you're walking on the side of a highway). The only thing realistically close to Sahara is the Monorail Station, which is attached by a sky bridge.
Sahara has two multilevel lots. One is accessible from the strip, the other is accessible from Paradise Road. They are both super easy to find.
Fashion Show Mall
Location: North end of the strip
Close To: Wynn, Encore, Treasure Island
The Fashion Show Mall is one of the biggest shopping centers in Las Vegas. There are three or four different lots and garages on the property, all free. The only thing that Fashion Show does not offer is overnight parking.
You can access all of the lots off of Sands Ave (across from Treasure Island) or Fashion Show Dr (across from Trump International). You'll easily be able to find the lots.
OYO Las Vegas
Location: South end of the strip
Close To: MGM Grand, Tropicana
OYO (formerly known as Hooters) is not technically on the strip, but it's really close. Located right next to Tropicana, OYO offers great accessibility to the MGM Grand and Excalibur across the street. You can find the garage near the front of the hotel, directly off of E Tropicana Ave.
Cost of Parking at Other Las Vegas Casinos
| | |
| --- | --- |
| Hours (self-park) | Cost |
| 0 – 1 | Free |
| 2 – 4 | $8 – $12 |
| 4 – 24 | $10 – $25 |
Almost all casinos offer free self-parking for the first hour. If you take your car out of the garage by the 4th hour, you typically won't pay any more than $12. If you keep your car parked in the garage overnight (up to 24 hours) then you'll be paying about $15 on average (although some casinos charge up to $25). If you use valet, expect to pay an additional $10-$15.
How To Get Free Parking At All MGM Properties
If you want free parking but don't like playing musical parking garages, there is a way to get free parking at the following casinos on the strip:
MGM Grand
The Signature at MGM Grand
Park MGM
Bellagio
Mirage
Aria
Vdara
Mandalay Bay
Luxor
Delano
Excalibur
New York-New York
Nomad
You can get free parking at all MGM properties (listed above) by signing up for a M Life players card, and getting upgraded to Pearl, Gold, Platinum, or Noir status.
It's free to sign up for a players card, but to get Pearl status you also have to sign up for M Life Rewards MasterCard. This card is also free to apply for and there are no annual fees. Once you get your Pearl status players card you can swipe it as you leave all MGM parking garages to get free parking.
I know it sounds like a lot of work, but you can go through most of these steps online to save time. Once you get your card, you'll have free parking at half of the casinos on the strip, making this process more than worth the effort.
How To Get Free Parking At All Caesars Properties
Similar to the M Life Rewards Card at MGM, Caesars also offers a player card. If you get a Caesars Rewards card and upgrade Platinum, Diamond, or Seven Stars status, you can get free parking at the following casinos:
Caesars Palace
Nobu
The Flamingo
Paris
Bally's
The LINQ
Harrah's
Cromwell
Just like MGM, it's free to sign up for a players card at Caesars. But in order to get Platinum status you'll also need to sign up for the Caesars Rewards Visa card. Once you sign up for the Visa card, your player card will automatically be upgraded to Platinum status.
The Caesars Rewards Visa Card has no annual fees. You just have to make a purchase within 90 days of approval in order to get the free parking.
Related Questions
Do I need a rental car in Las Vegas? It is not necessary to rent a car in Las Vegas. You can easily get around the strip affordably using Uber and Lyft. There are also other cheap ways to get around Las Vegas without a car.
How can I get into Las Vegas nightclubs for free? Anyone can get into Las Vegas nightclubs and pool parties for free using the guest list. All nightclubs have a free guest list that you can sign up for online.